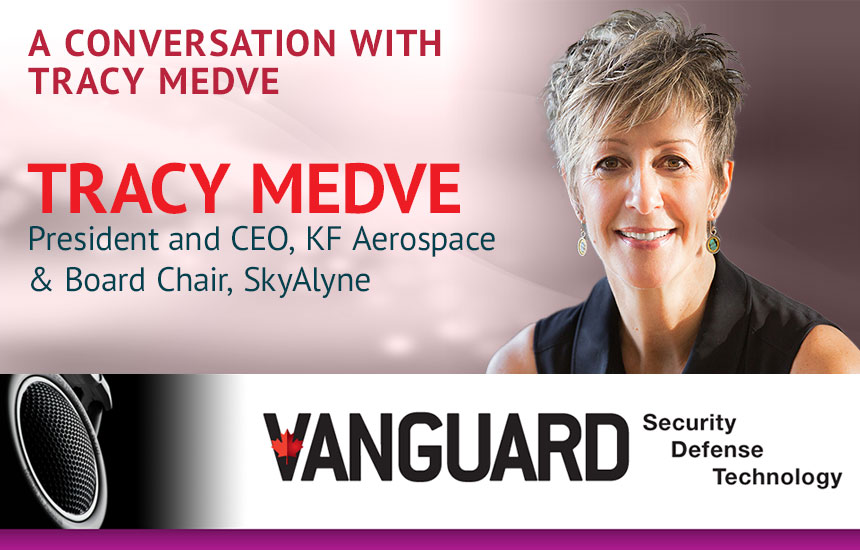 J. Richard Jones is back with another episode of Vanguard Radio. This time he's sitting down to speak with Tracy Medve, President & CEO of KF Aerospace and Board Chair of SkyAlyne. The discussion covers many topics, including Future Aircrew Training (FAcT) and SkyAlyne, the Canadian-Multi Mission Aircraft project (CMMA) and Team Poseidon.
Since she began her career in aviation in 1985, Tracy has held various senior airline management positions, including at Norcanair, Time Air, Canadian Partner, and Canadian Regional Airlines. Tracy was the co-founder of C.T. AeroProjects, a Calgary-based consultancy focused on air transport resource management, working with a wide range of public and private aviation clients around the world. From 2007 to 2012, Tracy was the President of Canadian North Airlines.
In May 2013, Tracy was appointed President of KF Aerospace and became President and CEO in August 2021. Tracy is a lawyer by training (University of Saskatchewan, 1982) and a graduate of the John Molson School of Business Global Aviation MBA program at Concordia University (2009). She is the 2007 recipient of the John Molson School of Business MBA Scholarship and was inducted as a member of the Beta Gamma Sigma honour society in 2009.
Tracy also served in the Canadian Armed Forces Reserves as a Signals Officer from 1975 to 1981.
Founded by Barry Lapointe in the Okanagan Valley, British Columbia in 1970, KF Aerospace is Canada's largest commercial aviation maintenance, repair, overhaul, and modification (MRO) provider. With a workforce of over 1200 highly skilled employees, KF's multi-faceted business operations include first-class engineering and design services, commercial aircraft leasing and decades of experience as a commercial cargo carrier. KF Aerospace also has a long history of supporting and working with the Royal Canadian Air Force (RCAF) including managing the CFTS pilot training contract for the RCAF at Southport, MB since 2005.
In this episode:
The aviation and defence career path
Advice for entering the industry
Where Canadian aerospace and defence is heading
KF Aerospace contract with the Future Aircrew Training Program
The KF Aerospace role on Team Poseidon
And more!
Related posts