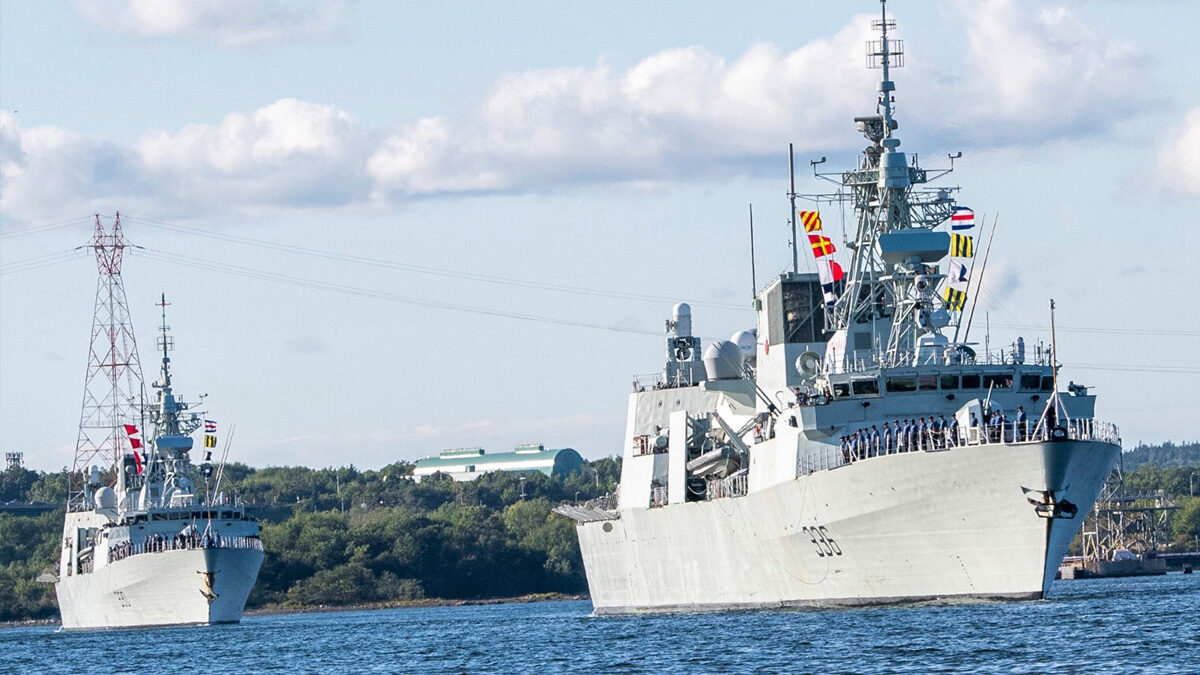 Her Majesty's Canadian Ships (HMCS) Halifax and Montréal returned to their homeport of Halifax, Nova Scotia on July 15 after the successful completion of their deployments on Operation REASSURANCE, in support of North Atlantic Treaty Organization (NATO) assurance and deterrence measures in European waters.
HMCS Montréal, with 239 crew aboard, left Halifax on January 19, 2022, while HMCS Halifax, with 253 crew aboard, left Halifax two months later on March 19.
"At this crucial time for Euro-Atlantic security, the crews of HMCS Halifax and HMCS Montréal have worked tirelessly to demonstrate Canada's commitment to the rules-based international order and to the security of our Allies. I join all Canadians in welcoming our personnel home, and in thanking them for their professionalism and contributions to our NATO Alliance," stated The Honourable Anita Anand, Minister of National Defence.
This is the first Operation REASSURANCE deployment for HMCS Montréal. The ship is a part of Standing NATO Maritime Group Two, one of four high-readiness maritime forces providing a constant presence in the seas and oceans of Europe. These groups routinely conduct operational missions and train with Allies and Partners to enhance interoperability. They serve as a consistently ready force to support NATO's Very High Readiness Joint Task Force.
For HMCS Halifax, this is the third deployment, which formed part of Standing NATO Maritime Group One. Standing NATO Maritime Group One is a multinational force charged with deterring conflict in the Baltic Sea region. It carries out a robust programme of operational deployments as well as complex training exercises and events with national navies to build and maintain the highest levels of readiness, interoperability, and war fighting capabilities.
To support both ships, embedded air detachments of CH-148 helicopters were set. Until now, eight Cyclone helicopters have conducted flight operations as part of Operation REASSURANCE.
Since 2014, Canada has sent Royal Canadian Navy ships on a persistent rotational basis to Operation REASSURANCE. Canada's participation in Operation REASSURANCE with the Royal Canadian Navy demonstrates their commitment to promoting security and stability in Central and Eastern Europe.
"I am proud of the contributions of HMC Ships Halifax and Montréal on Operation REASSURANCE. The ships and their crews successfully worked in solidarity alongside our NATO Allies to bolster capabilities in the area, helping to promote international peace and stability during a time of great unease in the region," concluded Rear-Admiral Brian Santarpia, Commander, Maritime Forces Atlantic. "Our Royal Canadian Navy's ability to contribute to this specialized mission demonstrates the flexibility and versatility of our vessels, and the exceptional training and performance of our sailors. Bravo Zulu, and welcome home."
Related posts