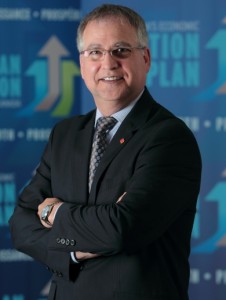 Strengthening Southern Ontario's aerospace and defence sector
Marcello Sukhdeo, April 23, 2014
0
4 min

read
341
Southern Ontario is home to a dynamic and innovative aerospace and defence industry, situated in the heart of Canada's strongest and most diverse technology-based industrial and commercial business region. Our government recognizes the importance of this sector and is working to support its growth.
As part of a whole-of-government approach to defence procurement, the Federal Economic Development Agency for Southern Ontario (FedDev Ontario) is helping to implement the new Defence Procurement Strategy launched by Diane Finley, Minister of Public Works and Government Services, and Rob Nicholson, Minister of National Defence.
This strategy fulfills our government's commitment to ensuring that purchases of military equipment create greater economic opportunities by promoting a sustainable, innovative and globally competitive Canadian defence industry.
One of the measures introduced in the strategy is the transformation of Industrial and Regional Benefits to Industrial and Technological Benefits, which will require defence contractors with procurements valued over $100 million and selected others to better support Canadian businesses. A core component of ITBs will be the introduction of rated and weighted value propositions that will favour defence contractor actions that lead to improved economic outcomes through investments that help strengthen Canadian key industrial capabilities, enhance the productivity of Canadian firms, and broaden industrial and technological high-value activities.
The strategy also includes publishing an annual Defence Acquisition Guide to support the ability of firms to position themselves for future procurement opportunities.
All of this will help Canadian industry benefit from the substantial spin-off from defence procurement spending.
In southern Ontario, FedDev Ontario is providing defence procurement business development services to help position the region to compete for lucrative business in this sector, with the potential to inject hundreds of millions of dollars' worth of investment into the region.
FedDev Ontario acts as a business facilitator, promoting and connecting southern Ontario's aerospace and defence firms to large defence contractors. The agency also promotes southern Ontario firms at key domestic and international industry events and bilateral meetings. This includes engaging with industry stakeholders at events such as the 2013 Best Defence Conference in London, Ontario, as well as Defence and Security Exposition International 2013 in London, England.
In addition, FedDev Ontario participates in Industry Canada-led defence procurement bid evaluations to bring regional knowledge to the table for consideration in decision-making.
The agency has been and will continue to act as a convenor for defence and aerospace businesses to help make southern Ontario an even bigger player in the world of defence procurement.
The benefits are obvious: jobs for southern Ontario and greater prosperity for our defence-related firms.
The agency has also directly invested in the aerospace and defence industry. Waterloo-based Aeryon Labs designs and manufactures small unmanned aerial systems (sUAS) for intelligence gathering for a wide range of military, public safety and commercial applications. A FedDev Ontario contribution of $985,000, along with angel financing raised through the Golden Triangle Angel Network, has helped the company to bring a new product, the Aeryon SkyRanger, to market. The SkyRanger sUAS deploys immediately, increases flight performance and endurance, and delivers new capabilities in camera quality, network integration, and more.
The agency's contribution was through the Investing in Business Innovation initiative, which focused on providing support to early-stage businesses, helping them to transform their ideas into globally-competitive products and services, and to increase their access to private sector investment and advice.
And, with our renewal, we are ready to continue to invest in those companies and organizations that will make southern Ontario more competitive.
In December 2013, I launched four Southern Ontario Prosperity Initiatives, which provide more than $530 million over five years to attract, retain and grow Ontario companies and encourage more product development.
In addition, I launched the $200-million Advanced Manufacturing Fund in Ontario. The Fund will promote the continued growth of Ontario's advanced manufacturing sector by supporting large-scale, transformative manufacturing activities.
A strong Canada depends on a prosperous southern Ontario that is home to communities that attract investment; highly productive, innovative businesses; and opportunities to expand and diversify markets at home and globally.
As Minister of State for FedDev Ontario, I look forward to seeing all of the possibilities that will come to light as a result of these new initiatives and our work to maximize economic leveraging potential from defence procurements.
Gary Goodyear, P.C., M.P. is the Minister of State, Federal Economic Development Agency for Southern Ontario (www.FedDevOntario.gc.ca).
Related posts