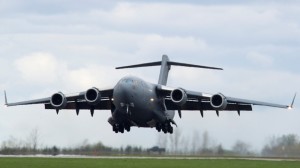 RCAF secures fifth C-17 for strategic lift
vanAdmin1, December 22, 2014
0
2 min

read
332
"The only complaint about the C-17 is that we only have four of them," a senior Royal Canadian Air Force official mused during a presentation to the annual Best Defence conference in November. That is longer the case.
In mid-December, the government announced acquisition of a fifth aircraft to augment the current CC-177 Globemaster fleet. It estimated the acquisition cost at $415 million and 12 years of in-service support at $30 million.
The transport aircraft have been in high demand since they were first acquired in 2007-2008 and it's no secret the RCAF wanted to expand the fleet. The government said the additional Globemaster "will ease the burden on the current fleet and extend the life expectancy of the entire fleet by about seven and a half years."
The Air Force Association of Canada has been calling for this decision for the past two years. It issued a position paper that noted that under the Global Support Program, all aircraft in the global C-17 fleet must be maintained and upgraded to a common standard, requiring "heavy maintenance" once every five years. "What this means in practical terms is that the tasking rate the RCAF has maintained over the past several years will not be sustainable."
General Tom Lawson, Chief of the Defence Staff, said the additional airlifter would give the RCAF greater flexibility to respond to crisis and continue to conduct "large numbers of simultaneous operations even on short notice."
Although Boeing plans to close the production line in mid-2015, it had produced 10 extra aircraft and was seeking buyers. Australia recently made a formal request with the U.S. government for up to four and other countries have been identified as possible customers.
Scott Day of Boeing Defense, Space & Security confirmed the Canadian C-17 would come from that "white tail" fleet. "Boeing values its relationship with the Canadian government and will continue to provide support and maintenance of the entire fleet for years to come," he said.
Related posts