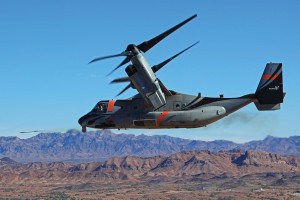 L-3 WESCAM turret designates target for V-22 Osprey
vanAdmin1, December 23, 2014
0
1 min

read
301
When Bell Boeing successfully completed precision and non-precision weapons firing from a V-22 Osprey tiltrotor aircraft last month, L-3 WESCAM was there to mark the spot.
The Burlington-based company confirmed this week that through a cooperative agreement with Bell Helicopter, its MX-15D designating turret was part of the 14-day weapons demonstration conducted at the U.S. Army's Yuma Proving Ground in Arizona.
"Flight trials were conducted to demonstrate the armed capability of the V-22 with precision and non-precision forward-firing weapons," said Paul Jennison, vice president of government sales and business development for L-3 WESCAM. "The MX-15D was chosen to support the trials because of its field-proven laser designation performance when flown from SOCOM and AFSOC aircraft, both of which also fire precision laser-guided munitions."
During the trials, the V-22 Osprey successfully launched conventional 70mm (2.75″) rockets, BAE Systems' Advanced Precision Kill Weapon System (APKWS) and Raytheon's Griffin B lightweight precision-guided missiles.
The MX-15D is a multi-sensor, multi-spectral targeting system with a stabilized turret solution that enables up to five separate digital imaging and four discrete laser capabilities into a configuration.
Related posts