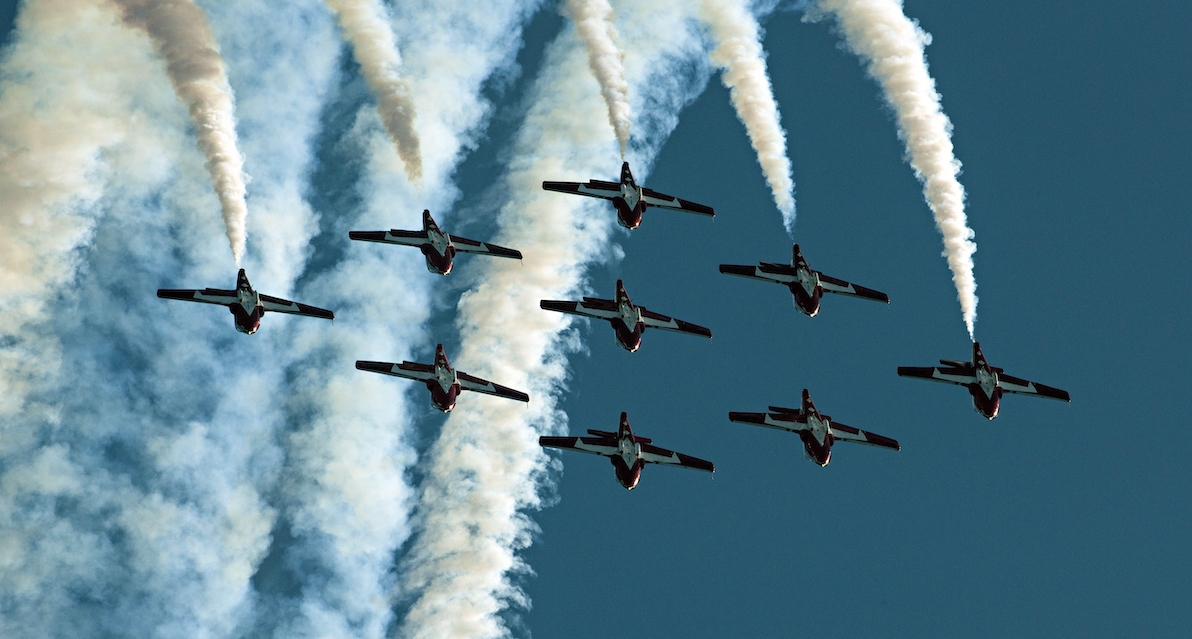 RCAF Air Demonstration teams launch 2021 season
Marcello Sukhdeo, May 31, 2021
2 min

read
1874
The Royal Canadian Air Force (RCAF) air demonstration teams' 2021 season officially began last Friday, May 28, after formal certification by the Commanders of 1 Canadian Air Division and 2 Canadian Air Division following an acceptance show at 15 Wing Moose Jaw.
"The 2021 airshow season is at our door and we're ecstatic to be back. The team has worked hard on our show and I'm really satisfied with the result, not just for the pilots, but also the technicians and other support personnel. We are proud to continue Op INSPIRATION and hopefully put some smiles on the faces of Canadians during the next few months," said Major Jean-Francois Dupont, Canadian Forces Snowbirds Team Lead.
The Canadian Forces Snowbirds will be joined by the CF-18 Demonstration team this summer flying under Operation INSPIRATION. They will attend airshows and conduct flybys across Canada and the United States.
This year, the CF Snowbirds will celebrate their 50th anniversary in entertaining audiences and inspiring future aviators across North America, which began in 1971.
Flying under Operation INSPIRATION will also provide an opportunity to carry on the legacy of Captain Jenn Casey. Captain Casey was the Snowbirds Public Affairs Officer who lost her life during the first iteration of Operation INSPIRATION in May 2020 and whose dedication was instrumental to connecting the CAF with Canadians during her time with the air demonstration teams.
"Our air demonstration teams are an important face of our Air Force and their role in connecting us to Canadians was clear last year through the success of Operation INSPIRATION. This year we couldn't think of a better way to continue that momentum than through formally recognizing Operation INSPIRATION as an enduring mission that will be carried forward by these two teams," said Major-General Eric Kenny, Commander 1 Canadian Air Division.
The schedules for the teams can be found on their websites and social media pages and are subject to change as provincial restrictions are updated.
Related posts