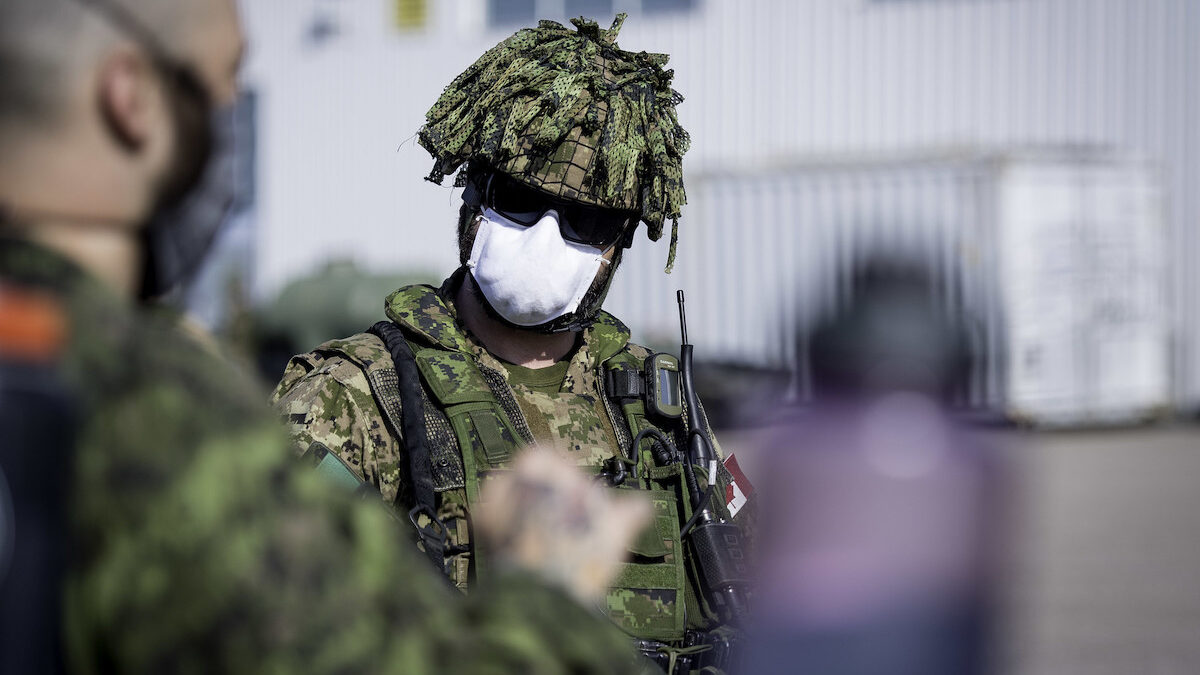 In a global crisis, extraordinary demands are placed on leaders in both business and government to restore a sense of safety and security. As we've seen over the past few months, Canadians have relied on the government to provide guidance on daily behaviours that would have otherwise been business as usual. There is no doubt that we are in need of leaders to help us navigate this uncertainty. The COVID-19 pandemic has thrust upon us unprecedented challenges, and for governments and leaders around the world, a transformation to a new normal is required and has begun.
COVID-19 accelerated the need for digital transformation of many sectors, including defence programs, defence operational capabilities, and the priorities that envelop them. The economy is reopening, and the sophistication of our digital world allows us to operate, plan, and respond in a way that we never could before.
Working Safe, Working Smart from Anywhere
Through to 2019, the standard operating model for businesses, government, and other organizations was location-based: people would go to work, rather than work coming to them. COVID-19 changed that. Like most other government departments and agencies, the Department of National Defence (DND) and the Canadian Armed Forces (CAF) have been faced with three immediate challenges with the onset of this global pandemic:
Ensure its workforce is safe and protected
Adapt quickly to work from home and elsewhere other than from a static office, and,
Ensure business and operational continuity with the ability to respond to unique government demands (for example, DND deployment to long-term care facilities as part of the COVID-19 response).
Working safe and working smart requires reimagining business processes at every level. To make informed decisions about employees, buildings, and spaces, the right data and insights are essential. Artificial Intelligence (AI) models and applications can help guard the health, safety, and productivity of people in a changing workplace. For many organizations, this means providing essential insights to support critical decisions on workplace re-entry, facilities management, workplace safety, and client and employee care.
Accelerating Agility and Efficiency with Cloud
While businesses have used the cloud to increase productivity and reduce costs, a recent McKinsey study suggests that up until earlier this year most enterprises were only 20 per cent of the way into their cloud journeys. COVID-19 has accelerated this pace, and many organizations are focusing on infrastructure to transform their workspace into a secure, highly collaborative, and productive environment that allows employees to access critical business applications securely and remotely. Embracing a hybrid cloud environment is enabling organizations to perform large scale transition of their workforce from the office to remote locations with minimal business disruption. Governments are not exempt from these expectations. Cloud computing has the potential to transform through commoditizing routine services such as e-mail, web servers, and data storage. Cloud computing can also easily deliver services that are common across government, such as accounting, procurement, and collaboration tools. By increasing reliance on commodity computing, governments will have more time and resources to provide leadership and value where it is needed most.
The key to continuing a successful virtual-to-physical transformation for DND, to taking advantage of new-found agility and innovation, lies in the cloud. Going forward, DND and the CAF will need to continue modernizing operations to realize the immense benefits of cloud-native capabilities: location independence, talent flexibility, scalability, resilience, interoperability, and seamless transition to a virtualized engagement and delivery model—what we call cloudified delivery. Canada's Conference of Defence Associations and the CDA Institute recently set an all-time attendance record since the organization was founded in 1932. Using the power of IBM Watson Media technology, they recently delivered a webinar to 1,100 participants in 27 countries.
The Power of AI and Virtual Engagement
By embracing cloud, governments are providing their workforce and the public with access to technologies that can really elevate the way we communicate. With the current, dynamic health and security situation, people have more questions than ever before. Essential government offices have been swamped with massive call volumes and access to information requests.
Large, complex organizations, like DND and the CAF, are drowning in raw data. This exponential demand and volume can be met with the power of digital tools that live on the cloud and use conversational AI. IBM's Watson Assistant was recently piloted by the City of Markham in Ontario to respond to COVID-19 related questions in real-time. This tool brings together years of investment in AI and speech recognition to guide users in dynamic situations and free up important resources. Even more recently, the Texas Veterans Land Board (VLB) launched a 24/7 virtual assistant to aid Texas veterans. In addition to answering questions regarding loans, Veteran homes, and Texas State Cemeteries, the tool will also serve as a directory that can point Veterans in the right direction to find answers to common questions outside the wheelhouse of the VLB, from inquiries on how to obtain a fishing license, up to 119 different topics. Given the resource efficiency and effectiveness of these tools and procedures, and the speed with which they can be embedded (virtual assistants can be stood up in a matter of hours, in some cases), they are likely to become core business and operational tools in the post-crisis era.
In order for DND to generate differentiation in the digital space, they should seek to create real-time experiences that provide a marked edge over adversaries and allow for effective and efficient delivery of operations. AI can increase operational efficiency and effectiveness, free people of repetitive tasks, uncover new data insights, and enhance operations. Bell Textron, an American aerospace manufacturer, recently piloted a project with IBM to apply AI to 100,000 historical records to provide instant advice on the most likely resolution for manufacturing defects, saving significant time and labour in the factory. Using AI and advanced analytics for sustaining their vertical lift systems, Bell Textron will be able to predict the remaining useful life of critical components, which is a huge driver for efficiency and affordability.
Federal agencies are using AI to manage both real and perceived risks. It may be to identify insider threats, support military deployment planning and scheduling, and answer routine immigration questions. Agencies are considering additional uses that range from checking compliance with tax laws and regulations to assessing the accessibility of government products and websites. At IBM, we are addressing AI issues that include bias, security, transparency, and job impact, all of which have important insights that may be instructive for federal agencies.
The Exponential Rise of Data in Defence
The Government of Canada has a long history of data collection and according to IBM's Institute for Business Value, government use of data worldwide has risen exponentially. Despite this long history and recent progress, government agencies face challenges in transforming data into actionable insights. They are not alone. Most organizations access only 20 per cent of their data as that is the amount that is searchable. The remaining 80 per cent of data is unstructured (think email, social medial, documents).
As government makes open data more accessible, challenges include finding data experts and managing data accessibility, data quality, and data sharing. To respond to this challenge, businesses are creating data organizations led by a Chief Data Officer (CDO). Many government organizations, including DND, have appointed CDOs to champion a data-driven culture. CDOs are most successful when they have the full support of their senior executives and can leverage that authority when necessary. A high-profile mandate helps them gain credibility and the respect of their peers. Successful CDOs are clear about their scope and can describe their goals succinctly. This is enormously helpful in motivating and focusing the efforts of staff and in avoiding "scope creep" or misunderstandings about the mission. CDOs are successful when they build and deploy teams with a range of specialized skills including revising their organizational structure as they learn from experience.
It is tempting to project how new technologies will strengthen government data handling and analytics in the future. However, much of what needs to happen twenty years from now could come to fruition operationalizing today's technology with the right governance structures and incentive systems. The key challenge now is transforming data into actionable insights for senior executives. In short, how can government, and more specifically, DND, make sense of its vast and growing amounts of data to develop new understandings that inform decisions? While new technologies now allow for the collection, analysis, and sharing of real-time data, agencies face the challenge of making data relevant and meaningful to decision-makers.
Digitally Transforming to Embrace the New Normal
Senior government executives and military officers intuitively understand that their organizations must harness the power of cloud migration, AI, and big data to help streamline their business and mission objectives. They also understand that their teams need to be supported in their ability to change their organizational culture toward greater use of data and its extensive analysis.
One fortunate aspect of the era we live in is the sophistication of our digital world. We have available to us a network of virtual connections and a broad array of devices, software, and technologies that allow us to operate, plan, and respond to citizen needs in real-time. In many ways, people expect their government to deliver services with the same ease as applying for a new credit card or tracking a parcel. Digital transformation is about meeting people where they are so communities can thrive. It's not about change for the sake of change – it's about making changes that have the greatest impact with people at the centre of decision-making. COVID-19 may have slowed the world, but digitally, it is propelling us towards the future. There's a lot to do, and it will seem daunting, but we have the tools to support the defence industry as a key driver of effective economic recovery. What comes next is up to us.
For more information, contact Tony Battista, Federal, and Global Markets Client Executive – National Defence, RCMP & Veterans Affairs, IBM Canada at Tonyb@ibm.com or Shannon McClure, Defence Partner, IBM Canada at mshannon@ca.ibm.com.
Tony Battista and Shannon McClure, IBM Canada
Tony Battista is the IBM Canada Client Executive for National Defence, RCMP and Veterans Affairs. He served in the Canadian Armed Forces for 40 years, from the rank of Private soldier to the rank of Colonel. Tony has served as Chair of the United Way Campaign for Greater Simcoe County and has volunteered in support of Veterans and commemorative activities, with particular focus on WWII and Afghanistan. Tony has been member of the Canadian Association of Chiefs of Police since 1995 and is a past executive committee member of the Royal Military College Club of Canada. Shannon McClure is the IBM Canada Services Partner for Defence. She has 23 years of business experience with more than 15 years of experience working with Defence organizations. As the Canadian representative on IBM's Global Defence Board, she collaborates on innovation agendas, putting people and data first. She is experienced in planning and managing complex organizational change projects combined with IT business transformations and is focused on helping Defence organizations obtain value from artificial intelligence.
Related posts