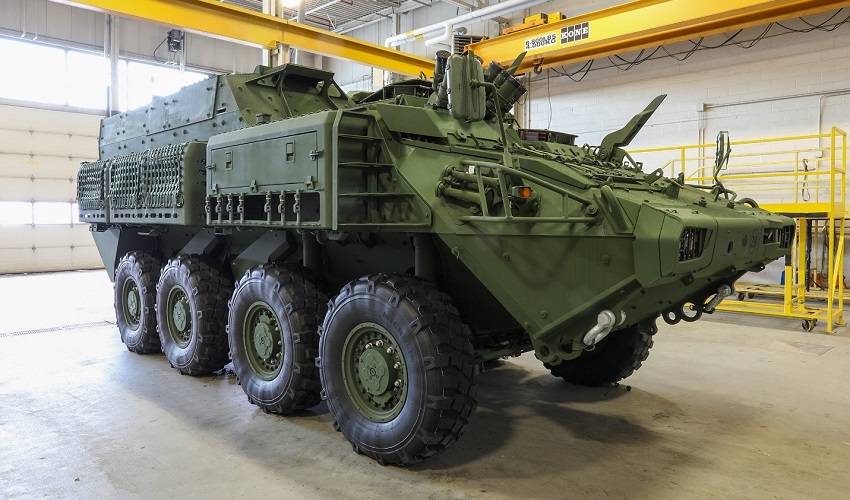 The Canadian Army celebrated a significant milestone on October 19 as the Honourable Bill Blair, Minister of National Defence, and General Wayne Eyre, Chief of the Defence Staff, paid a visit to Garrison Petawawa and marked the official acceptance of the first four brand-new Armoured Combat Support Vehicles (ACSVs).
"The members of the Canadian Armed Forces deserve modern equipment that gets the job done. These new Armoured Combat Support Vehicles will serve our members well at home and abroad, enabling them to protect Canada and support our Allies. I thank the hundreds of Canadian workers involved in building these vehicles – and reaffirm our commitment to investing in our military while creating good jobs for Canadians," remarked the Honourable Bill Blair, Minister of National Defence.
Minister Blair and General Eyre took a comprehensive tour of these state-of-the-art armoured vehicles, the first of a grand total of 360 ACSVs that will be gradually delivered to the Canadian Army in the years to come.
"Modernizing, renewing and improving our capabilities within the Canadian Armed Forces is essential to keep Canada safe in a world that grows more complex, and I am pleased to see the first variant of the Armoured Combat Support Vehicles project being delivered today. These ambulances, which were much needed, will provide enhanced protection for our personnel when it matters most whether they're at home or abroad," added General W.D. Eyre, Chief of the Defence Staff.
The initial four vehicles fall under the ambulance variant category, specially outfitted with medical supplies and an interior configuration designed to facilitate the treatment of a broad spectrum of injuries.
These ACSVs have been procured through the Armoured Combat Support Vehicle project, a pivotal initiative aimed at bolstering the Canadian Armed Forces (CAF) with a contemporary armoured combat support fleet. This fleet is a critical asset for the Canadian Army, equipping its members with the necessary tools to execute missions within Canada and abroad. These vehicles boast remarkable versatility, capable of fulfilling diverse roles on the battlefield. They can serve as troop transports, command vehicles, electronic warfare platforms, mobile repair units, and are well-suited for various combat engineering tasks. Importantly, they offer a high degree of both mobility and protection to their crews and payloads.
Beyond their military significance, this procurement has brought substantial economic benefits to Canada. The acquisition of 360 ACSVs was made possible through a $2 billion investment with General Dynamics Land Systems – Canada. This project has created and sustains 1,975 jobs annually, both in London, Ontario, and across the country. Furthermore, it contributes a substantial $250 million annually to Canada's Gross Domestic Product over an eight-year period.
"This project highlights investments in Canada's domestic supply chain, and the importance of supporting good middle-class jobs. Welcoming the first ambulance variant of the Armoured Combat Support Vehicle supports our commitment in ensuring members of our Canadian Armed Forces have the modern equipment they need to do their jobs and keep Canadians safe," explained the Honourable Jean-Yves Duclos, Minister of Public Services and Procurement.
The arrival of the ambulance variant is just the beginning of a much more extensive project encompassing a total of eight unique variants that will be integrated into the Canadian Army's arsenal. Training for the personnel responsible for maintaining and operating these vehicles is slated to commence later this month, ensuring that the Canadian Army is fully prepared to harness the capabilities of these cutting-edge assets.
"I am thrilled to see this first wave of Armoured Combat Support Vehicles in the hands of our soldiers. They are professionals who expect to be trained and equipped like the world-class soldiers they are. The Armoured Combat Support Vehicle is one of many ways we're achieving that. Whether training here in Canada or deployed abroad, this capability will help us to continue to build toward critical missions, including the upcoming multinational brigade in Latvia," Expressed Lieutenant-General J.J.M.J Paul, Commander Canadian Army.
Related posts