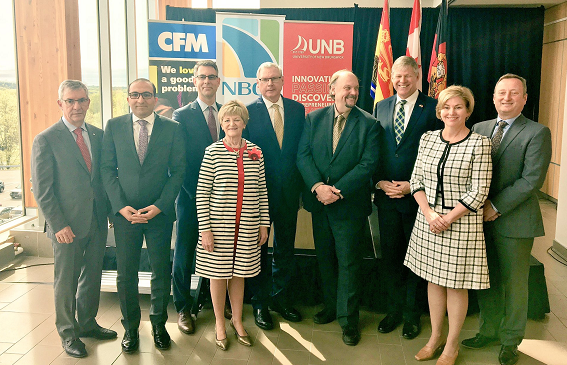 Marine and defence industries to benefit from new 3D printing centre
Marcello Sukhdeo, May 29, 2017
0
2 min

read
340
Last Thursday, May 25th marked a momentous day for the marine and defence industries in Canada. It was on this day that Canada's first research centre for 3D printing for these industries was launched.
Named the Marine Additive Manufacturing Centre of Excellence, this new centre is located on the campus of the University of New Brunswick in Fredericton and is the first such centre in Canada, according to a press release that will "combine research, commercialization and workforce development and training."
The $5-million centre became a reality due to the hard work and collaborative efforts of the University of New Brunswick, Custom Fabricators and Machinists (CFM) and community colleges in New Brunswick and Nova Scotia with funding by Lockheed Martin Aeronautics and Irving Shipbuilding Inc.
The research and development element of the centre will be led by Dr. Mohsen Mohammadi, director of the Marine Additive Manufacturing Centre of Excellence and assistant professor of mechanical engineering at UNB who said that the technology that will be used is greener and more efficient than conventional methods. CFM will manage the commercialization phase while the New Brunswick Community College, Collège Communautaire du Nouveau-Brunswick and the Nova Scotia Community College, will take the lead in workforce development and training.
Through this partnership, the centre will be the first in Canada to use 3D metal printing technology for manufacturing certified and custom parts for the marine sector with the aim of remaining at the leading edge of 3D printing by developing new methods, procedures, and effective training programs.
As part of its industrial and regional benefits obligation, Lockheed Martin Aeronautics has contributed $2.7-million to the centre. Charles Bouchard, Chief Executive of Lockheed Martin Canada said that they are very pleased to see their ITB being used to support innovations such as 3D metal printing which is the way of the future.
"Our Value Proposition commitments allow us to invest in game-changers like this one," Kevin McCoy, President of Irving Shipbuilding Inc. said about Irving's investment of $750,000 as part of its Value Proposition commitments under the National Shipbuilding Strategy (NSS). This according to McCoy will "help achieve the National Shipbuilding Strategy's goal of creating a sustainable and vibrant Canadian marine industry."
The Marine Additive Manufacturing Centre of Excellence is expected to triple its funding in the coming year with new partners looking to participate.
"The investments by Irving Shipbuilding and by Lockheed Martin show how we can leverage military procurements to generate support for the new ideas and highly skilled workforce that will sustain our marine sector for years to come," Navdeep Bains, Minister of Innovation, Science and Economic Development said.
Related posts