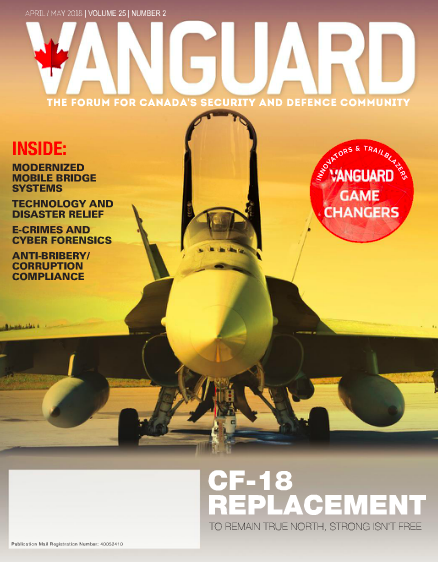 Digital Edition – April/May 2018
Marcello Sukhdeo, May 23, 2018
0
1 min

read
959
We are excited to share with you the April/May 2018 issue of Vanguard. In this edition, we share stories on Army, Air Force and Navy, along with policy, cybersecurity, and deterrence. From the cover story of the CF-18 replacement options to cyber forensics, this issue is packed with insightful and thought-provoking articles:
CF 18 Replacement: To remain true north, strong isn't free
By Chris Black
Compliance does not eliminate corruption – but that's changing
By Pat Poitevin
Modernized mobile bridge systems: A necessity for every army
By Marcello Sukhdeo
eCrimes and Cyber Forensics: I know what you did last summer … and the one before that …
By Valarie Findlay
Experts paint innovation and emerging technologies picture at Shipbuilding Tech Forum
By Marcello Sukhdeo
The return of deterrence
By Marcello Sukhdeo
SATCOM: CBC entrusts Hunter to deliver its content
By Marcello Sukhdeo
Defence technology is well positioned to deliver in disaster relief
By Nicole Verkindt
Multi-Factor Authentication
By Eric Jacksch
Bookshelf: The Captain Class
By Harvey Schachter
Dashboard: Options for CF-18 Replacement
By Chris Black
Click on the image below to view this issue.
Or go here.
Related posts