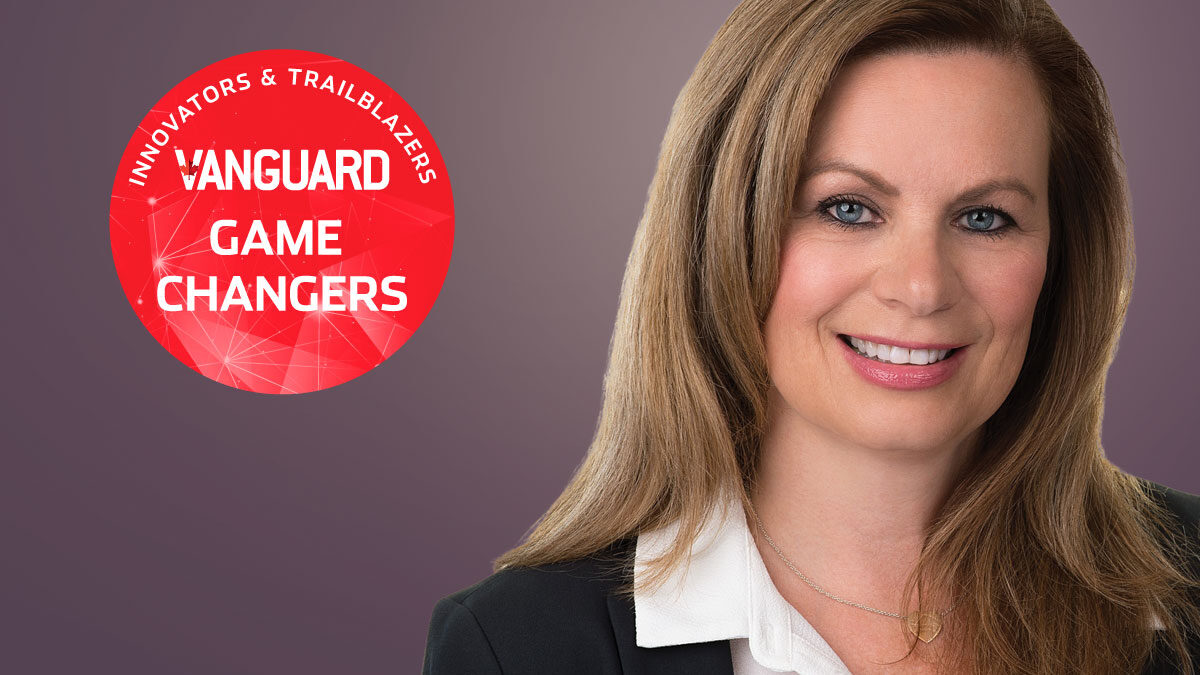 Lorraine Ben is the Chief Executive for Lockheed Martin Canada and Regional VP for Latin America, Lockheed Martin and one of our August/September Game Changers. Her career journey began in 1998 when she and her husband relocated to upstate New York. There, she joined Lockheed Martin, working on complex automation solutions for the United States Postal Service. Despite the postal service focus, she was inspired by former military leaders at Lockheed Martin, igniting a desire to support the Canadian military. In 2004, she returned to Canada and took on a role focused on providing technology and equipment to service members. Today, her responsibilities include executing country-specific strategies, building strategic relationships, and championing diversity and inclusion.
How did you start out in this industry and how has it brought you to where you are today?
In 1998, my husband and I were pursuing our professional careers which led us to upstate New York where I first joined Lockheed Martin. Ironically, I wasn't supporting defence at that time – I was supporting a division of Lockheed Martin building large complex automation solutions for the United States Postal Service. Having just spent six years with Canada Post, I thought I was up for the challenge! Despite the focus of the postal service project, I still had the opportunity to work alongside many former military leaders at Lockheed Martin. They instilled a passion in me, and I felt this instant desire to want to support our military in Canada. So, when I moved back in 2004, with my husband and son, I took a role that allowed me to find a way to contribute to supporting our troops…. helping our service members in unform get the right technology and equipment to achieve their mission success made me feel like I was contributing something bigger than myself. In some small way I was part of a mission to help bring our brave military members home safely. I'm honoured to be part of this industry and to be in the role that I'm in today.
What is your role at your organization today?
As Chief Executive in Canada and Regional VP for Latin America I am responsible for delivering on country-specific strategies; maintaining and strengthening strategic customer and partner relationships, and partnering with business areas on key pursuits, program campaigns and government relations. I also serve as co-executive chair of Lockheed Martin's Women Impact Network that provides a spectrum of thoughtful and relevant programs to employees across the organization through intersectional advocacy, professional development and active allyship. I am passionate about women in leadership and have made a commitment to help broaden Lockheed Martin Canada's global diversity and inclusion.
What was your most challenging moment?
I have experienced many challenging moments throughout my career, but I would say that the most challenging so far has been coming out of the pandemic and ensuring the proper support is in place for our workforce. As we know, many people are struggling with mental health issues and experiencing financial difficulties in these challenging economic times. For me personally, rebuilding social connections has taken time. I was not prepared for the mental exhaustion that would come after the pandemic.
What was your A-HA moment or epiphany that you think will resonate most with our reader, tell us that story
Throughout my life I have experienced moments of clarity and realization that have shaped my perspective along the way. The most memorable a-ha moment that stands out is the realization winning and failure are two sides of the same coin. They both teach us valuable lessons. Early in my career, I truly believed I could do it all and I was lucky enough to be part of some incredible teams where I was able to perform with excellence and develop my skills. However, the pressure that I put on myself to excel in all areas of my life was overwhelming, and I often felt like I was drowning in a sea of expectations. At the height of my career, I started to feel exhausted and completely overwhelmed and it was during this period that I experienced my a-ha moment, which ultimately transformed my perspective about success and happiness.
I had just landed a huge opportunity for the company I had worked for and was selected as top performer of the year. I know what you're thinking…. How could that lead to a sense of failure? What could possibly go wrong? Especially when I was on top of my game! Well, it was only after winning that I realized that I was just at the beginning of my journey and what I hadn't realized was how complex and intricate the program that I had just won would be. It took years to implement and required many changes within the company to ensure a complete and successful implementation. I found myself frustrated by lack of leadership and I felt that I was carrying the world on my shoulders.
At that time, I believed success was linked to a sense of flawlessness and I pushed myself toward a constant pursuit of perfection…not just my own perfection but holding others to the same accountability. For me failure was not in my vocabulary. What I didn't realize was that failure could teach me so many things. It provided me opportunity for growth and created resiliency. It taught me perseverance and helped me bounce back. It has also helped me mentor and support other women in the industry who are struggling or have experienced similar a-ha moments. My a-ha moment has taught me the power of perspective – success is not a linear path for most of us. It also serves as a constant reminder that personal growth and self-compassion have made the person I am today.
What is the one thing that has you most fired up today?
Ensuring support for mental health and wellbeing of our employees.
What is the best advice you received?
My mentor, retired BGen Chester Muise, once told me "If you never take risk, you won't get the reward". Those words have stayed with me and have guided some of my most successful moments.
What is a habit that contributes to your success?
I practice listening and always show up with my best intentions.
What is your parting piece of advice?
Stay true to yourself and never let someone dictate your identity or your values.
What people or organizations do you believe best embody the innovation mindset? (Does not have to relate to the defence & security industry, can be related to your everyday life)
Taking off my Lockheed Martin hat, I would have to say Panthera CryoSolutions. In full disclosure my husband is the co-founder and Chief Scientific Officer of the company. Panthera is a biotech startup co-founded in Ottawa which has landed millions of dollars in new funding for its pioneering solution that helps preserve human cells used in next-generation medical research. Founded six years ago by University of Ottawa chemistry professor Robert Ben and University of Alberta researcher Jason Acker, PanTHERA makes small organic molecules that slow down the buildup of ice ​– known as recrystallization ​– that occurs when biological material used in the fields of cell therapy and regenerative medicine is frozen. Their innovative process is inspired by nature — specifically, a protein found in a species of fish that survives freezing during winter – and ensures that cryopreserved cells are healthier and quicker to recover after thawing. Once the product launches later this year, PanTHERA will explore other market opportunities, including organ banking, and begin its next funding round.
What are some of the biggest impediments to innovation in your industry sector?
We are in a high stakes industry where failure can have significant consequences. Risk aversion and fear of failure can deter organizations from taking bold and innovative approaches. Also, long development cycles and procurement processes that are complex and lengthy can slow down innovation and make it challenging to keep up with and implement rapidly evolving technologies. Since the industry often relies on legacy systems and infrastructure it can be challenging for companies to upgrade capabilities while trying to innovate at the same time.
How has innovation become engrained in your organization's culture and how is it being optimized?
Across our business, we are transforming with urgency to deliver the speed, agility and insights our customers need to stay ahead of rapidly evolving threats. 1LMX is our mission-driven business and digital transformation program. With 1LMX, we're transforming our end-to-end business processes and systems through:
Digital Engineering: Model-based engineering optimizes design and links design, manufacturing, and sustainment teams on a common digital thread to save costs and speed program lifecycles.
Next-Gen Software: Enabling fast development and continuous deployment of software to advance customer missions.
Digital Enablement: Company-wide investments in process reinvention, business system modernization, 5G networking, cyber and cloud are laying the foundation for transformational capabilities.
Data as a Strategic Asset: We're building the global infrastructure to share data instantly and securely, and the AI-powered, predictive analytics to glean insights that advance performance from the factory to the field.
Advanced Production: We're revolutionizing our factories with smart tools, connected machines, networked supply chains and AR/VR for technicians that speed production and improve quality.
What technologies, business models, and trends will drive the biggest changes in your industry over the next two years
Here are a few of my thoughts:
Increased focus on cybersecurity – as new technology becomes more integrated into defence systems, the need for cybersecurity measures grows. The demand on the supply chain to keep up can be challenging so as an industry we need to work together to ensure resiliency of our defence and aerospace systems.
Emphasis on unmanned systems – drones and autonomous vehicles are playing a crucial role in the defence industry helping support new mission capabilities.
Shifts toward multi-domain operations – integrating capabilities across air, land, sea, space and cyberspace.
Increasingly complex threat environments will drive rapid innovation that will require industry and government to have a nimbler approach to procurement and implementation.
Greater emphasis on space-satellite communications, surveillance, and navigation systems to protect Northern approaches
Focus on affordable and sustainable greening solutions to reduce emissions from real property and military equipment.
Advancements in AI – leveraging defence applications for data analysis, predictive modeling and autonomous decision making.
Sustainment solutions and innovative methods to support predictive health, high reliability, high-velocity support systems, and condition-based maintenance across allour platforms.
Related posts