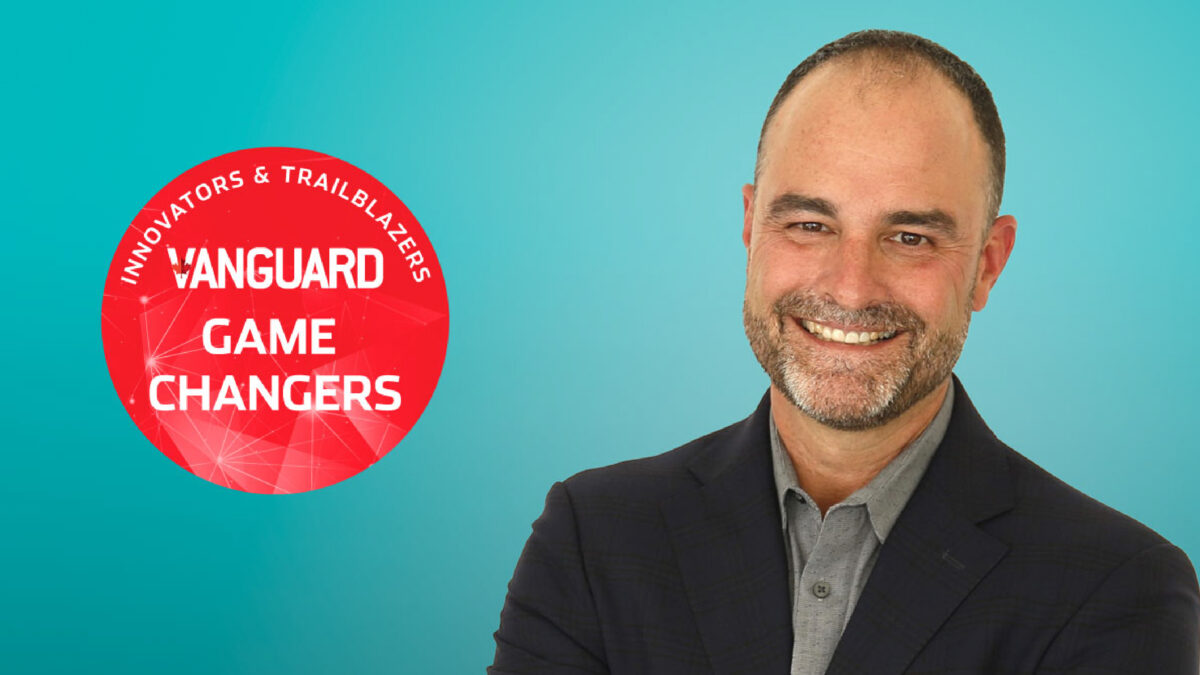 Game Changer: David Hill, Director of Commercial Operations, Hexagon Manufacturing Intelligence
Vanguard Staff, September 13, 2022
10 min

read
1434
David Hill, Director of Commercial Operations, Hexagon Manufacturing Intelligence is one of our August/September Game Changers. David has been working with Hexagon since 2012 and has focussed his efforts on driving productivity with best in class technology. Serving him well has been his extensive knowledge utilizing SLS and laser scanning systems for die and part development, slow builds and root cause analysis from the Automotive and Aerospace industries. Mr. Hill walks us through his role at Hexagon, what lead him there, and explains how data is being utilized for predictive quality, predictive maintenance, and autonomous manufacturing. 
How did you start out in this industry and how has it brought you to where you are today?
When I was young, I always had a passion for fast cars, motorcycles, snowmobiles, and anything that had a motor attached to it. I loved tearing them down, making minor improvements and figuring out how they worked. So naturally I was drawn to the manufacturing world. My journey in quality started many years ago when my father, who worked for Generals Motors at the time, recommended that I meet for dinner with one of their cutting tool suppliers to talk about the tool and die industry. I had friends starting in the trade, and of course, Windsor is well known for their expertise in tooling and advanced manufacturing. I have always been interested in the business aspect of manufacturing and envisioned being in a business development type role even at 19.
During the dinner with my father and the account executive, I was told to enter the trade, and learn and understand the manufacturing process, and bring credibility to your future customers. Sales is not only about a transaction. It is about building trust in the solution and creating a partnership. That meeting resonates with me to this day. It brought me into the precision gauging and check fixture world. I completed an apprenticeship in Tool and Die and started as a fixture builder nearly 30 years ago. Precision gauging and sheet metal fixturing was the primary focus for the company I worked for. The trend in manufacturing to move from hard fixtures to flexible, re-deployable non-contact scanning is what allowed me to move into a sales role. The rest is history.
What is your role at your organization today?
I am currently the Director of Commercial Operations for Hexagon Manufacturing Intelligence, Canada. In 2017, I took the role of building a direct team to support our Canadian Manufacturers. Hexagon has a large customer base within Canada and always had local technical support. But our goal of opening solution centers with sales, training, and the latest technologies had yet to take shape. In my current position, I have the opportunity to work across different functions of our organization. I learn from and interact with some very talented people in services, application engineering, training and finance. In all honesty, being part of this journey to build out such an amazingly talented team has been the best part of my job at Hexagon.
What was your most challenging moment?
This is an interesting question because life is full of challenges every day. To keep my answer in the theme of the manufacturing industry, I am going back to 2003. At this time, the company I worked with became the Canadian distributor for a white light scanning technology. This scanner was really a game changing at the time and very new to industry. In my mind this technology would be welcomed with open arms and people would be relieved, that finally we have a technology that makes life easier! I was wrong. It was met with constant skepticism around accuracy. I was dealing with comments such as "this technology shows too much." To call it a challenge would be a mild statement. The companies in the supply chain we were working with feared they would never achieve buyoff from their customers because scanning showed the entire part. Out of tolerance areas were glaring. In contrast, today conversations around the digital twin are prevalent and laser scanning and structured light are utilized in all facets of manufacturing.
What was your A-HA moment or epiphany that you think will resonate most with our reader? Tell us that story.
Funny enough, my A-HA moment came from visiting a HxGN Live event in Las Vegas. This event focuses on everything Hexagon. I work in the Manufacturing Intelligence division of Hexagon which in itself is vast. When I toured the Vegas event and saw for the first-time what other divisions including Novatel, Intergraph, Geosystems, Safety Infrastructure provided from a technology standpoint, I was blown away. Within the Manufacturing Intelligence division, it was an eye-opener to learn how our solutions drive the manufacturing process from design engineering, production machine, to quality. I have always been very process oriented, so watching Hexagon acquire strategic companies over the years to build out our portfolio has been enlightening.
What is the one thing that has you most fired up today?
The advancements in technology continue at a tremendous rate. The drive to utilize data for predictive quality, predictive maintenance and autonomous manufacturing is where the industry is headed. We can measure faster and more accurately closer to the point of manufacturing, even on the shop floor. We have sensors gathering information and monitoring the production line. With access to the gathered from parts by scanners metrology instruments, and manufacturing systems this information can be utilized strategically to head off scrap before it happens is key to quality and profitability. The digitalization of operations and application of artificial intelligence (AI) is an exciting journey to be part of.
What is the best advice you received?
Listen more than you speak. We have all heard the adage when you listen you may learn something. I would also say be patient, kind, and understanding. These values will bring happiness to your life by the ability to get along well with other people. Good News! Any person can become a wonderful human being in their relationships with others when they decide to.
What is a habit that contributes to your success?
Constant learning. Be curious and ask questions. I enjoy reading about manufacturing trends and following the advancements in our industry. This helps me grow as a person and allows me to support my team in the best manner possible.
Networking. I am a people-oriented person, so I value exchanging ideas with others, as well as surrounding myself with successful people.
Outside of work, spending time with my family, watching my sons succeed in their schooling and sports provides a nice balance. As a parent, there is nothing more satisfying than watching your kids grow and make their own way. Anyone who knows me can probably rattle off many of my two sons' achievements. I cannot help but brag sometimes.
 What is your parting piece of advice?
Enjoy what you do and always remember that "in every job that must be done there is an element of fun." It is a recipe for success and managing challenges. I am not referring to laundry or cutting grass of course, although some people may love that! We all have "jobs" to provide for our families and cover the bills. If you believe in what you do every day, it brings about a sense of passion and fulfillment.
What people or organizations do you believe best embody the innovation mindset? (Does not have to relate to the defence & security industry, can be related to your everyday life)
4ocean. I love what this company stands for and how they came to be. Here is a group of people who decided to make change in the world and followed it through. If you have not heard of them, look them up. You can track their progress live on-line to see how many tons of plastics they have pulled from the oceans.
Questions regarding the ORGANIZATION
How is your organization changing the game within your industry sector?
Hexagon's Manufacturing Intelligence division is well known for coordinate measuring machines (CMMs), laser trackers, portable measurement arms, PC-DMIS inspection software and other metrology systems, as well as design and engineering and production software. If you take a deeper dive into Hexagon, it is evident our product offerings are accelerating and empowering an autonomous future — where data is fully leveraged so business, industry and humanity sustainably thrive.
The shift from automation to autonomy is so important, so critical to our collective future, that this simple notion of 'putting data to work' is our singular goal at Hexagon. There is no other company better positioned to "autonomize" the future for our customers and the industries we serve – from manufacturing to mining, from urban infrastructure construction to the governments that plan them.
What are some of the biggest impediments to innovation in your industry sector?
Industry 4.0 and the IoT era has delivered on the promise of vast amounts of useful data. But instead of generating trillions in value, the data deluge is confronting industry with a new challenge – how to put all of it to good use. The sheer volume of data generated by connected things has defied our ability to see, understand and put it all to work. Treating this data as an asset and disseminating it to those who need it most…is of the utmost importance.
How has innovation become engrained in your organization's culture and how is it being optimized?
Every day, our solutions are shaping urban and production ecosystems to become more connected and autonomous. Unique combinations of our sensors and software are leveraging automation, AI and other technologies to put data to work in ways that enable more efficient processes and better decision-making. The result is fewer inputs, less waste, reduced emissions, increased security, and better preparedness – making entire industries more sustainable.
What technologies, business models, and trends will drive the biggest changes in your industry over the next two years?
AI, Data & Analytics, and Additive Manufacturing.
The rapid advancement of artificial intelligence is changing the manufacturing landscape. Decision makers must be able to collect, collate, sift, analyze and share vast amounts of data and information. The ability to analyze, adapt and respond to threats at tactical speeds can mean the difference between success and failure. We hear terms like Ind 4.0, Smart Factory, Smart Manufacturing and digital thread thrown around a lot. What are they, what do they mean and should I be thinking about ways to implement them? The digital transformation is an opportunity to connect design, manufacturing and quality as one cohesive ecosystem.
Many operations operate in silos today and focus on their own KPIs, rarely looking up or down stream to solve issues. So, what can be done today on our journey of digitalization to enable the connected worker? We can all agree that data exists everywhere. We have CAD, we monitor manufacturing metrics, machines, we gather quality data and tend to store much of this information. This data can lead to knowledge both in the digital and the real world which puts us in a unique position to connect design and manufacturing.  The future is really a discussion about our journey to smarter manufacturing. It is the little steps that improve process that lead to "smart factory", or digitalization. Break down these siloes and provide the information to those who need it most at the point in time that it has the largest impact on our process. In my opinion, that is where the industry is looking for.
Related posts