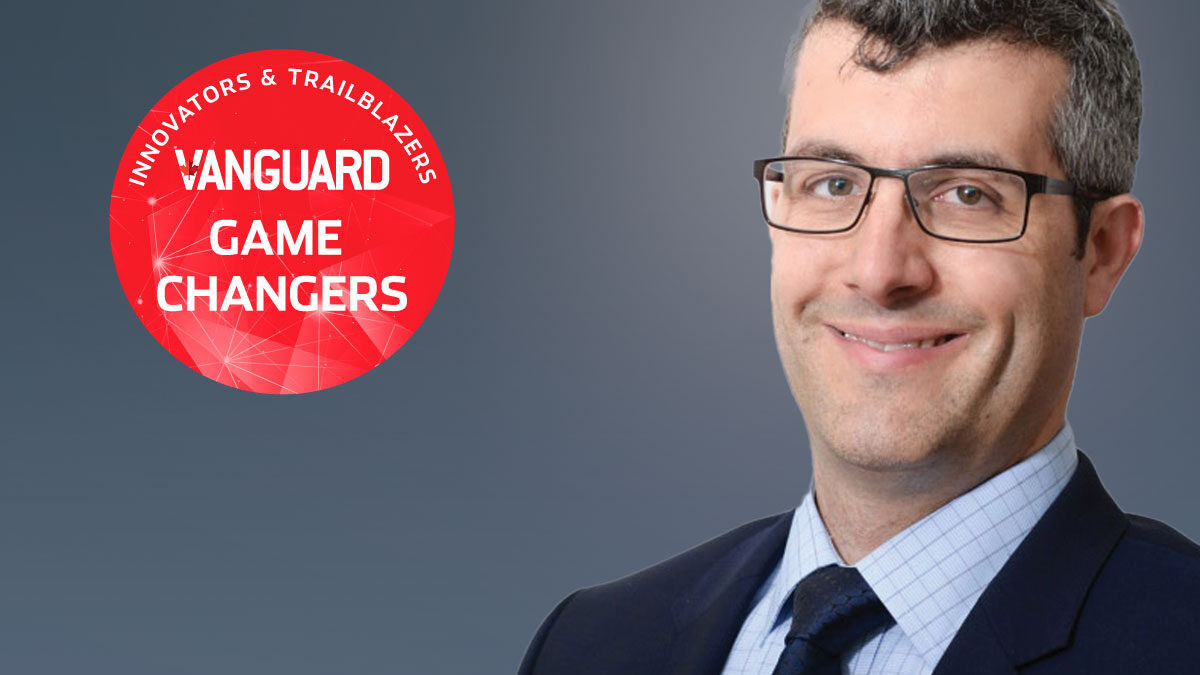 Game Changer: Tony March, Vice President Engineering and Technology, Babcock Canada
Vanguard Staff, October 18, 2023
8 min

read
328
Tony March is the Vice President Engineering and Technology, Babcock Canada, and our October/November Game Changer. Mr. March joined the Canadian Armed Forces in 1997 as a Marine Systems Engineer. Following his graduation from the Royal Military College of Canada, he served in the Arabian Gulf during Operation APOLLO. In 2003, he volunteered for Submarine Service and subsequently served on various vessels. Post-retirement, Mr. March joined Babcock in 2018, assuming the role of Vice President for Engineering Services and later expanding his responsibilities to Vice President for Engineering and Technology in 2020.
---
How did you start out in this industry and how has it brought you to where you are today?
I joined the Canadian Armed Forces in 1997 as a Marine Systems Engineer. Following graduation from the Royal Military College of Canada and completion of initial occupational training, I deployed to the Arabian Gulf in HMCS Montréal as part of Operation APOLLO, Canada's contribution to the international campaign against terrorism.
In 2003, I volunteered for Submarine Service and after completing the training and qualifications in 2004, I served as the Marine Systems Engineering Officer onboard HMCS Victoria, HMCS Windsor, and HMCS Corner Brook. Subsequently, I completed a variety of onshore postings in Halifax and was selected for Post-Graduate Training in the UK. Posted to Ottawa, I then held a variety of staff positions, culminating as the Deputy Director, Maritime Engineering Program Management (Submarines).
Following my retirement from the navy, I then joined the Babcock team in 2018 and assumed the role of Vice President – Engineering Services in 2020. Earlier this year, my portfolio was expanded to Vice President – Engineering and Technology.
What is your role at your organization today?
As Vice President – Engineering and Technology, I have many roles. I am responsible for overseeing the totality of the engineering function at Babcock Canada, ensuring there are sufficient suitably qualified and experienced engineers and technologists to meet the needs of the business and that the outputs they generate are assured and meet quality requirements. I oversee our Industrial and Technological Benefits (ITB) strategy, which ensures we meet our ITB commitments as laid out in the Victoria In-Service Support Contract. This program involves partnering with Canadian small and medium-sized businesses from coast-to-coast, to provide practical solutions that leverage innovation and technology, supporting job creation, skills training and development, and economic growth across Canada.
I am also responsible for leading Babcock's digital transformation. We want to ensure that we not only adopt new technology but are also optimizing existing technology to drive meaningful change to support our customers and their missions.
What was your most challenging moment?
Early in my career I was a Junior Naval Officer at sea in HMCS Victoria when the tragic fire occurred on HMCS Chicoutimi. I was a Junior Officer on the cusp of becoming a submariner and the risks and challenges of my chosen profession were laid bare. Dealing with the personal and professional challenges that arose from not only that specific event, but the subsequent months of effort that the submarine community put in to return to sea safely, was exceptionally challenging, but also one that was ultimately professionally rewarding when Canada's submarines did return to sea.
What was your A-HA moment or epiphany that you think will resonate most with our readers?
Early on in my naval career I benefitted from some exceptional leaders that taught me the incredible importance of humility as a leader, both when leading people and as an engineer and technical professional. I greatly benefitted from leaders who gave me the room to make mistakes and to learn from them. Not being overconfident, learning from those around you, and taking the time to reflect and learn from mistakes is key.
What is the one thing that has you most firedup today?
That there are major shifts occurring in the international security environment as well as in our planet's climate and that there is an increasing demand to meet these challenges head-on. In order to meet these challenges it will require the collective efforts of governments and industry. It will not be easy, but making sure these critical and complex services are delivered gets me fired up.
I feel privileged to be in industry and work for a company like Babcock that positively contributes to making the world a safer place, where we are trusted to support the submarine capability for the Canadian Armed Forces, or deliver critical aerial emergency services to the province of Manitoba as part of our 10-year Aerial Wildfire Suppression Services contract, or where we support Ascent Helicopters in its contract for the provision of rotary-wing air ambulance services for British Columbia Emergency Health Services.
What is the best advice you received?
It is not revolutionary or particularly unique, but undoubtedly the best advice I have received is to have a 5 and 10-year plan, regularly review it, identify what needs to happen to achieve those goals, and take positive and deliberate actions. It is equally applicable to personal or professional spheres.
What is a habit that contributes to your success?
I would highlight two. First is taking the time to maintain an awareness of the technology, market, and external environment of the domain that one works in. Reading a broad range of trade and, as an engineer, more technical publications, has served me well throughout my career. It helps to have a passion for what you do and I have had a life-long passion for submarines.
Second is constantly and relentlessly prioritizing what needs to get done and when. There is always more work to do than there is time and being able to effectively prioritize this work and communicate that priority upwards and downwards has served me well.
What is your parting piece of advice?
Always keep learning. The geopolitical and technological landscapes continue to involve at a seemingly ever-increasing pace and it is critical to keep an open mind and foster a passion for lifelong learning to best position oneself in a world of tomorrow that will without doubt be different from the one of today.
What people or organizations do you believe best embody the innovation mindset?
In my new role responsible for Engineering and Technology and coming from a Mechnical and Marine Systems background, I have had the pleasure of being exposed to many Canadian high-technology companies, both large and small. I have been exceptionally impressed with the mindset and agility of these organizations, some of which are very small, and what they can produce on short time scales.
How is your organization changing the game within your industry sector?
Babcock operates within Canada's aerospace and defence sector, supporting customers within the air, land, and sea domains.
In a world of significant geopolitical instability, national security has never been more important. However due to rapidly changing threats and disrupted supply chains – as well as more interdependent allies – projects are increasingly complex to deliver. Babcock's global expertise and experience make the organization well-suited to support our aerospace and defence customers. We ensure that our customers' critical services and assets are readily available, affordable, and future-proof. Now more than ever, what we do matters: creating a safe and secure world, together.
Babcock ensures that vital defence and security services are equipped to fulfill their missions. We adapt and integrate other people's technology, working with original equipment manufacturers to bring the best platforms to effectively and affordably meet their challenges. As an international business, we are able to leverage our global expertise in bringing together a unique combination of availability, capability, and affordability, without compromise, every time.
As a team, we focus on growing and developing our data and digital solutions, building on the progress made in areas including advanced and additive manufacturing, data analytics, simulation technology, and our autonomous systems programmes. It's not just the technology we use, it's the innovation we bring and how we apply our engineering insight that sets us apart.
What are some of the biggest impediments to innovation in your industry sector?
Striking the appropriate balance between the necessity to protect, what in many cases is sensitive or classified, customer data and the need to enable modern technology and tools. In order to take the best advantage of the rapidly advancing tools, particularly in the areas of cloud computing and Artificial Intelligence, the policies and procedures across Government and industry need to keep pace. In doing so, it is vital to ensure the data is also protected. Striking this balance across different stakeholders with different views on risk is a challenging problem, but one I am confident we are collectively able to solve.
How has innovation become engrained in your organization's culture and how is it being optimized?
Babcock has made a commitment to technology. We are not tied to any one system, solution or approach. We care about finding the right answers, using the best technology, and harnessing it for the greatest impact.
We will continue to invest in digital and data solutions to maximise the information advantage these technologies can bring. They help us meet the complex engineering challenges our customers face, whether it is digitizing or even applying digital twins onto legacy assets or managing satellites in space. Alongside our deep engineering experience, digital and data technologies will allow us to better understand, predict and enhance the performance of the assets we manage, make better engineering decisions, reduce risk, and improve service delivery.
What technologies, business models, and trends will drive the biggest changes in your industry over the next two years?
The defence and security industry is undergoing a transformation, with artificial intelligence, machine learning, and data analytics set to drive profound changes. Examples of this shift are exemplified by the Royal Canadian Navy's Digital Navy Initiative and the Department of National Defence's Joint Defence Cloud Program. These endeavours reflect Canada's increasing investment in digitization and mark the evolution of the DND/CAF becoming a more digitally-enabled organization.
Related posts