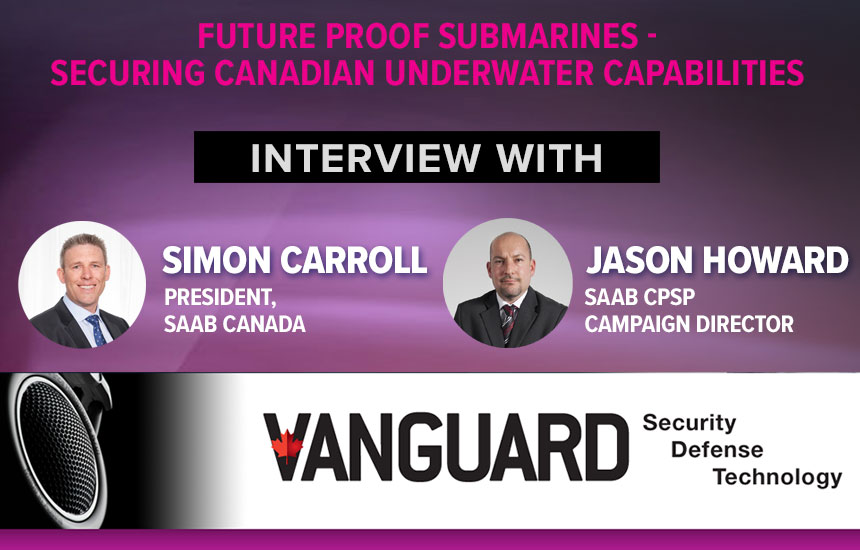 Future Proof Submarines – Securing Canadian Underwater Capabilities
Vanguard Staff, April 18, 2023
1 min

read
1299
In this episode of the Vanguard podcast, J. Richard Jones is joined by Simon Carroll, President, Saab Canada, and Jason Howard, Saab CPSP Campaign Director. Simon Carroll leads the Canadian Saab teams in Ottawa, Halifax, Medicine Hat, and Burnaby. A former Officer in the Royal Australian Navy, he has many decades of experience in the defence and naval sectors. Jason Howard has 20 years of experience in the defence industry, where he has held positions in business development, strategy, and marketing and sales. Jason has spent the last 5 years working in Saab's naval division, Saab Kockums, where he has now taken responsibility for the company's Canadian Patrol Submarine Project campaign.
The conversation dives into a range of topics from Saab's collaborative approach and the importance of future proofing submarines to Saab's history with Canada and submarine development.
Also in this episode:
Why are new Submarines important for Canada?
What is Saab's history with submarine development?
How has Sweden maintained a successful submarine program?
What makes Saab's approach to submarine development unique?
And more!
And to learn more about Saab, visit Saab.ca
Related posts