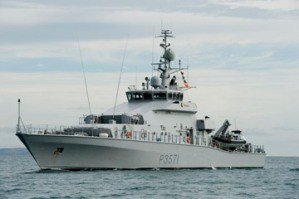 f you build them, will they come (man them)?
Marcello Sukhdeo, September 17, 2014
0
3 min

read
336
Defense News reported in August that New Zealand is considering cutting its inshore patrol vessel (IPV) fleet by half, to two ships, despite the vessels having been commissioned in 2009 and still having that new-ship smell. Wellington is exploring the possibility of selling two of the IPVs and replacing them with a single longer range offshore patrol vessel (pending the results of next month's election, of course).
Wellington's reason for getting rid of two almost brand-new ships is simple: a lack of personnel. The Royal New Zealand Navy (RNZN) has a current active duty strength of 2,063 personnel (plus 397 reservists), down from 2,162 in 2010, which is not nearly enough people to maintain regular crew rotations. Indeed, the New Zealand Defence Force's 2013 Annual Report said that "[t]he significant reduction in the number of trained personnel available … has directly impacted the Fleet operating profile, and [has] created a range of imbalances in the Navy workforce with skill and experience levels in some critical trade groups seriously degraded." (p. 53) As a result, "[t]he personnel shortages have affected the Naval Patrol Force (NPF) the most with the Offshore Patrol Force and Inshore Patrol Force both under delivering against some of their output targets. Navy has been unable to crew more than four of the six ships continuously." (p.54) The IPVs have been hardest hit, with little-to-no skill redundancy among their crews. Quite simply, if a required skill isn't available, the ship might not sail. In this context, Wellington's proposal makes more sense.
This story highlights the challenge of personnel recruitment and retention, which is not limited to the RNZN. The RNZN's neighbour across the Tasman Sea, the Royal Australian Navy (RAN), has been similarly challenged. According to Jane's, the RAN was only able to fully crew three of its 12 Adelaide and Anzac-class frigates with a high level of operational readiness in 2010, while the RAN's six Collins submarines were seaworthy for only one-third of the year, in part due to crewing shortages. Even the world's top navy, the US Navy (USN), hasn't been immune to these pressures, albeit with a slight twist. In a 2012 Navy Times interview, then-Chief of Naval Personnel VAdm. Scott Van Buskirk admitted that the USN went overboard in cutting its number of sailors, resulting in a almost-10,000-person shortfall for at-sea billets.
Navies have been taking steps to address this issue. For example, the USN has offered sailors in critical positions a USD $1,000 bonus for each month they extend a normal sea tour, while sailors who leave their short posting for a critical at-sea billet receive the same reward. The RAN has been more ambitious, offering all-in bonuses of up to AUD $200,000 and fast-tracked citizenship to Kiwi troops to sign up with the Australian military. Such incentives underscore the urgency of the challenge, as Western military budgets have been steadily dropping in recent years.
This personnel challenge opens up a little-discussed side of naval procurement; all too often, big announcements are made about shiny new hardware being commissioned, but there is no mention of available "software". This is something that navies will have to meet in various ways, such as increasing automation aboard new vessels. The Maritime Security Challenges 2014 conference, being held in Victoria, BC, Canada on October 6th to 9th, will address this and many other timely maritime topics. Hope you can join us!
Related posts