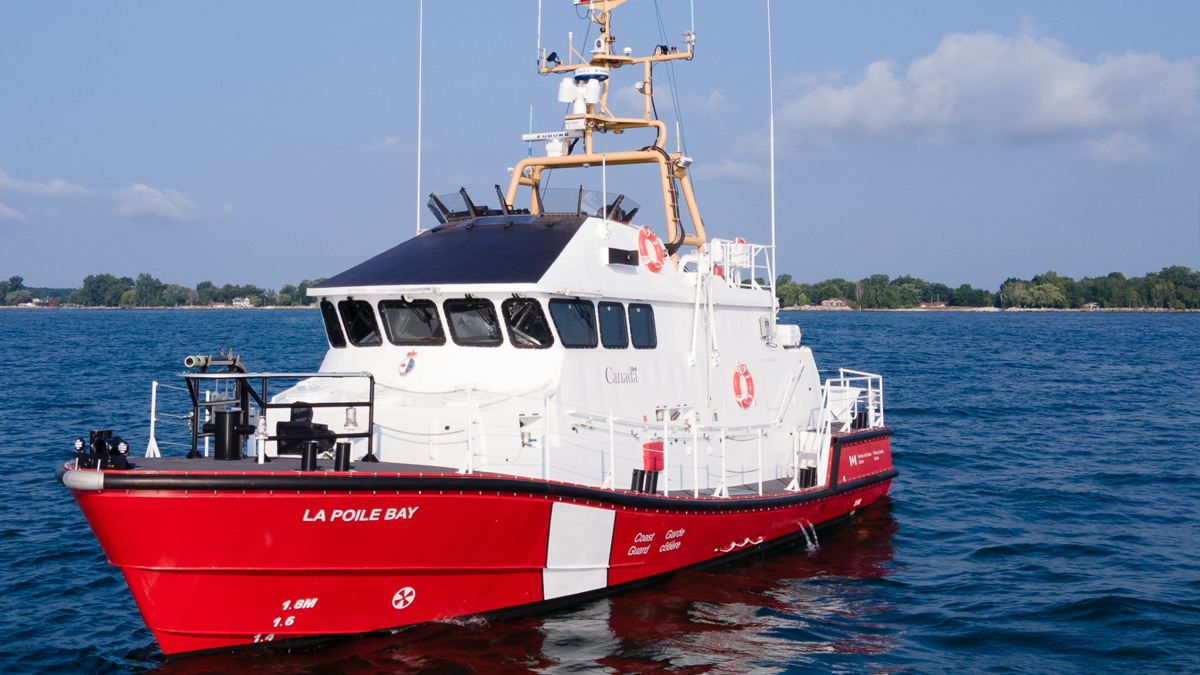 CCGS La Poile Bay Dedicated into Service, Strengthening the Canadian Coast Guard Fleet
Vanguard Staff, August 19, 2022
3 min

read
1001
The Canadian Coast Guard is responsible for ensuring the safety of mariners and protecting Canada's marine environment. The National Shipbuilding Strategy, which was launched by the Government of Canada, is aimed at ensuring that Canadian Coast Guard personnel have the vessels they need to continue delivering critical services to Canadians.
On behalf of the Honourable Joyce Murray – Minister of Fisheries, Oceans and the Canadian Coast Guard – Parliamentary Secretary to the Minister of Fisheries, Oceans and the Canadian Coast Guard Mike Kelloway officially welcomed Canadian Coast Guard Ship (CCGS) La Poile Bay to the Canadian Coast Guard fleet with a dedication to service ceremony at the Canadian Coast Guard's search and rescue station in Louisbourg, Nova Scotia on August 4th.
"I am honoured to welcome the CCGS La Poile Bay into service, as the Government of Canada continues to renew Canada's federal fleet through the National Shipbuilding Strategy. This investment will allow Canadian Coast Guard search and rescue personnel to have state-of-the-art equipment to help respond safely, efficiently, and effectively to rescue incidents," said the Honourable Joyce Murray.
Parliamentary Secretary Kelloway, Canadian Coast Guard Assistant Commissioner Gary Ivany, on behalf of Canadian Coast Guard Commissioner Mario Pelletier, Elder Lawrence Wells of Membertou First Nation, and vessel sponsor Lloydette MacDonald participated in the traditional bottle-breaking ceremony at the ship's bow.
"The importance of these Bay-class Search and Rescue vessels cannot be overstated. That's because, when distress calls come in, it's the Canadian Coast Guard that answers," added Parliamentary Secretary Kelloway. "As Member of Parliament for Cape Breton-Canso and lifelong resident in the riding, I know CCGS La Poile Bay is a reassuring presence to rural, coastal Canadians who make their living on the sea and a great comfort to their loved ones onshore."
In August 2021, Canada's coast guard took delivery of CCGS La Poile Bay, the tenth of 20 new search and rescue lifeboats that are named after geographical bays across Canada. The CCGS La Poile Bay is a search and rescue lifeboat that can maintain a speed up to 25 knots and has a crew of four.
The Coast Guard's lifeboats are specially designed and equipped to respond to search and rescue incidents at sea. Each vessel has a maximum range of 100 nautical miles from shore and can maintain a state-of-readiness for up to 30 minutes after receiving an alert.
The Canadian Coast Guard is operating vessels in key locations across Canada to provide search and rescue services. These include water searches, responding to marine distress calls and assisting disabled vessels.
"It is a great day for our personnel and Canadians to have the CCGS La Poile Bay dedicated to service. These search and rescue lifeboats help us keep our waters safe for mariners and support our marine environmental response capabilities. Vessels like these allow the Canadian Coast Guard to deliver critical services to protect mariners and the marine environment," concluded Mario Pelletier, Commissioner, Canadian Coast Guard.
Related posts