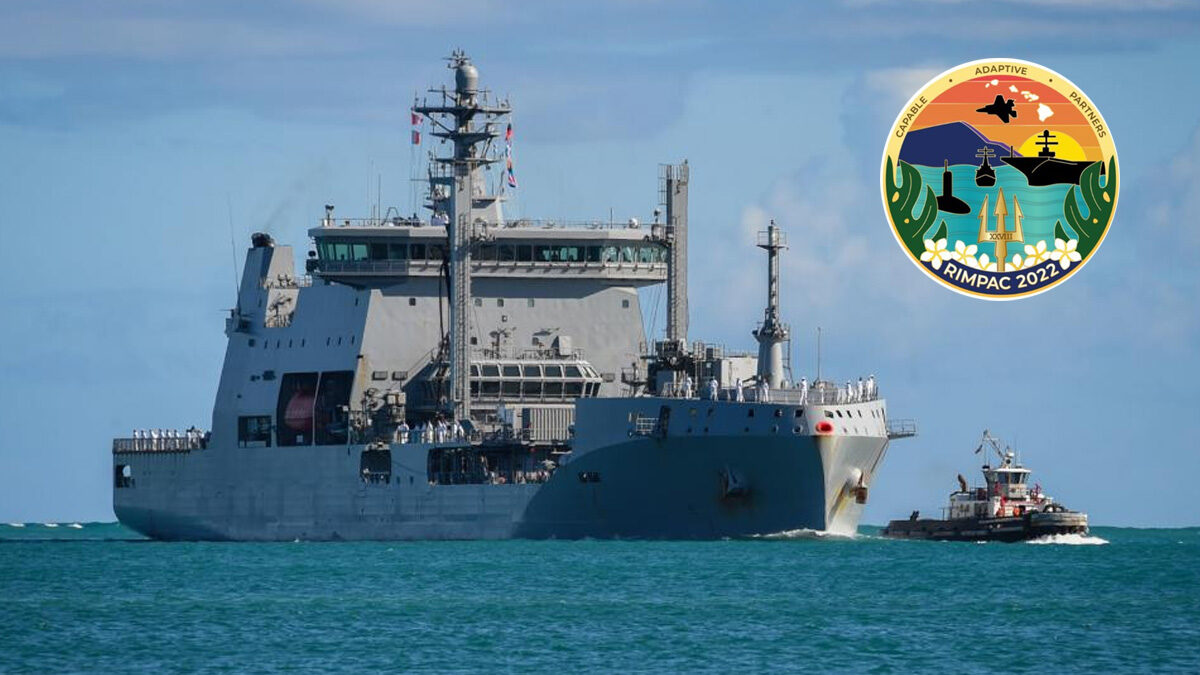 The 28th edition of the world's largest international maritime exercise, Rim of the Pacific (RIMPAC), kickstarted on June 29, with the U.S. Navy leading the way.
This year's exercise sees 26 nations, 38 surface ships, 4 submarines, 9 national land forces, over 30 unmanned systems, 170 aircraft, and more than 25,000 personnel coming together to train and operate in and around the Hawaiian Islands and Southern California. RIMPAC is happening from June 29 to August 4.
With such a large and diverse group of participants, RIMPAC is a great opportunity for countries to build and strengthen relationships, improve maritime capabilities, and increase readiness to respond to potential threats.
Fitting of 2022's theme of Capable Adaptive Partners, RIMPAC's participating forces demonstrate the flexibility and capabilities of maritime forces focused on promoting a free and open Indo-Pacific.
"By coming together as Capable, Adaptive Partners, and in the scale that we are, we are making a statement about our commitment to work together, to foster and sustain those relationships that are critical to ensuring the safety of the sea lanes and the security of the world's interconnected oceans. This is also how we find the areas where our national objectives overlap, where we can practice the procedures that will help to enable our interchangeability –the nexus of national will and interoperability," stated Vice Admiral Michael Boyle, RIMPAC 2022's Commander at a gathering of RIMPAC leaders.
Royal Canadian Navy Rear Adm. Christopher Robinson, Deputy Commander of the CTF, is joined by Japan Maritime Self-Defense Force Rear Adm. Toshiyuki Hirata as Vice Commander. U.S. Marine Corps Brig. Gen. Joseph Clearfield was also selected as the Fleet Marine Force's leader.
Additional key leaders include Commodore Paul O'Grady of the Royal Australian Navy commanding the maritime component, and Brig. Gen. Mark Goulden of the Royal Canadian Air Force commanding the air component.
The Republic of Korea, Singapore, and Australia are also all represented at RIMPAC, with officers from each nation taking on leadership roles in the Combined Task Force (CTF) 176. This is the first time that a Korean officer, Rear Adm. Sangmin An, will serve as the Commander of CTF 176, and it is a significant milestone for the country's Navy. An is no stranger to RIMPAC, having participated in the exercise several times before, but he is the first Korean to lead the amphibious task force.
The Republic of Singapore Navy is also represented in a leadership role, with Col. Kwan Hon Chuong serving as the Sea Combat Commander for CTF 176. Royal Australian Navy Capt. Michael Osborn CSM serves as the Sea Logistics Commander, CTF 173.
RIMPAC 2022 is the first instance of the newly commissioned Royal Australian Navy Supply Class Auxiliary Oiler Replenishment ship, HMAS Supply, participating in an international exercise. HMAS Supply will carry out replenishments at sea along with participating navies.
Included within the exercise are various gunnery, missile, anti-submarine, and air defense exercises, amphibious, counter-piracy, mine clearance, explosive ordnance disposal, diving, and salvage operations. RIMPAC is also making the exciting decision to introduce space and cyber operations for all their partner nations.
"It's great to see the exercise return to the scale that we have seen in previous years, enabling the combined forces of our 26 partner and allied nations to work together and learn from each other," commented RIMPAC CTF Deputy Commander Rear Adm. Christopher Robinson of the Royal Canadian Navy. "We are each maritime nations and we rely on each other to help keep our sea lanes free and open. RIMPAC provides us with the opportunity to grow and refine our individual and combined abilities, and our joint capacity to contribute to security in the Indo-Pacific region. This helps us all."
Related posts