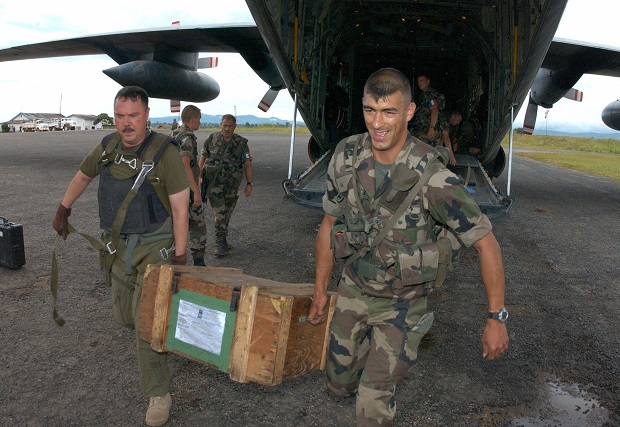 Canadian troops face long-term mission in Africa
Stewart Downing, August 16, 2016
0
2 min

read
301
As the Liberals move to revamp the military's overseas peacekeeping focus, Canadian troops appear to be in for a long-term mission in Africa.
In a teleconference yesterday from Africa, Defence Minister Harjit Sajjan told journalists the armed forces' contributions to the United Nations efforts in the region will go beyond military operations and what has been considered to be Canada's traditional peacekeeping role.
The minister made these comments just before going into the last leg of his five-country, fact-finding mission to Africa which began August 9. Sajjan visited Ethiopia, Kenya, Tanzania and Uganda. His final stop will be the Democratic Republic of Congo.
With him on the trip were retired Lt. Gen. Romeo Dallaire, who commanded UN peacekeeping forces in Rwanda between 1993 and 1994 and attempted to stop the genocide by Hutu extremists against Tutsis and moderate Hutus; and former Supreme Court of CXanada justice Louise Arbour, who also used to be the UN high commissioner for human rights.
He was accompanied by former Supreme Court of Canada justice Louise Arbour, who is also a former UN high commissioner for human rights, and retired lieutenant-general Romeo Dallaire, who once commanded a UN peacekeeping force in Rwanda.
Prime Minister Justin Trudeau had earlier directed Sajjan to "renew Canada's commitment to the United Nations peace operations" which Liberals claim have been neglected by the previous Conservative government.
Sajjan's fact-finding mission is focused on identifying future peacekeeping operations for Canadian troops.
The defence minister told The Canadian Press he is poised to announce the deployment of Canadian troops to Africa for a long-term mission.
Sajjan, however, said that he had yet to make a decision on when, where, and how many soldiers will be deployed.
RELATED CONTENT
Trudeau revamps Canada's NATO mission
Misreading the importance of the Africa relationship 
A small number of Canadian special force soldiers are currently involved in training regular troops in Niger. They Canadian soldiers were sent there more than three years ago by the Conservative government.
Canadian operations in the region have often been carried out in conjunction with the yearly United States led Exercise Flintlock which aims to train West African forces in anti-terrorism operations.
Over the years, Canadian troops have been helping train the Niger Armed Forces in basic military skills such as reconnaissance and marksmanship.
There have been speculations that the task might be better suited for regular troops and Sajjan had earlier said that the government is considering to adopt a "wider perspective" for its missions in Africa.
Related posts