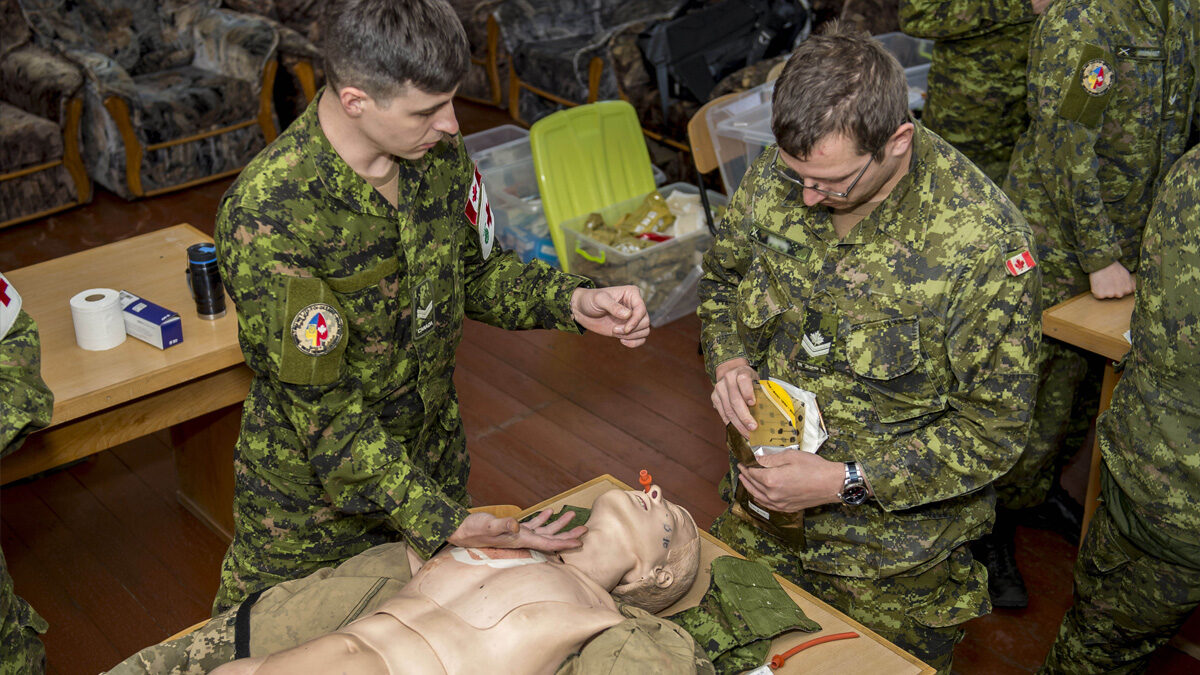 Canadian Armed Forces to Train Ukrainian Soldiers in the United Kingdom
Vanguard Staff, August 19, 2022
3 min

read
1670
On August 4, the Honourable Anita Anand, Minister of National Defence, announced that Canada has authorized the deployment of Canadian Armed Forces personnel to train new recruits from the Armed Forces of Ukraine. This training is intended to increase the size of Ukraine's ground forces in the face of Russia's ongoing unprovoked invasion.
Canada is one of several allied nations contributing to this British-led initiative, which will see the Netherlands and New Zealand also send military trainers.
"Despite the heinous Russian invasion of Ukraine, Operation UNIFIER has continued, and this new aspect is only the latest in a series of activities by Canada that has trained well over 33,000 members of the Armed Forces of Ukraine since 2015," said the Honourable Anita Anand.
Canada's military training mission in Ukraine, Operation UNIFIER, will see up to 225 Canadian Armed Forces personnel deploy to the United Kingdom. The majority of these troops will be trainers, supported by a command-and-control element, and are scheduled to deploy for an initial period of four months beginning August 12. About 90 soldiers from 3rd Battalion Princess Patricia's Canadian Light Infantry based out of Edmonton, Alberta, will be first of up to three training cohorts in the queue for deployment. They will lead courses in the following weeks after arrival.
The first courses being taught in Canada will be run at an army base in southeast England. They will teach flexible curricula focused on individual skills for frontline combat. These skills will include weapons handling and battlefield first aid, fieldcraft, patrol tactics and the Law of Armed Conflict.
"Canada is known for the quality of training it provides to other nations. This training, as we have seen, results in strategic effect of great value. From recent engagements such as the Ukraine Defense Contact Group, it is abundantly clear that training is a critical component to sustaining Ukraine's capacity to defend itself in the short to long term," added General Wayne Eyre, Chief of the Defence Staff. "Building on the Canadian Armed Forces' already close relationship with the Armed Forces of Ukraine, Canada is proud to work alongside like-minded nations such as the United Kingdom to further support their training needs."
Canada contributed to the multinational Operation UNIFIER (originally launched in 2015) at the request of the Ukrainian government. With early support from the Minister of National Defence and senior officials, it was extended and expanded until March 2025. The mission was temporarily paused following the February 2022 full-scale invasion of Ukraine, with a commitment to resume training when conditions permitted. Since February 2022, Canada has committed or delivered $626 million in military assistance to Ukraine, including M777 howitzer artillery guns with replacement barrels and compatible ammunition, specialized drone cameras and Armoured Combat Support Vehicles, and associated training.
"When we paused training in Ukraine this past winter, we said clearly that we would resume the training whenever and wherever the opportunity arose. We made good on the promise providing training on Canadian donated artillery and munitions in third nations, which continues. By working with the United Kingdom, we will continue to make good on that promise. Canada salutes the courage and bravery of the Armed Forces of Ukraine, and we will continue to help empower them with the skills that they need to defend their nation's freedom and independence," concluded the Defence Minister.
Related posts