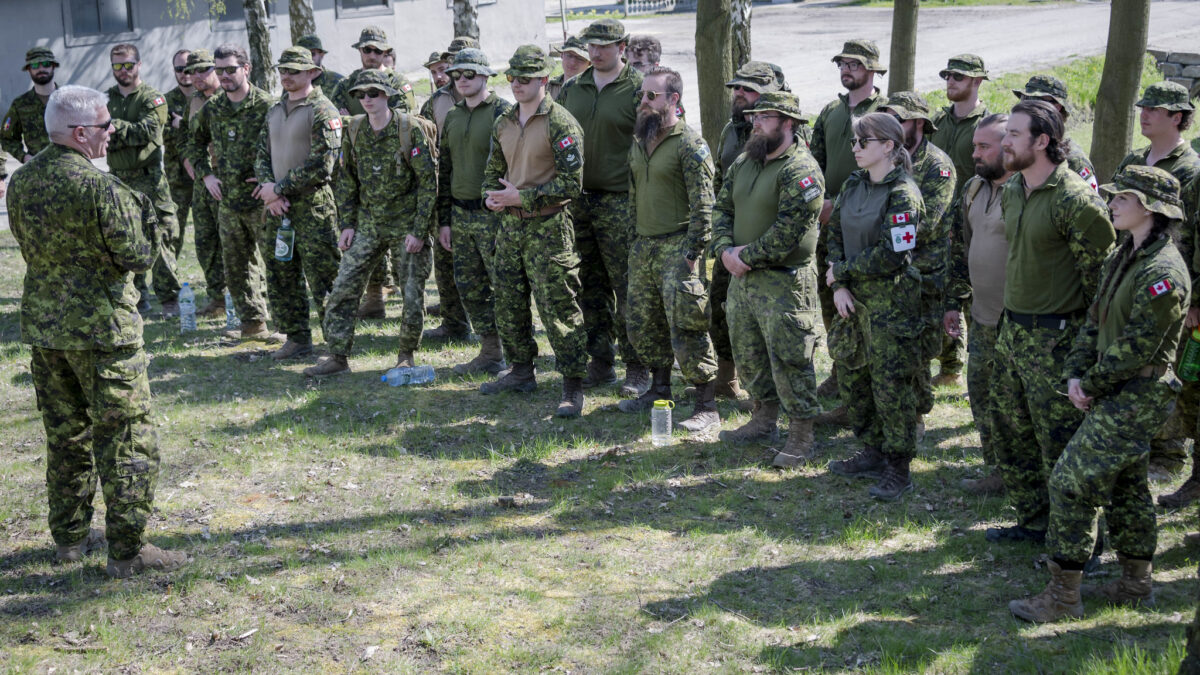 Canada and Latvia to jointly train Ukranian junior officers in Latvia
Vanguard Staff, May 14, 2023
3 min

read
762
Defence Minister Anita Anand welcomed a visit in Ottawa from the Minister of Defence of Latvia, Ms. Ināra Mūrniece, on May 10. Minister Anand reaffirmed Canada's commitment to Latvia's security and underscored the strength of the defence relationship between the countries at the meeting. There are currently about 800 Canadian Armed Forces member deployed in Latvia. Canada has served as Framework Nation of the NATO enhanced Forward Presence Battle Group Latvia since 2017.
Also at the meeting, Ministers Anand and Mūrniece announced that Canada and Latvia will jointly train Ukrainian combat leaders on Latvian soil. This training is scheduled to begin as early as May 15. The training program was jointly developed by the Canadian Armed Forces (CAF) and the Latvian National Armed Forces and will see CAF and Latvian National Armed Forces members delivering much-needed Junior Officer leadership development training for the Armed Forces of Ukraine (AFU) through Operation UNIFIER.
This training is in addition to other Canadian Armed Forces ongoing deployments that are all part of Operation UNIFIER in support of Ukraine:
Approximately eighty Canadian Armed Forces members are deployed to Poland under Operation UNIFIER. The mission includes:

Approximately 45 CAF combat engineers training sappers on a range of basic and advanced engineering skills, engineering reconnaissance, the use of explosives for demolition work, and demining;

Approximately 25 CAF members training AFU tank crews on the use of Leopard 2 main battle tanks;

Approximately 10 CAF members and training members of the AFU with the skills needed to save lives in combat situations; and

Approximately 170 Canadian Armed Forces members are deployed to the United Kingdom under Operation UNIFIER, where they are training members of the AFU on individual skills required for frontline combat, including weapons handling, battlefield first aid, fieldcraft, patrol tactics and the Law of Armed Conflict.
Ministers Anand and Mūrniece also took the opportunity to reaffirm their commitment to implementing the Canada-Latvia Joint Declaration that was signed in June 2022 at the Madrid Summit. As part of this joint declaration, Canada agreed to:
continue to lead NATO forces as the Framework Nation in Latvia;
work with Latvia and NATO Allies to generate and stage forces in order to surge to a combat capable brigade;
establish and lead elements of a forward brigade command and control;
and be prepared to provide critical capabilities to operations, such as ammunition and explosives, air defence systems, and anti-tank weapons systems.
In order to surge the battle group to a combat capable brigade, further planning continues between Canada, Latvia, and other eFP Battle Group contributing nations.
Canada and Latvia share a long history of military cooperation and partnership. Minister Anand and Minister Mūrniece also discussed issues of mutual interest in the lead-up to this summer's NATO summit that will be held in Vilnius, Lithuania. Canada and Latvia share a long history of military cooperation and the discussion reaffirmed both countries' commitment to strengthening NATO's deterrence and defence posture as well as the security of the Euro-Atlantic area.
The two ministers met with Canadian soldiers and participated in a tour of military vehicles and specialized equipment on May 9 when they visited 2 Canadian Mechanized Brigade Group at 4th Canadian Division Support Base Petawawa.
In conclusion, the Honourable Anita Anand, Minister of National Defence, said, "Latvia and Canada are close NATO Allies, united through our strong defence relationship and mutual commitment to supporting Ukraine as it defends itself against Russia's illegal and unjustifiable war. The expansion of our training for Ukrainian military officers will contribute to Ukraine's battlefield success, and provide yet another opportunity for Canadian and Latvian troops to work together. I thank Minister Mūrniece for her strong cooperation, and I thank the people of Latvia for their ongoing hospitality to members of the Canadian Armed Forces."
Related posts