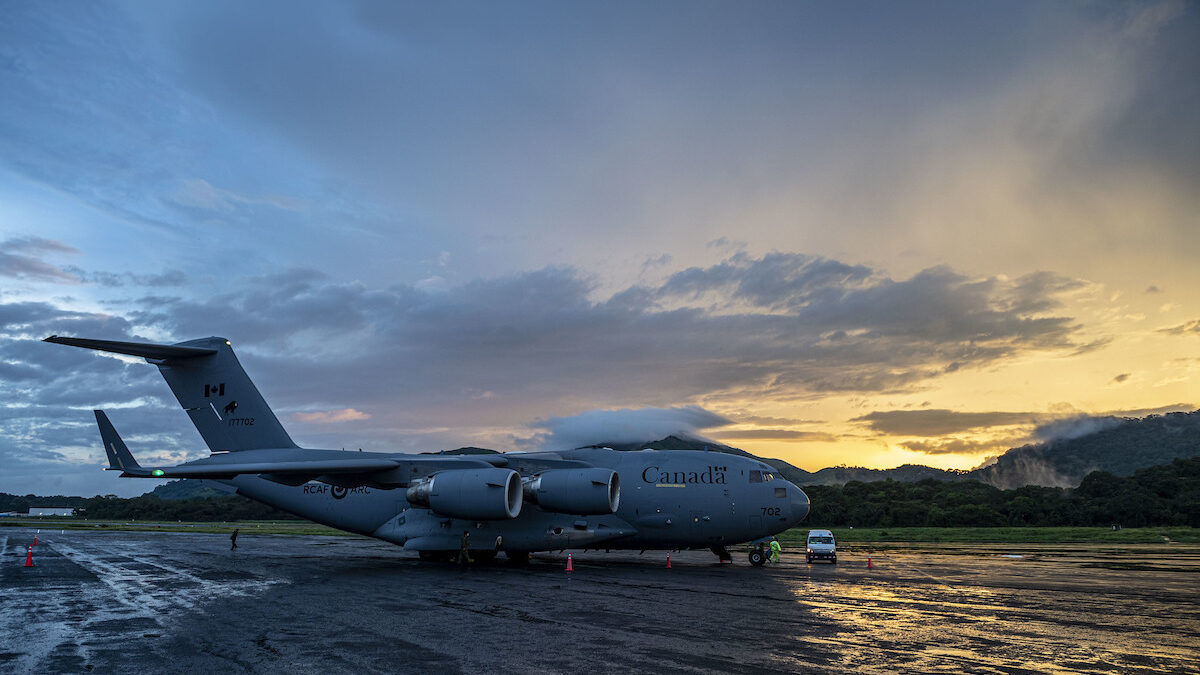 CAF completes COVID-19 airlift support for the UN
Marcello Sukhdeo, August 4, 2020
2 min

read
1811
On July 31, the Canadian Armed Forces (CAF) concluded their airlift support efforts to the United Nations (UN) for COVID-19.
For about nine days from July 23 to 31, the CAF delivered more than 82,500 kg of vital COVID-19 related supplies to Honduras, Trinidad and Tobago, Saint Vincent and the Grenadines, Guatemala, and Barbados. During this time, Air Detachment-Panama (composed of one CC-177 Globemaster III, crew, and logistics support personnel) operated out of Panamá Pacífico International Airport for about 40 hours in the air in completing these important deliveries across the region.
"As part of the government's continued efforts to support the international response to COVID-19, Canada answered the United Nations' call to help to maintain vital supply chains to vulnerable countries," said Harjit S.Sajjan, Minister of National Defence. "Delivering urgently needed medical and humanitarian supplies, at the request of the United Nations, to our partners in Latin America and the Caribbean illustrates our government's commitment to help to stop the spread of COVID-19. As needs continue to evolve, Canada will remain flexible in its response."
The CAF worked closely with regional partners on Operation GLOBE to deliver critical humanitarian supplies on behalf of the World Food Programme and World Health Organization, as requested by the UN.
"All members of Air Detachment-Panama are very proud to have the opportunity to conduct missions like Operation GLOBE," said LCol Adam Pentney, Commander Air Detachment-Panama. "Working alongside the World Food Programme, leveraging their hub in Panama, has allowed us to effectively plan and execute COVID-19 relief efforts in the region. It is very rewarding knowing that we are helping to deliver these much-needed supplies."
Thirty-one members from 429 Transport Squadron based at 8 Wing Trenton, Ont., as well as, operational support members from 2 Wing Bagotville, Que., were involved in this mission.
Related posts