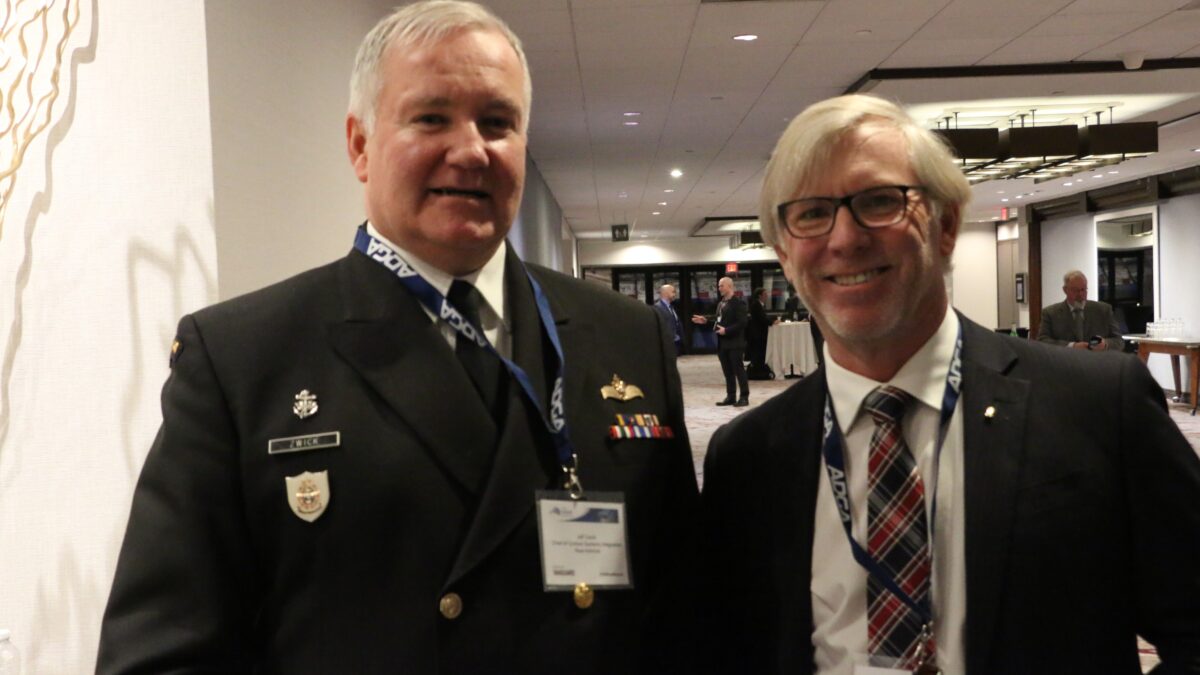 C4ISR & Beyond – Reflections on a Decade – and more to come

Terri Pavelic , May 15, 2023
6 min

read
787
After successfully hosting the ninth annual C4ISR and Beyond conference in Ottawa this past January, planning is underway for number 10. It's hard to believe we're into double digits, and it's been so enjoyable to think back on all our readers who have attended, presented, displayed and taken the stage over the years.
It's also been humbling to consider the commitment made by industry, govern­ment, academia and the Armed Forces to maintain the conference's value. It's the coming together of the eco-system that makes effective Command, Control, Communications, Computers, Intelli­gence, Surveillance and Reconnaissance (C4ISR) possible. And it's always a pro­ductive look into how we can improve together.
I had a chance to speak with two of the conference's advisors to get their reflec­tions on the last decade, their experience this year, and their aspirations for the con­ference's future.
A clear mission
LGen (Ret'd) Stu Beare attended the first conference in January 2014 as Com­mander of the newly formed Canadian Joint Operations Command.
"At the time, our C4ISR was lagging in interoperability and too reliant on others," said Beare. "This was because neither De­fence Policy nor the Defence services pro­gram saw C4ISR as vital. Procurements were centered on parts (ingredients, net­works, and equipment) instead of systems (people, process and technology)."
Beare described that first conference as an introduction to the technology in the marketplace. And he said that while a de­sire for better cooperation and collabora­tion between CAF, DND and industry were expressed at the conference, not much came of it.
"Since then, the conference has tracked and addressed significant changes in the global defence and security environment, and the associated effects on effective­ness as Armed Forces. It has accounted for changes in Defence policy, as well as the strategies and procurements driven by these. It has highlighted and shone light on key capability needs and imperatives across the Armed Forces. And it is all-in on the pivot to Digital (people, process, and technology) as key to performance, in­teroperability, resilience, and security."
"Most importantly, the conference leaned into the CAF's need to go digital. To that end, it now invites and rallies our community of practitioners, force devel­opers and capability providers to grow a more interconnected eco-system of re­quirements, procurement, technology and systems integrator actors."
The change in approach has changed the entire C4ISR and Beyond experience. Conference contributors and attendees have shifted focus from problems to digi­tal solutions, and what must happen for them to succeed.
"For me, C4ISR and Beyond has in im­portant role in driving the 'how do we..' conversation " said Beare. "It's become a catalyst for finding the answers and help­ing lead them to action within and across industry, and alongside CAF leaders, op­erators, force developers, project teams, procurement staff and mission partners".
Strong leadership
Given the need to operate pan-domain, multi-national and multi-agency, from below the threshold contests to full-fledged combat, and as we procure the latest in Fighters, Sub Surface Warfare, Air Defence and more, LGen Beare says we need to see better C4ISR capability de­livered across the CAF, from strategy to tactical, alongside the national security en­terprise and our international partners.
To that end, an advisory council (requir­ing CAF participation) was established to provide a 360 viewpoint and add the value that only comes from a direct relationship between the conference and CAF/DND team.
To that end, Col. Francois Caron, the Director Military Digital Operation with CCSI, joined the advisory committee in 2022 for the 2023 event.
"The need to deliver on effective stra­tegic to tactical C4ISR capabilities (more specifically PDC2 in a JADC world, in­cluding NORAD Mod and the Arctic) is more compelling than ever," said Col. Caron.
He confidently declared an intent to move the CAF/DND into the digital age and redefine the problem statement to match the plan.
"We're exploring and leveraging new partnerships, programs and ways of work­ing," said Col. Caron. "This includes ef­forts like prioritizing digital literacy within the CAF, strengthening the digital back­bone and S&T central and landing what we need to be real and effective in PDC2.
"This conference is a wonderful oppor­tunity to expand and unify our eco-system. More importantly it provides a platform that focuses less on studying the problem and more on what it will take to deliver solutions."
A total team effort
The 2023 event was backed by an impres­sive level of CAF leader participation. The CDS delivered the keynote. CAF GOFO panel moderators and panelists numbered a dozen. Ukraine's Deputy Minister for Cyber testified to how Ukraine pivoted to fighting in the information and cyber domain. The Treasury Board Deputy CIO brought the center of government to the table.
Also, Vanguard's offer of free admis­sion to CAF members and government employees (made possible by paid par­ticipation and industry sponsors) allowed hundreds to participate across time zones and organizational boundaries. Vanguard thanks our sponsors for their generous support!
"The improvements to this year's event were a direct result of the relationship between CAF/DND leadership and the conference's advisory committee," said Col. Caron. "I look forward to seeing that relationship grow, with more focus on how to advance the Digital and C4ISR capability agendas in modern and mean­ingful ways."
And a promise for the future
It has been my privilege to bring military, industry, academia, and government to­gether every year. We have learned much from our past experiences, and we have become more intentional about soliciting contributions from CAF and DND, gov­ernment, international partners, and local industry leaders.
It's our intention to keep practicing what we preach.
In that spirit, we introduced digitally en­abled survey participation this year, skillful­ly enabled by Accenture, one of our spon­sors. The findings were instructive:
• Eighty percent of respondents reported learning something important and new. The same number ranked their satisfac­tion with the speakers, panels, and net­working as good to high.
• Unsurprisingly, a third reported low confidence and the balance only medium confidence that real progress in deliv­ering interoperable C4ISR capabilities needed across CAF/DND was likely to be made any time soon.
• Interoperability, integration, data, cloud, procurement and infrastructure, were the most notable conference themes that struck participants.
• Respondents noted a need to make C4ISR capability a matter of policy, and to enable it with the right knowledge and talent.
• Procurement reform for equipment and technology, services, talents, and ways of working was a key point of feedback. So too were the needs to identify gaps and risks to interoperability, deliver on the centrality of data and cloud, and go digital by leveraging ideas from allies and industry.
• For the conference itself – respondents were complementary about its overall design and delivery. Diversity in organi­zation, roles, subject matter experts, eco-system partners and represented geogra­phies was also commended.
• Many commented on the need to further drive the "how to…?" discussions with a belief that we can overcome any obsta­cle. One respondent suggested we create a classified sidebar forum for topics and participants. We're exploring it.
My intention is to share this feedback with the 2024 advisory and see it applied.
To the Vanguard team, to our advisory committee, and to all those who got on stage (live or virtual) – salutations for your tremendous work to bring all of this to life.
And to the more than 450 professionals who attended C4ISR and Beyond 2023, I sincerely thank you for your presence. I commend you for your contributions to a safe Canada and an effective Armed Forc­es. And I appreciate you enabling our men and women in uniform.
I look forward to serving you into the future.
See you in January 2024!
Related posts