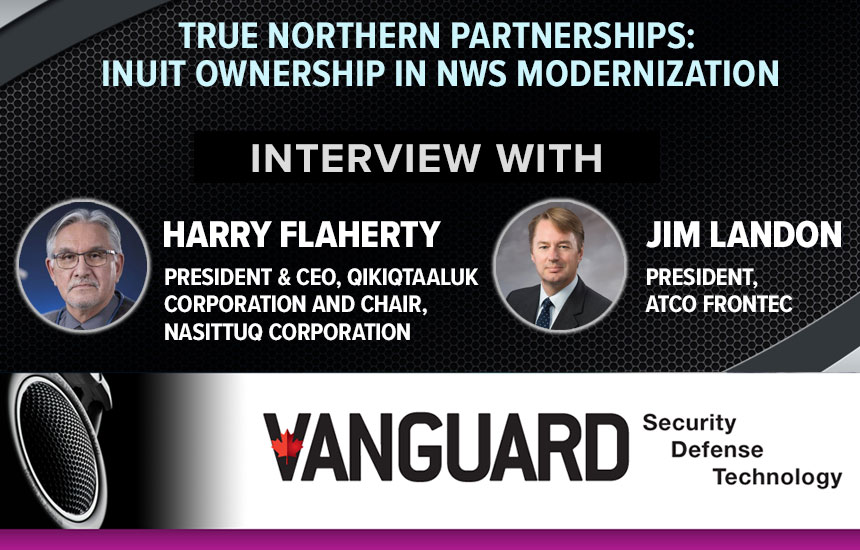 True Northern Partnerships: Inuit Ownership in NWS Modernization
Vanguard Staff, December 3, 2021
2 min

read
3650
In this episode, Vanguard Radio speaks with Jim Landon, President, ATCO Frontec, and Harry Flaherty, President and CEO, Qikiqtaaluk Corporation and Chair, Nasittuq Corporation to discuss Government projects like NORAD Modernization and the North Warning System. As well, we explore the need to have Inuit Ownership and participation for projects happening in Indigenous territory. Tune in and learn more about why Nasittuc was developed, its successful partnerships, lessons learned, how NORAD Modernization will modernize the North, and much more!
About Nasittuq Corporation
Nasittuq Corporation is a majority Inuit-owned firm with three shareholders: Nunasi Corporation, Pan Arctic Inuit Logistics Corporation (PAIL) and ATCO Frontec. Nasittuq operated the North Warning System from 2001-2014 and ensured Inuit participation in all aspects of the contract, from procurement to employment and education and training opportunities. Nasittuq currently provides operations and maintenance services at CFS Alert on Ellesmere Island, NU.
About Harry Flaherty
Harry Flaherty is President and CEO of Qikiqtaaluk Corporation and Group of Companies, the largest Inuit-owned private employer in Nunavut. Mr. Flaherty is recognized as a prominent Inuit business leader advancing economic and career opportunities for Inuit and leading Qikiqtaaluk Corporation as the Region's economic driver.
He was awarded the Indian and Northern Affairs Deputy Minister Pride and Recognition Award for Service Excellence for his efforts to maximize and promote Inuit participation and career development. QC and Group of Companies was also the recipient of the Top Indigenous Business of the Year Award. Most recently, Mr. Flaherty was awarded the Canadian Council of Aboriginal Business Hall of Fame Lifetime Achievement Award, being the First Indigenous Inuit to receive this award in its 20-year history.
About Jim Landon
Jim Landon joined ATCO in 2017 and was appointed President of ATCO Frontec in April 2019, responsible for implementing a diversification and growth strategy for Frontec's emergency management, camp services, and facilities operations and maintenance service offering.
After a successful 28-year career and having reached the rank of Colonel, Mr. Landon retired from the British Army in May 2017. Commissioned into the Royal Regiment of Fusiliers, he served as a commander and staff officer in the UK and overseas including operational tours in Northern Ireland, Bosnia, Kosovo, Sierra Leone, Iraq and Afghanistan. He was Commander of the British Army Training Unit in Suffield, Alberta from 2012-2015 before completing a final operational tour in Afghanistan in 2016.
Related posts