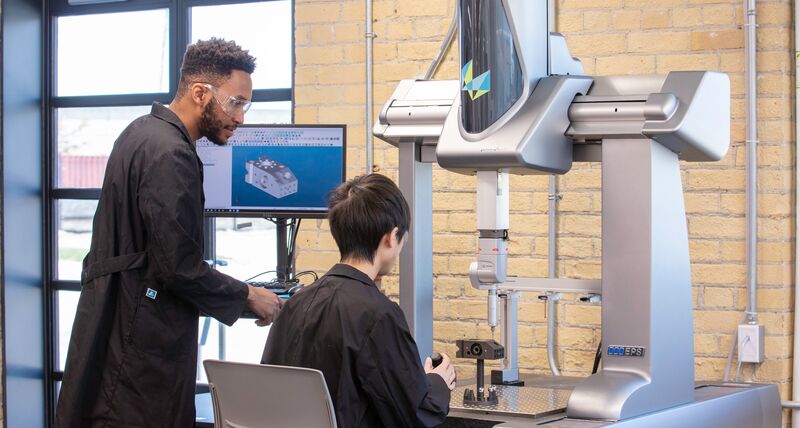 The Hexagon and Centennial College Team-up: Supporting Micro-credential Certification Programs for Advanced Manufacturing
Vanguard Staff, August 31, 2022
4 min

read
1215
Hexagon's Manufacturing Intelligence division and Centennial College recently announced an industry-education partnership that will support an innovative micro-credential certification program. The college has previously offered skills-based training at no cost to the unemployed and underemployed labor force in the advanced manufacturing sector in cooperation with Unifor and the Ministry of Labour, Training and Skills Development.
But what are micro-credentials? The micro-credential programs is on that allows students to explore potential career paths and earn qualifications in a condensed timeframe rather enrolling in a full-time collegiate curriculum. There are three specific career streams in which Centennial College currently offers specialized training. They include:
Advanced manufacturing and production
Automation and industry 4.0
Quality control and assurance
In its partnership with Centennial, Hexagon will be supporting the Quality control and assurance stream. They will be fortifying the program with resources from metrology equipment to educational assets for real world applications in measurement and inspection.
Think Centennial's expanded suite of OSAP approved micro-credential programs might be right for you or someone you know? You can find complete details and registration information here.
The micro-credential program is intensive and enables students to acquire skills and knowledge in-demand for Canadian manufacturing jobs. The program runs over a period 16 weeks during which students must commit to ten hours of online and in-person learning per week, including evenings and weekends. The immersive Quality stream experience produces work-ready graduates who will earn certifications from both Centennial College and Hexagon. Educators at Centennial are OEM certified for training students in performing quality checks on manufactured products utilizing Hexagon's metrology portfolio ¾ PC-DMIS and Q-DAS software, coordinate measuring machines (CMMs) and portable articulating arms used for data acquisition and management, analysis, and reporting. The college also supports students who complete the Quality stream with job search and placement services. Micro-credentials are also stackable, which allows students to earn a certificate of achievement upon completion of multiple programs.
"Centennial College is proud to offer our second round of micro-credentials in advanced manufacturing. Hexagon's digital certificate is a valuable addition to our Quality Control & Assurance stream. Because of our close collaboration with world-class companies such as Hexagon Canada, our micro-credential program has seen graduates land great entry-level positions at industry-leading companies," says Donald Wang, Chair, Advanced Manufacturing & Automation Technology, Centennial College.
Once Centennial produced its first cohort of graduates from the micro-credential program, Hexagon was among the first to hire from the Quality stream. Joining Hexagon for careers in application engineering are graduates Andrei Moreira, Abdullah Hussain, and Nathan Savoy.
Graduate Nathan Savoy, who is now a Hexagon application engineer in their Montreal office, shared his path to success, "I researched the job market to gain an understanding of what skills I would need for a future in manufacturing. I had an interest in mechanical engineering, but I wanted an interactive learning environment as opposed to a long-term classroom setting. The Quality stream gave me hands-on access to metrology equipment in almost every single class. I was able to learn PC-DMIS software to program inspection routines online and offline for CMMs. The Centennial College micro-credential program enabled me to realize my personal career goals."
"Working with higher education organizations like Centennial College is absolutely key to solving the critical workforce gap in manufacturing," states David Hill, Director of Commercial Operations – Canada, Hexagon's Manufacturing Intelligence division. "For lifelong learners and people looking for a new or different line of work, these micro-credential streams enable people to develop sought-after skills in a very reasonable period of time."
"For decades, Hexagon has been developing industrial-strength, intensive training programs to get our customers quickly running on their metrology investments. We were very happy to support the development of the new Quality stream and add a second industry certification credential to the program. In addition, our prior work with Centennial culminated into two Quality Concepts courses for their Aerospace Manufacturing Engineering Technology advanced diploma program. In these classes, full-time students learn the fundamentals of quality assurance, inspection techniques, CMM operations and analytical software," concluded Hill.
Related posts