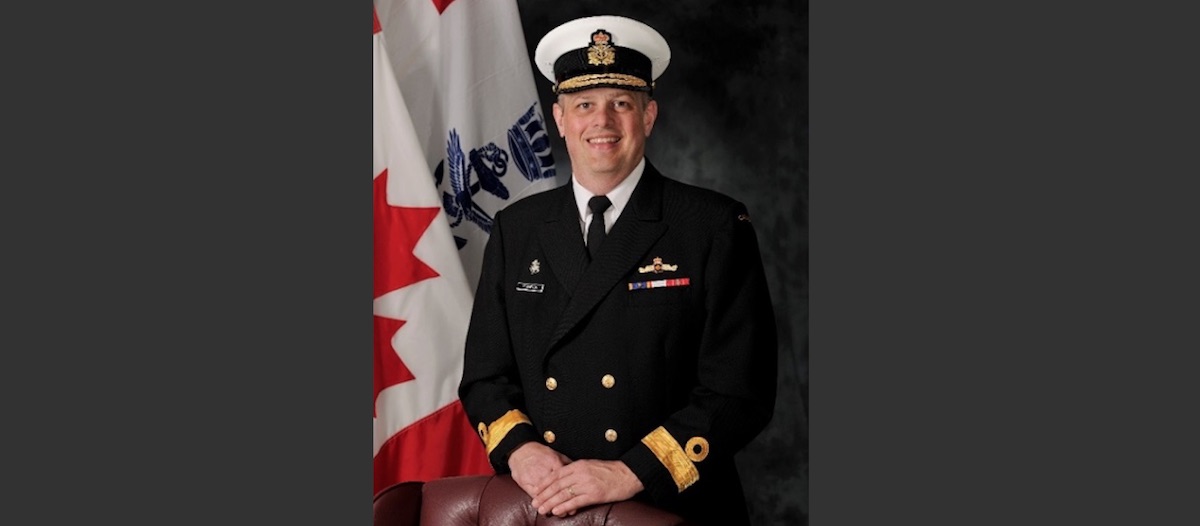 The Capabilities and Challenges of Canada's Future Fleet
Marcello Sukhdeo, October 19, 2020
17 min

read
940
Interview with Commodore Christopher Robinson, Director General Naval Force Development, Royal Canadian Navy
The Royal Canadian Navy is poised at a crucial point in its history – ready and waiting to accept its future fleet of ships that will shape the future RCN. With the current and evolving maritime threats, having a fleet of modern vessels to defend at home and abroad is imperative to any navy and Canada is at that point of acquiring a future fleet of Canadian Surface Combatants, Harry DeWolf-class Arctic and Offshore Patrol Ships, Protecteur-class Joint Support Ships and modernized Victoria-class submarines to do just that.
Recently, Vanguard had the opportunity to speak with Commodore Christopher Robinson, Director General Naval Force Development, Royal Canadian Navy. Commodore Robinson began his military career in the Canadian Army Reserves as a Combat Engineer serving in the 3rd Field Engineer Regiment in Montréal. Following university graduation, he joined the Royal Canadian Navy and underwent Naval Warfare Officer training aboard patrol craft, minesweepers and destroyers, before volunteering for the silent service. From that time, he served in Her Majesty's Canadian Submarines Onondaga, Ojibwa, Victoria, Corner Brook, Windsor, and Her Majesty's Submarine Unseen. He commanded Corner Brook between June 2007 and July 2009. He was appointed as the inaugural Commander Submarine Sea Training in late 2011 and served in that role until July 2014. Subsequently, he was appointed the Commander of the Canadian Submarine Force and Commander 4th Maritime Operations Group in June 2017.
His shore assignments included serving as Submarine Requirements Section Head and later as the Director of Naval Requirements. He assumed his current position as the Director General Naval Force Development in July 2019. 
1. To begin, please provide us with an overview of the Director General Naval Force Development (DGNFD) organization and how it interfaces with CAF Force Development requirements under the Chief of Force Development?
As Director General Naval Force Development (DGNFD), I am responsible for the strategic development of the RCN Future Fleet including capability concepts, infrastructure, and requirements from an operational, material support, and information warfare perspective. As a result of Strong, Secure, Engaged, planned investments in the RCN will result in a navy that is designed and structured to project naval power at sea and also able to contribute meaningfully to joint action ashore and support the sustainment of joint operations from sea. Further, the RCN will have more capable means to operate in the Arctic, alongside the Canadian Coast Guard, and a more comprehensive ability to contribute to capacity building with partner nations around the world.
The Naval Force Development (NFD) team develops and manages the execution of activities that conceive, design, build, and manage the introduction of new or modified capabilities in order to achieve desired effects during defence operations, activities, or services. We do that by focusing on:
• Delivering Future ships;
• Developing RCN Innovation Programme;
• Digital Navy;
• Maintaining combat relevancy and effectiveness of existing platforms;
• Evolving the Naval Force Development Enterprise;
• Conceptual and Doctrinal Underpinnings; and
• Managing Shore-Based Infrastructure to support the fleet.
These responsibilities are shared between myself and Director General Future Ship Capability (DGFSC), with RAdm Dononvan being specifically accountable for Major Crown Projects (i.e. new ships), New Capability Introduction, Naval Innovation, and Digital Navy.
Additionally, DGNFD ensures the RCN's capital program is also designed to maintain the combat relevancy and effectiveness of existing platforms, including the Victoria, Kingston, and Halifax Classes. Finally, DGNFD makes certain that shore-based infrastructure to support the Fleet – from jetties to school-houses – is appropriately identified, planned and coordinated.
DGNFD is also accountable for the RCN Capital Programme Coordination, project directorship of naval capital equipment acquisition projects, and providing sponsorship of infrastructure projects. DGNFD is assisted by the Director of Naval Requirements (DNR), Director of Naval Strategy (DNS), Director of Naval Infrastructure Requirements (DNIR), and the Canadian Forces Maritime Warfare Centre (CFMWC).
As part of the larger CAF Force Development team we work carefully, at all levels, with both Chief of Force Development and Chief of Programme to ensure that our programme of work supports and enhances the overall CAF programme. In addition to these stakeholders, I interact frequently with the other Commodores/Brigadier-Generals working in Force Development for their respective services/L1 organizations (we refer to ourselves as the FD Scrum) to share best practices, ideas, and ensure that we're aligned.
2. What do you see as the key capability challenges facing the RCN in the future?
With the return of great power competition, the global security environment is rapidly evolving. However, these challenges have largely been foreseen by our Force Development activity of the past decade, and the RCN is taking delivery of a full spectrum of major and minor capabilities (e.g. Underwater Warfare Suite Upgrade, Naval Remote Weapon Station, Multi-Role Boat, Route Survey System Life Extension, etc.) to meet these evolving threats. Due to the open architectures inherent in many of these new capability elements, we are also well positioned to adapt the lessons of our operational analysis, modelling & simulation, and operational trials teams to meet these new challenges as they evolve.
That said, there are always future challenges to focus on and we are doing that within Naval Force Development. I believe that the Future Fleet of modernized Victoria-class submarines, Canadian Surface Combatants, Harry DeWolf-class Arctic and Offshore Patrol Ships, and Protecteur-class Joint Support Ships will fight in a different environment than today. These ships will need to engage with an increasing array of digital, software-defined, and data-centric systems. The operation, management, and support of these highly integrated systems will require real-time integrated support from shore as well as a training approach that reflects this new environment. We especially need to create an infrastructure that permits the future fleet to adapt to change in near real time, incorporate lessons learned, update tactics, techniques, & procedures, and continue the fight in a Denied, Degraded, Intermittent, or Limited communications environment.
As the technologies mature and evolve, the RCN is anticipating the gradual introduction of remotely piloted vehicles and autonomous vehicles, above, on, and below the surface of the ocean. These vehicles will be well-suited for a range of tasks that will extend a commander's situational awareness and potentially contribute to the expansion of assigned areas of responsibility. I believe that remotely piloted systems will eventually comprise an essential component of a joint force's inventory of intelligence, reconnaissance, surveillance, and targeting assets performing tasks in high-risk environments and delivering effects in roles that are "dull, dirty, or dangerous".
3. Canada's Defence Policy – Strong, Secure, Engaged – has been in place since 2017, how would you describe the RCN's progression towards the goal of "meeting the anticipated defence and security challenges of the coming decades. Principal among the challenges at home is the need to operate in the Arctic, alongside the Canadian Coast Guard, and alongside allied partners…"?
As the world continues to change, often in unpredictable ways, the RCN is also evolving. Strong, Secure, Engaged highlighted key security trends that are likely to shape events in the future: the evolving balance of power, the changing nature of conflict, and the rapid evolution of technology. In confronting the threats and challenges that will arise in the future, the RCN requires a Blue Water Navy with a balanced mix of platforms, including submarines, surface combatants, support ships, and patrol vessels. The navy will be structured around the ability to deploy and sustain a Naval Task Group, one that is highly interoperable with allies, that contributes meaningfully to joint action ashore, and that supports the sustainment of joint operations from sea.
To support that goal, the RCN is in the midst of the most rigorous and comprehensive period of fleet modernization and renewal in its peacetime history, touching upon all elements of the fleet. The RCN is undertaking this recapitalization while simultaneously preparing for the expansion of missions through a new and enduring sphere of operations on our 3rd ocean. This hive of activity is set against a background of intense existing fleet activity on our other 2 oceans and overseas. These include persistent single ship international deployments, global engagement in Africa, Europe, and South America, operations in South-East Asia, routine continental defence patrols, and work with our other government department partners.
Over the last decade, we modernized the Halifax-class, incrementally updated the Kingston-class including new route survey payloads, progressed a project to modernize the Victoria-class, and are building a new class of Naval Large Tugs. We recently accepted the first Arctic & Offshore Patrol Ship (AOPS), Harry DeWolf, on 31 July 2020, in Halifax. This is the first warship to be delivered as part of the National Shipbuilding Strategy and signifies the start of a long and exciting road for the RCN with many more ships to come as part of our future fleet.
The Harry DeWolf-class of ships is well suited for its primary mission of conducting armed sea-borne presence and surveillance missions along Canada's maritime approaches, including the Arctic, leveraging state-of-the-art technology to know who is operating in our waters and to be prepared to react to a wide variety of incidents. The class represents a useful new component to our integrated system of systems approach to northern and Arctic sovereignty.
We have been working in the Arctic with the Canadian Coast Guard (CCG) for years, and will continue to do so. We have gained valuable experience working with them annually with ships deployments supporting Op NANOOK, and the Commanding Officers of the two first AOPS have also spent time sailing with Canadian Coast Guard Ships, leveraging their experience working in this harsh environment. This is a relationship that we will continue to foster, as we increase our capability to operate in the region with the arrival of the Harry DeWolf-class.
What this new fleet brings to the table in this regard is impressive – it is designed to be highly capable with a thick and robust hull that will enable it to operate in over one metre of first-year sea ice. This will provide the Royal Canadian Navy with unescorted access to areas of the Arctic that were previously inaccessible. And where they go, ships of the class bring with them considerable space to efficiently transport teams and/or cargo and an ability to deploy both via an impressive array of cranes, small vehicles, boats and landing craft, as well as its ability to accommodate a Cyclone helicopter. They are truly capable warships designed to purpose for RCN employment.
Moreover, owing to the versatility which is naturally inherent to a ship designed for both Arctic and offshore missions and tasks, the class will also be capable of participating in a wide variety of international operations such as anti-smuggling, anti-piracy, and international security and stability. Their outfit and size will also make them uniquely and impressively capable amongst RCN warships to contribute to from-the-sea response to humanitarian assistance and disaster relief operations domestically and internationally.
4. How has the COVID-19 pandemic restrictions impacted this progression?
The work of the navy continues apace, and I am proud how our defence team has responded to this challenging environment. The health and safety of our team is our foremost concern and we have adopted safe working practices and flexible working arrangements as much as possible to maintain momentum. I'm confident that we have made steady progress across our portfolio despite the COVID-19 pandemic.
5. The potential of unmanned systems is now being realized across the entire spectrum of maritime operations, particularly in surveillance activities. Would you describe where the RCN ISTAR project is now?
The RCN has a long history with remotely operated systems, operating in the air, on the surface, and underwater.
On the surface, in support of fleet readiness, we have long used uninhabited surface vessels systems as targets and are currently using the Hammerhead remotely piloted surface vessels. We are not actively focused on further developments within the surface remotely piloted/autonomous vessel realm although we are about to conduct some experimentation with an off-board Electronic Counter Measure (ECM) payload aboard a Hammerhead that will test its utility for remote anti-ship missile defence operations.
In the underwater domain, we have significant experience with remotely operated systems, having operated Remotely Operated Vehicles from diving vessels for decades. In 2019, the RCN invested in some Remote Environmental Monitoring Units (REMUS 100) to assist with survey work in shallow water. Building on that momentum, the Remote Mine Hunting and Disposal System will be a modular, stand-off naval mine countermeasures capability using Autonomous Undersea Vehicles and designed to provide the full spectrum of naval mine hunting operations and contribute to underwater domain awareness. It will complement the already delivered Route Survey System Life Extension systems and allow our sailors to locate under-water mines, carry out itemized searches, and obtain bottom feature imagery.
In the air it started with deploying the Boeing Insitu ScanEagle from the Halifax-class 2012-14 and more recently flying the AeroVironment CU-175 Puma from the Kingston-class. We are currently working closely with a Qinetiq-led team to provide remotely piloted aircraft services to the Halifax-class frigates using the UMS Skeldar V-200 rotary platform integrated with an L3 Wescam electro-optical/infrared turret and Leonardo PicoSAR radar. The RCN ISTAR Remotely Piloted Aircraft System project is currently in the Definition phase and making steady progress on the Sustainment Business Case and other important staff analysis that are needed to eventually move into implementation.
6. Victoria-class Modernization – as a programme of many individual projects, it has been likened to the recent Halifax-class Modernization (HCM) which gave the frigates a significant upgrade in operational capability to allow them to remain effective until the end of their service lives. With respect to VCM, what are your key areas of concern in keeping the Victoria-class operationally effective until the end of their service lives in the late 2030s and early 2040s?
Victoria-class submarines (VCS) remain of critical value for Canadians. By modernizing the class, the RCN will enhance the submarines to ensure they are operationally relevant against evolving threats and in the future operating environment, while avoiding the significant costs and technical challenges of a new platform and infrastructure. However, submarines are some of the most complex pieces of machinery in the world. As such, they require specialized supply chains, maintenance facilities, and a highly trained work force. Since acquiring the Victoria-class submarines, Canada has made significant progress in developing the systems and skills needed to generate and maintain a modern submarine fleet. This regular, cyclical maintenance of submarines will continue in parallel to Victoria-class Modernization into the mid-2030s.
Victoria-class Modernization will focus primarily on enhancing three distinct capabilities:
Improving the habitability and deployment conditions onboard the Victoria-class submarines for RCN submariners;
Positioning the Victoria-class submarines to contribute meaningfully to CAF Joint Operations ashore (which will include improved situational awareness, networked communications, interoperability, real time information sharing and contributions to joint military operations globally); and
Ensuring the survivability of the Victoria-class submarines against current and evolving threats in an increasingly complex and changing battle space (which will include an increased ability to operate in potentially contested Arctic waters up to the Marginal Ice Zone (MIZ)).
7. How do you see submarines working in the Arctic? Do you see a role for UUVs in support of submarine operations in the Arctic?
Canadian submarines have operated north of 60N for decades. As we have shared, HMCS Corner Brook has made two deployments to the Canadian North in 2007 and 2009 while HMCS Windsor operated above the Arctic Circle in 2016 following Exercise Dynamic Mongoose. Depending on the time of year and ice conditions, the Victoria-class has the capability to operate in the Canadian Arctic and chokepoints of the Northwest Passage. Given recent trends of receding ice coverage in the Arctic, the potential areas for operating Canadian submarines will likely increase significantly.
Operating in the Arctic can be divided into under-ice operations and patrols in the vicinity of the Marginal Ice Zone (MIZ). Each has its unique challenges although sustained operations under the ice are truly the domain of nuclear-powered submarines alone. Operating in the north, even in the approaches to the MIZ, brings with it significantly different operating conditions than southern waters. In my mind, there are three main challenges: Navigation, strict environmental care, and long distances from support. Navigation is a concern, with sparse bottom soundings available, and generally (from a submarine perspective) shallow waters which makes iceberg avoidance an interesting sport. Our waters north of 60 include the areas covered under the Arctic Water Pollution Prevention Act which makes the management of bilge water, organic waste, etc. an ongoing concern. The RCN is a leader in protecting our environment during operations and the Victoria-class makes this a priority at all times. While this necessarily imposes endurance limits during peacetime, it is not an insurmountable challenge. The immense size of the Canadian Arctic is the final factor that I want to highlight. The Nanisivik Naval Facility is roughly the same distance from Halifax as is Portsmouth UK. It is much further from Esquimalt than Tokyo. This illustrates that vessels operating in the North are often on their own and need the endurance, stores, and material condition to operate without access to support.
In short, operating (especially near chokepoints) in the North is a natural mission for the Victoria-class and they do make those patrols. This is precisely the type of employment that conventional submarines excel at – contributing to the Recognized Maritime Picture by conducting Joint Intelligence, Surveillance, and Reconnaissance (JISR) patrols along with anti-submarine warfare searches. Their large bow sonar array, processed by the AN/BQQ-10 (v)7 submarine sonar system, is an absolutely phenomenal long-range sonar. Often referred to as the "eyes of the submarine", it is coupled with a very capable suite of sensors including a Ranging Sonar, towed array, optical periscopes, and Electronic Warfare system, fused into a useable intelligence product by our outstanding submarine crews using the CMS 876 fire control system and ECPINS Warship Electronic Chart Display and Information System.
Going under the ice, other than for relatively short distances, is out of the realm of the possible because conventional submarines lack the unlimited power to create their own breathable atmosphere along with powering ships systems and propulsion. They also lack the sheer size to comfortably break through the ice in cases of emergency or operational necessity. An autonomous underwater vehicle (AUV) doesn't require life support systems nor the ability to break through ice so they can provide an under-ice capability. Launched from ships and submarines, they are a growing capability area for navies around the world. Indeed, the RCN is leveraging them for Mine Warfare and other tasks. Using them aboard the Victoria-class would allow them to be covertly launched much closer to areas of interest which would eliminate the long in-bound transit and thus extend their range. The ability to launch and recover them via torpedo tubes would permit the submarine to remain submerged and truly make them ready to be employed operationally. At this moment I don't assess the technology as being close enough to Technology Readiness Level 9 (or ready for launch and operations) to be considered for the Victoria-class but I am always engaging with industry and certainly willing to be convinced otherwise.
8. Finally, we understand the uncertain fiscal situation facing government, can you comment on a future submarine project to replace the Victoria-class by the end of their service lives, specifically when do you see this project coming into play?
The government committed in Strong, Secure, Engaged to operate the four Victoria-class submarines along with making an investment to modernize the Victoria-class in order to ensure an operationally relevant submarine capability into the mid/late-2030s.  Many of the investments made as part of the Victoria-class Modernization program will inform requirements of a future class of submarine should the Government of Canada indicate intent to replace the Victoria-class submarine.  Those upgrades are my current priority although Naval Force Development does routine environmental scanning, working with our allies who build or deploy diesel electric submarines, to identify potential opportunities that Canada could consider taking advantage of to deliver a continued capability for Canada. The intent would be to leverage pre-investments and ongoing progress by other nations, to manage clear time sensitivities, so that we are aware of what is available when the time comes for the Government of Canada to make an investment decision for new submarines. I can't predict precisely when that will occur, but we stand Ready, Aye Ready to engage in that conversation.
Commodore Christopher Robinson will deliver a keynote address at Deep Blue Forum 2020, taking place virtually on Oct 29 and 30. Register to attend today: https://vanguardcanada.com/DeepBlue2020.
Related posts