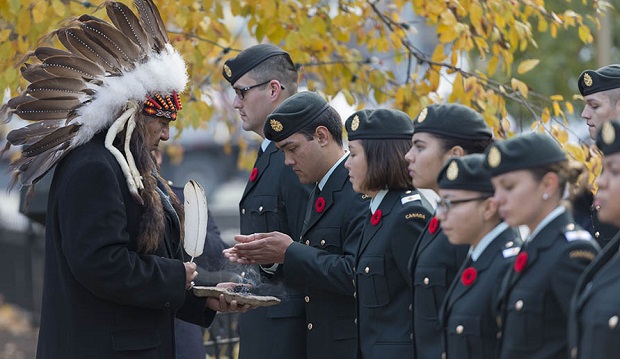 The Canadian Army fosters an inclusive work environment
Contributed Article, December 20, 2016
0
4 min

read
426
By Natalie Flynn
Ottawa, Ontario — The Canadian Army (CA) shares a close bond with Indigenous Peoples. First Nations, Inuit and Métis Peoples bring unique cultural, spiritual and traditional identities to the table. Serving Canadians as a diverse military enable the force to always remain strong, proud and ready to meet today's complex national and global security challenges. Respect and support for all members are critically important to the Canadian Army's success as an organization.
This past summer, Lieutenant-General Paul Wynnyk, Commander of the Canadian Army, became the new Defence Team Champion for Indigenous Peoples. The Commander of the Canadian Army has proudly held this office for the past ten consecutive years.
Indigenous people, women, and racial and ethnic minorities are joining the military in ever-growing numbers. Currently, Indigenous members represent 2.6 per cent of the military and 3.1 per cent of the civilian sides of the Defence Team, and the Canadian Army is engaged in many initiatives to increase these numbers.
As part of a larger research initiative, the Department of National Defence has undertaken a scientific study on the prevalence of racist conduct and harassment against employment equity designated group members (DGMs), which will be conducted during the coming fiscal year (2017-18).  The goal of this research is to identify any issues tied to harassment and racism against DGMs and to ensure that a variety of interventions are developed that will address any concerns.
Earlier this year, a designated Indigenous Advisor was appointed to the Royal Canadian Chaplain Service. This establishes another crucial pillar of support for Indigenous soldiers, sailors, airmen, and airwomen, helping to make the Canadian military a more welcoming work environment for people of Indigenous background.
CA members and leadership are continuously expanding the many positive relationships that the CA maintains with many Indigenous communities across Canada. The CA, together with the other commands in the Canadian Armed Forces (CAF), offers an excellent suite of dedicated training and development programs for Indigenous people. Applicants are welcome to pursue a career with the CAF upon completion of these programs but have no obligation to join. These programs are developed in consultation with Indigenous Elders and experts and are designed to help eliminate systemic barriers to the recruitment, selection, training, and employment of Indigenous members in the CAF.
To help spread awareness, recruiting teams work with Indigenous communities across Canada to attract, select and prepare applicants for these programs and for potential employment opportunities in the CAF.
The programs enable both the institution and participants to learn from each other and also help to reassure incoming members that they are joining an organization that is knowledgeable about them and responsive to their unique contributions and cultures. Indigenous Peoples' proud history in Canada's military is a key focal point of the programs.
"Right now, the Canadian Army is conducting a review of its training programs for Indigenous people, together with Military Personnel Generation Command and Indigenous leaders," said Major Jennifer Quesnel, the Canadian Army's Employment Equity Officer. "We are seeking to even better align these programs in support of Indigenous people interested in joining the Primary Reserve and Regular Force," she said. This includes modernizing administrative processes to help expedite recruitment and retention.
The initiatives include three six-week summer programs – Bold Eagle, Black Bear and Raven – and the three-week Canadian Forces Aboriginal Entry Program, which runs in three cycles annually. There are also subsidized college and university programs available, including the Indigenous Leadership Opportunity Year program at the Royal Military College of Canada in Kingston. Through the five-day Eagle's Nest youth development camp (held in a different community each year) Indigenous youth get to experience elements of the military lifestyle alongside fun outdoor activities.
"We are developing new incentives and programs that will further showcase the opportunities in the Canadian Armed Forces that are available to Indigenous people," said Lieutenant-Colonel Lisa Noonan, special advisor on Indigenous personnel issues to the CA's Personnel Management branch. According to LCol Noonan, all CA and national recruiters and military career counsellors are now required to complete Indigenous Awareness training as part of their initial training for these recruiting roles, which is another important positive development.
Indigenous people are proud warriors by heritage and excel within the defence community. The CA and the entire Defence Team as a whole remain committed to fostering an inclusive work environment for all, where dignity, respect, and fairness are embraced and valued.
Natalie Flynn is a member of the Army Public Affairs
Related posts