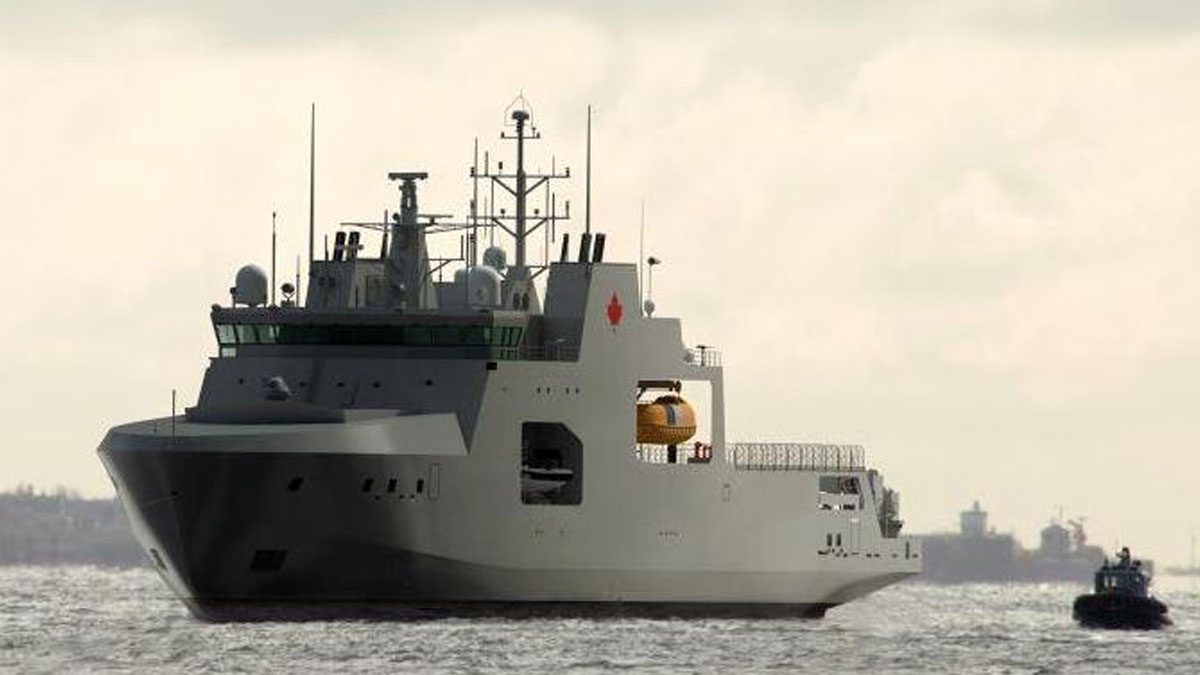 Technology, Innovation and People: AJISS Prime Contractor Thales Shares Keys to Success
Sponsored Content, September 12, 2019
0
4 min

read
2389
In 2017, the Government of Canada awarded Thales with the largest In-Service Support contract in Canada's history. As the prime contractor for Canada's Arctic and Offshore Patrol Ships and Joint Support Ships In-Service Support (AJISS) program for up to thirty-five years, the scope of the project includes overseeing the refit, repair and maintenance of Canada's Arctic Patrol Ships (AOPS) and Joint Support Ships (JSS) throughout their operational lifetimes.
It was clear from the start that technological innovation, extensive collaboration, and investment in skills development and training would absolutely be required for Thales to exceed expectations on a project so large in-depth and broad in scope.
Thales was ready to take on the challenge. A global leader in technological research and development, and with expertise in project management, systems engineering and integrated logistics, Thales is utilizing these strengths to lay the foundation for unprecedented Maritime in-service support capabilities for the Royal Canadian Navy.
With the AJISS program underway, Thales is harnessing innovative technology and years of expertise to prepare for first ship readiness. By collaborating with small and medium-sized businesses (SMBs), government, and academia, the brightest minds in the industry are preparing to help deliver some of the most advanced and efficient in-service support capabilities in the world.
Spanning several provinces and multiple office and warehouse locations, AJISS is truly a multi-faceted operation that continues to rely on strong partnerships. For example, along with the Thales Research and Technology Canada team in Quebec City, Thales' cortAIx site in Montréal has brought together its North American Digital Factory and the Artificial Intelligence research streams to the project.
Technologically, one the key platforms necessary for the maintenance of AOPS and the JSS vessels will be an Integrated Data Environment (IDE) that provides supporting digital systems with the ability to meet project management, lifecycle material management, as well as maintenance and supply requirements.
Thales is developing a configurable and sustainable service delivery platform that will adopt and leverage cloud computing, data analytics, AI and machine learning to automate and streamline in-service processes, thereby facilitating the collection and exploitation of data and information.
The platform will harness leading-edge technology to collect, assess and decipher data by support personnel while providing trusted access identification and authentication management for security purposes. It will also allow for the future evolution and integration of key capabilities like predictive maintenance and allow for the integration of apps developed by third-party SMBs.
Thales, in conjunction with operations research experts from Université Laval, Polytechnique Montréal and Dalhousie University, has also developed a proof-of-concept for a new project-planning tool called Refit Optimizer that will apply model-based AI to the complex and dynamic domain of ship refits.
To develop the next generation of digital breakthroughs required to deliver AJISS, investment must begin at the educational level. That is why Thales has made it a mandate to help drive innovation throughout the Canadian value chain in partnership with numerous academic institutions.
At DEFSEC 2018, Thales announced an agreement with Nova Scotia Community College (NSCC), in partnership with Camosun College in British Columbia, to commission an AJISS Workforce Study – a $200K investment towards Maritime sector skills development and training. Its purpose is to explore the current state of skills development and to develop recommendations that should enable skilled workers, and the shipbuilding sector in Canada, in the long-term. The results of this study will be used to guide the development of future programs at colleges and universities, creating new jobs and enabling the growth of Maritime shipbuilding.
Thales is committed to investing in and enabling ongoing skills development and training as it is paramount to the continued success of the Maritime in-service support sector in Canada.
As the prime contractor for AJISS, Thales has taken important steps to expand its operations and partnerships from coast-to-coast. This is enabling the national expansion of a large supplier base and creating a cutting-edge ecosystem of support, spurring significant job growth that will result in enormous economic impacts across the country.
The AJISS program represents a revolutionary and transformative blueprint that will alter how in-service support is delivered in Canada and beyond. By leveraging its world-class digital transformation solutions, developing partnerships that continue to evolve its capabilities in big data, AI, connectivity and cyber security, and investing in the next generation of skilled workers, Thales is using its extensive experience to ensure that the Royal Canadian Navy ships will be mission-ready from coast-to-coast-to-coast.
ABOUT THALES
The people we all rely on to make the world go round – they rely on Thales. Our customers come to us with big ambitions: to make life better, to keep us safer. Combining a unique diversity of expertise, talents and cultures, our architects design and deliver extraordinary high technology solutions. Solutions that make tomorrow possible, today. From the bottom of the oceans to the depth of space and cyberspace, we help our customers think smarter and act faster – mastering ever-greater complexity and every decisive moment along the way. With 80,000 employees in 68 countries, Thales reported sales of $22.4 billion in 2018.
Related posts