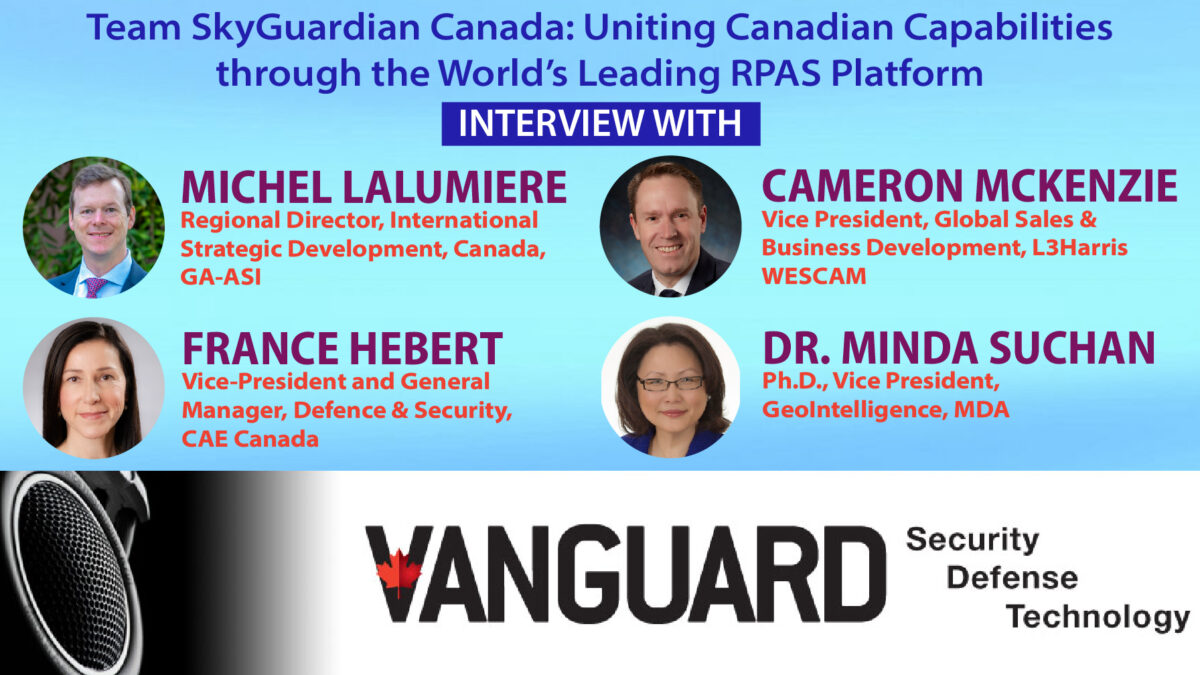 Team SkyGuardian Canada: Uniting Canadian Capabilities through the World's Leading RPAS Platform
Vanguard Staff, June 1, 2022
1 min

read
3395
In this episode of Vanguard radio, J. Richard Jones talks about Team SkyGuardian Canada, a collection of companies focused on delivering the most advanced long-range, long-endurance Remotely Piloted Aircraft for Canada by taking GA-ASI's industry-leading RPAS – the MQ-9B SkyGuardian – and adding the extraordinary technologies of three established Canadian companies: CAE Canada, L3Harris Technologies' Canadian subsidiary WESCAM, and MDA. Tune in as J. Richard and special guests: Michel Lalumiere, Director of International Strategic Development-Canada for General Atomics Aeronautical Systems, Inc, France Hébert, Vice President and General Manager, Defence & Security (D&S) for CAE Canada, Cameron McKenzie, Vice President, Global Sales and Business Development, for the Wescam Inc., Dr. Minda Suchan, Vice President of GeoIntelligence at MDA, discuss the Team SkyGuardian partnership and how it unites Canadian capabilities with a leading RPAS platform.
In this episode:
The RPAS platform for long-term jobs across aerospace, defence and unmanned systems
Partnerships with Canadian industry leaders ensure Canadian sovereignty and operations by Canada joining the growing global MQ-9B Group of Operators across sustainment and in the development of leading-edge technology
The commitment to Canada by providing an interoperable solution – an interoperable system of systems – to meet Canada's strategic vision and primary missions in Strong, Secure and Engaged in addition to its Industrial Technological Benefits Policy Requirements
And so much more!
Related posts