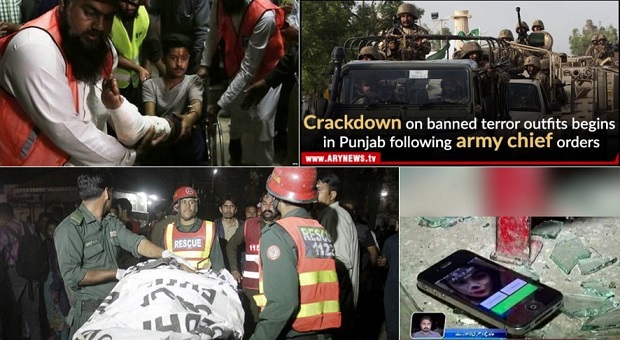 Paramilitary crackdown against Lahore terrorists
Stewart Downing, March 28, 2016
0
2 min

read
344
Pakistan has launched a paramilitary crackdown on Islamist militants in Punjab province following an Easter Day bomb attack that killed 70 people in the provincial capital of Lahore, according to news reports today.
U.S. condemns Pakistan attack https://t.co/20s7mxV4vW | Getty pic.twitter.com/VC7jn4lJfL

— POLITICO (@politico) March 28, 2016
The Pakistani Taliban faction called Jamaat-ur-Ahrar, which at one time declared loyalty to the Islamic State, claimed responsibility for the Sunday suicide bombing saying it was targeting Christians.
Pakistan attack: "People were running and screaming like the world has collapsed." https://t.co/kSlPcY5XmQ pic.twitter.com/k7AyU7onTu

— AJE News (@AJENews) March 28, 2016
Pakistan is a predominantly Muslim state, however, the country has some two million Christians. Twenty-nine children were killed in the attack in a busy park in Lahore where Christian families were celebrating Easter. The majority of those killed in the attack were Muslims, according to reports.
It was the deadliest attack in the country since the December 2014 massacre of 134 school children at a military-run academy in the city of Peshawar.
Jamatul Ahrar releases pic of #LahoreAttack suicide bomber pic.twitter.com/zPC370bHaC

— Haroon Rashid (@TheHaroonRashid) March 28, 2016
Security and government officials have decided to launch a full-scale operation involving the paramilitary Rangers against Islamist militants, according to the newswire service Reuters.
The news agency said the Rangers have the power to conduct raids and interrogate suspects but the action has not yet been formally announced.
Army and Rangers have already launched a number of raids in Punjab following the attack and have arrested an unspecified number of suspects and have seized arms caches, according to reports.
Pakistan PM Nawaz Sharif demands swift action on terror after #Lahore attack https://t.co/bcxlF2QHKU pic.twitter.com/yMRUbiv0oV

— BBC News (World) (@BBCWorld) March 28, 2016
Find out more, by clicking on the original story.
Related posts