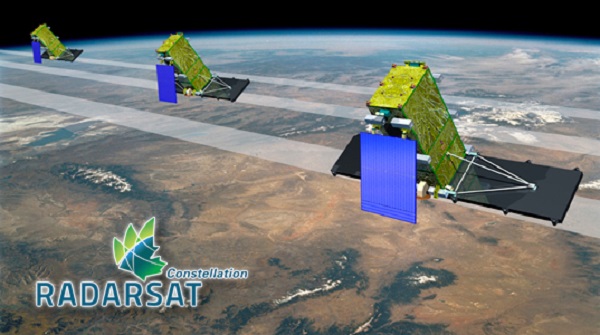 MDA gets $4.5-M contract in space-based maritime surveillance project
Stewart Downing, June 20, 2016
0
3 min

read
315
The Canadian government has awarded MacDonald, Dettwiler and Associates Systems Ltd (MDA) a $48.5 million contract for delivery of the Polar Epsilon 2 system.
The contract is part of the government's commitment to providing the Canadian Armed Forces with the equipment it needs to respond to crises within Canadian borders and abroad.
The Polar Epsilon 2 will use imagery from the three-satellite RADARSAT Constellation Mission, to be launched in 2018, to deliver advanced surveillance capabilities for domestic and global CAF operations. It will provide access to a domestic source of space-based observation data, greatly enhancing their ability to identify and track vessels from space in near-real-time.
"The Government of Canada is committed to ensuring the Canadian Armed Forces remain a modern, combat-effective, multi-role military able to conduct the missions the Government asks of it," a statement from defence chief Harjit Sajjan said. "The Polar Epsilon 2 project positions Canada as a world leader in space-based remote sensing for arctic and maritime domain awareness, and provides our women and men in uniform with the data and information needed to respond to domestic and international crises and events."
The three-satellite configuration will provide daily revisits of Canada's vast territory and maritime approaches, as well as daily access to 90 per cent of the world's surface.
The RCM is being designed for three main uses:
Maritime surveillance (ice, surface wind, oil pollution and ship monitoring);
Disaster management (mitigation, warning, response and recovery); and
Ecosystem monitoring (agriculture, wetlands, forestry and coastal change monitoring).
In addition to these core user areas, there are expected to be a wide range of ad hoc uses of RADARSAT Constellation data in many different applications within the public and private sectors, both in Canada and internationally.
For example, while the mission design initially focused on maritime security requirements, land security, particularly in the Arctic, will be dramatically enhanced. The system offers up to four passes per day in Canada's far north and several passes per day over the Northwest Passage.
The increase in revisit frequency introduces a range of applications that are based on the regular collection of data and creation of composite images that highlight changes over time. Such applications are particularly useful for monitoring climate change, land use evolution, coastal change, urban subsidence and even human impacts on local environments.
The new system will extend and enhance the capacity of Polar Epsilon 1, which works with the RADARSAT 2 satellite, amplify the Canadian Armed Forces' ability to detect, identify, and track vessels of interest in Canada's maritime areas, the Arctic region, and in support of operations around the world. Polar Epsilon 2 will allow identification of ships in addition to their radar-detected positions, providing an integrated, near-real-time maritime situational awareness capability. It will also help support land-based missions as required.
The Industrial and Technological Benefits Policy applies to this procurement, which requires the contractor to make strategic investments in Canada, including work with small and medium enterprises.
Under this contract, MDA will deliver ground receiving stations on the East and West coasts of Canada, specifically designed to detect ships from RADAR imagery provided by RADARSAT Constellation Mission.
Related posts