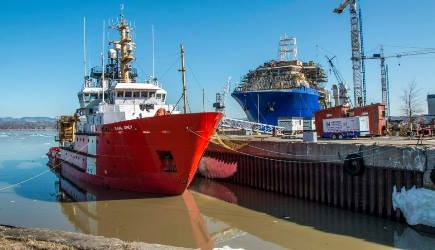 Liberal government grants Davie shipyard $587 million contract
Stewart Downing, December 1, 2015
1
3 min

read
325
The Liberal government on Monday announced that it was granting Chantier Davie Shipyard of Quebec the sole-source contract to build a temporary supply ship for the navy.
The contract, valued at up to $587 million, was initially awarded by the Conservative government but was put on hold by Prime Minister Justine Trudeau when he was elected to office. It was reported that Trudeau felt uncomfortable with the sole-source nature of the contract.
Find out the latest in shipbuilding technology –
Attend the Shipbuilding Technology Forum 2015
In recent weeks the Liberals have received letters from two giant shipbuilders, Seaspan, in Vancouver and Irving Shipbuilding, in Halifax, urging the new government to revisit the bidding process. Yesterday, the government gave its answer, according to a report from the Canadian Press.
"After amassing the facts and carefully deliberating, the Government of Canada has determined that proceeding with (Davie) is the most viable course of action to provide the navy's (temporary) at-sea-oil replenishment capacity," Foote said in a statement.
Under the deal signed with the Conservative government, Davie will retrofit a civilian tanker to serve as a military replenishment ship. The navy had earlier retired two of its 45-year-old replenishment vessels and is currently waiting for its replacements to be built. The new ships are expected to arrive in 2020.
RELATED CONTENT
Shipbuilding association urges government to sign Davie contract
Seaspan begins construction of first NPSP ship
Rather than asking other builders to bid on the contract, the Conservative government decided on a sole-source process.
Last week, the Shipbuilding Association of Canada, of which Davie is a member, urged the Liberal government to continue with the original contract.
Kevin McCoy, president of Irving, however, asked the government to reconsider arguing that the ship Davie planned to retrofit was not ideal for the job and would require a lot of expensive work. Irving is not a member of the association.
Following Foote's announcement the head of Seaspan also voiced concern over the decision. Seaspan is also not a member of the shipbuilders' association.
"We are disappointed by the Government of Canada's decision, yet we certainly understand the Royal Canadian Navy's need to find an interim solution for its fleet oilers," said Jonathan Whitworth, CEO of Seaspan, in a statement Monday afternoon. "Although Seaspan was prepared to offer an interim AOR (auxiliary oil replenishment) capability at our Victoria Shipyards, we are pleased to hear that Canada has reaffirmed its commitment to building the Joint Support Ship (JSS) program at Vancouver shipyards."
Work on new federal ships is also ongoing in the company's North Vancouver facility. Seaspan is working on three federal fisheries vessels. That contract, signed in June with the Conservative government is worth $687 million.
Davie is expected to complete the retrofit in two years. The contract will create some 1,100 jobs with the shipyard and another 400 with sub-contractors.
Related posts