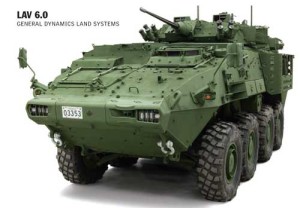 LAV 6.0 in competition for USMC program
vanAdmin1, January 30, 2015
0
2 min

read
985
The United States Marine Corps and the Canadian Army might share common transport if General Dynamics Land Systems-Canada is successful in the Corps' upcoming amphibious combat vehicle (ACV) program.
A version of GDLS-C's LAV 6.0, the significantly upgraded light armoured vehicle currently rolling out of its facility in London for the Canadian Army, is expected to be one of four contenders to replace the USMC amphibious assault vehicle. According to National Defense, a final request for proposals should be released in February, followed by a downselect to two vendors by Fall 2015.
Other likely competitors include industry partnerships: Lockheed Martin, which is proposing its Havoc, a version of Patria's 8×8 armored modular vehicle; SAIC, with Singapore Technologies Kinetics' Terrex infantry carrier vehicle; and BAE Systems, which will offer Iveco's Superav.
Though concerns about defence budgets and sequestration are always high, one competitor told National Defense that "this particular program has very strong support from senior Marine Corps leadership."
The ACV program is the result of two earlier efforts to acquire an amphibious expeditionary fighting vehicle (EFV) and a Marine personnel carrier. The EFV, a rapid transport to shore, was shelved in 2011 after it became apparent the cost in survivability and lethality at the time outweighed any high-speed amphibious advantages. The MPC, which would have provided additional land mobility, was halted in 2013.
"We're going to get a vehicle…that can operate in the cross range of military operations," LCol. James MacArthur, director of the Marine Corps' fires and maneuver integration division capabilities development directorate, told National Defense. "Whether you're talking humanitarian assistance, disaster relief operations or you're talking major combat operations and anything in between, this is going to be one of the few vehicles … in the ground combat tactical vehicle portfolio for the Marine Corps that can actually deploy across the range of military operations. That is a good thing. We haven't had that for our infantry in quite some time."
While the USMC still has a requirement for a high water-speed vehicle, it wants an ACV with the land mobility of an Abrams tank that must be able to withstand IEDs, armor-piercing direct fire up to a heavy machine gun, indirect high explosive fragmentation and landmines, according to a fact sheet. It will carry an M2 heavy machine gun and remote weapons system with the ability to add a dual-mount stabilized mark 19 grenade launcher.
And each vehicle must be able to accommodate 13 Marines, plus a gunner, driver and vehicle commander.
The service is also looking for a vehicle that can be easily upgraded over time to accommodate "more advanced weapons, communications and command-and-control equipment," National Defense reported.
The first vehicles could be deployed by 2020, with full operational capability projected for 2023.
Related posts