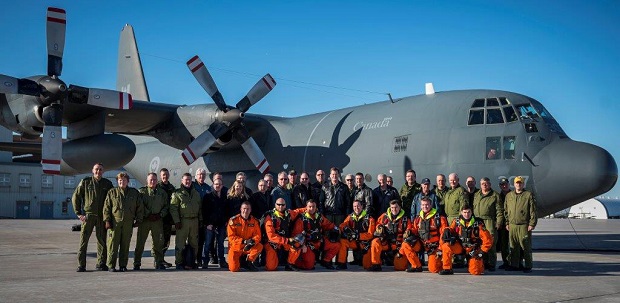 Last of CC-130 Hercules E makes final flight
Stewart Downing, April 5, 2016
0
2 min

read
245
In the annals of aviation history, very few aircraft can come close to the record achieved by Lockheed's Hercules transport plane. The fat and ungainly looking cargo aircraft rolled onto the tarmac for its debut flight in 1954 and ever since numerous variants of the venerable Herc have been taking off and landing on airstrips around the globe making this workhorse the longest continuously produced military plan in the world.
Recently, the Department of National Defence retired the last of its CC-130 Hercules E-Legacy airplanes.
The aircraft's 50 years of service came to a close at the end of its two-hour final flight from its home at the 424 Transport and Rescue Squadron base in Trenton, Ont., to the Canadian Aviation and Space Museum in Ottawa where the CC-130 was donated.
Hear from military personnel what they need to enhance armed force's C4ISR capabilities. Click on the logo below

The Hercules will become part of the museum's permanent exhibition. The donation commemorates the significant role of the aircraft which was "a true workhorse of the Royal Canadian Air Force," according to the RCAF.
The CC-130 Hercules is the mainstay of the RCAF's tactical air mobility fleet, according to Lt.Gen. Michael Hood, commander of the RCAF.
"Since we acquired our first B-model Hercules in October 1960, this rugged transport aircraft has provided stellar service in times of peace and conflict," he said. "I am delighted that Hercules No. 130307 – the last of our E-model Hercules – has found a permanent home with the Canada Aviation and Space Museum in Ottawa, where it will showcase the RCAF's air mobility role for years to come."
RELATED CONTENT
Is Lockheed Martin's C-130 on the flight path towards 100 years of service?
Rugged and versatile, the Hercules has participated in numerous search and rescue operations and helped provide disaster relief.
The Hercules offered to the Museum is the oldest Canadian example of the type. It entered service in 1965. It was used as a transport airplane, a navigation training airplane, and a search and rescue airplane.
The Royal Canadian Air Force and the Canadian Armed Forces received 24 CC-130Es between December 1964 and August 1968.
The Hercules offered to the Museum is the third CC-130E acquired by the Canadian military.
"As a former Commanding Officer of 429 Transport Squadron in Trenton, it's an honour to be here today to mark an important milestone in our military history: the last flight of the CC-130E fleet," said Karen McCrimmon, MP for Kanata-Carleton.
The RCAF recently acquired the latest version of the plane, the J-model Hercules, which will be serving along with the existing H-model Hercules.
Related posts