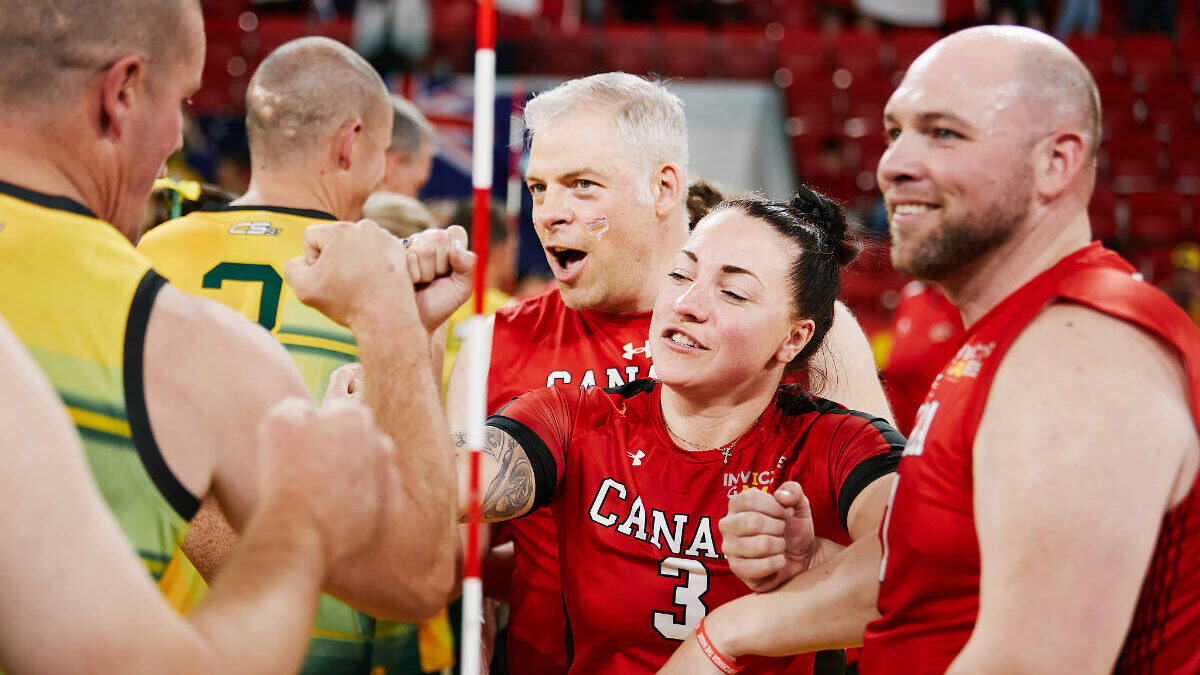 Invictus Uncovered: Reflections of a Warrior
Nick Holyome, August 28, 2022
7 min

read
1599
Nick Holyome served in the Canadian Armed Forces for more than 26 years, before being medically discharged. Now employed by veteran-led start-up WithYouWithMe, Holyome upskilled in cyber security before being deployed by WithYouWithMe into Canadian Government. He recently competed in the Invictus Games The Hague and is a passionate advocate for veteran support and rehabilitation. In this personal article, Holyome reflects on the journey to get to the Invictus Games and the importance of ensuring veterans have the opportunity to contribute to a new mission.
It took me just over two years to get to the 2020-turned-2022 Invictus Games The Hague, and it's difficult to articulate the power and emotions behind the whole experience. Joy; anticipation; anxiousness; frustration (at the two years of pandemic isolation); and the exhilaration of discovering sport and competing again to demonstrate our own unconquered spirit.
To understand the full spectrum of emotion, it's worth explaining the journey that got me here.
After decades of serving with CAF, I suspected I would be medically released in 2016. Coincidently at this time, I received an email about an upcoming ski camp with Soldier On, so I reached out to the team to get involved.
In 2017, I attended a Soldier On ski camp at Mount Washington that truly changed and saved my life. After multiple tours in Afghanistan, I had some mental health issues that I had mistakenly thought I could deal with by ignoring them. I was struggling and coping poorly with my health in general. Midway through the ski camp week, I came home, and my kids greeted me at the stairs to the house. My son suggested I should ski all the time, as I was smiling, and I never smiled or seemed happy anymore. His offhand comment deeply affected me, and I decided I needed to get serious about my health and seek help.
The opportunity to make these life changes presented itself when applied for the Invictus Team. I initially applied on a whim and wasn't expecting to be accepted, but I was pleasantly surprised when the selection email arrived. The original team was sent to CFB Valcartier in September 2019 for our initial training camp. It was a rude awakening, as I had not been taking particularly good care of myself. I realized if I was going to put on the Team Canada uniform and get ready to represent my CAF peers at this prestigious event, I needed to get myself in physical and mental shape.
At this time, I really knew nothing about Invictus Games other than the fact it had been set up by the Duke of Sussex in 2014. I was asked to pick a few sports that I might like to try and select a team sport. I wanted to do all of them, but I realized that might be a bit much considering I had an injured back and a variety of other musculoskeletal injuries acquired over a career in the CAF. I wanted to be on the Wheelchair rugby team, but my chiropractor, RMT and doctor suggested that might not be the best choice, and so I selected seated volleyball. I also picked rowing and cycling as I figured I could train almost year-round in our moderate climate.
We attended our first competition in February for the 2020 Marine Corps Trials in Camp Pendleton San Diego, which was supposed to be a dry run. I competed in cycling, rowing and seated volleyball and was happy with my fitness.
But – as we all know – the world had other plans. The onset of the COVID-19 pandemic put everything on hold as we all went into isolation. During that time, I suffered a painful undiagnosed hernia that prevented me from training. I was finally able to get it repaired in December 2021 and after a 6-week recovery period I was able to gently get back on the bike and rower to start my training again. I would have about three months of preparation time to get ready for the 2022 Invictus Games The Hague, which was not ideal, but I was going to give it my best shot.
I am lucky enough to work for WithYouWithMe, a company that supports veterans by upskilling them in technology and placing them into digital employment. Here in Canada, WithYouWithMe has the largest pool of security-cleared digital talent in the countries, many of whom are veterans – and they walk the talk in supporting veterans not only in finding meaningful careers, but also in taking leave to support veteran causes. For me, this meant being granted time away from work so I could compete in the Invictus Games and represent Canada again.
I arrived in The Hague with my family before the Games kicked off and knew immediately, we were in for a special event. There were IG22 signs everywhere, volunteers to guide and help us and the Dutch were ready for us in all respects. I quickly realized that with 500 competitors, 1500 friends and family and 3000 volunteers – it was going to be an event like nothing I had experienced in my life. I was able to compete in the seated volleyball tournament, and I completed my rowing competitions. But unfortunately, I contracted COVID-19 midway through the Games and spent the second half in quarantine in my hotel.
Despite my early end to the Games, I can tell you it was an amazing experience. It is hard to feel sorry for yourself, when you are surrounded by other members of partner militaries or my fellow Team Canada teammates, that have overcome their own health, illness, adversity, and personal challenges to get to the Games.
We met with members of the Ukrainian Team and talked about the loss of four of their teammates in previous weeks, and how important it was for them to attend the Games despite the atrocities of war back in their homeland. They showed the true spirit of Invictus (which means unconquered). They may be in the fight of their lives, but they still chose to demonstrate their spirit on the world stage.
It wasn't all fierce competitions. For example, we were treated to a wonderful breakfast with the Duke and Duchess of Sussex and with Princess Margarite of the Netherlands. We got to celebrate the differences and similarities between the 18 different nations and compete in a series of sporting battles with our friends and colleagues. We even got to tour around and sightsee in The Hague – a place where there are more bikes than there are humans!
If I could pass along one piece of advice for anyone in the CAF that has been ill or injured during their service, it would be this: there are so many opportunities and avenues out there for you to explore post-service.
Firstly, take a look into WithYouWithMe which was founded initially to help veterans transition out of service. We use psychometric testing to identify people with the aptitude to thrive in tech-based roles and then build their skills to be employment-ready through accredited digital skills training. If you have the aptitude and attitude that's right for a digital career, we can train you to be proficient in approx. 140 hours. Then we work with many of Canada's biggest employers – including CAF – to place you into a new digital career. And having this sense of purpose is so important. So I recommend for anyone in military – serving or veteran – to get onto the WithYouWithMe platform and take the test. The whole end-to-end program is completely free for anyone in Defence, and you would be amazed at the opportunities that lie ahead.
Secondly, look at joining Soldier On and attend one of the many events available in your area. Who knows, you could be lucky enough to get on the next #TeamCanada Invictus Games list.
Using sports and competition for recovery and rehabilitation makes sense but seeing it in action on the big stage at the 2022 Invictus Games was a powerful motivator. Whether it's working for a veteran-friendly company like WithYouWithMe or competing in a veteran-friendly event like the Invictus Games, the importance of setting goals, feeling valued and contributing to a new mission is so important to our well-being.
The words "thank you" don't seem quite enough to express my deep gratitude for the work that goes on behind the scenes, the generosity of the sponsors (Soldier On, True Patriot Love Foundation, ATCO, BMO, Ultra, Tim Hortons, Under Armour), and the support my veteran-focused employer WithYouWithMe has shown me on this journey.


Related posts