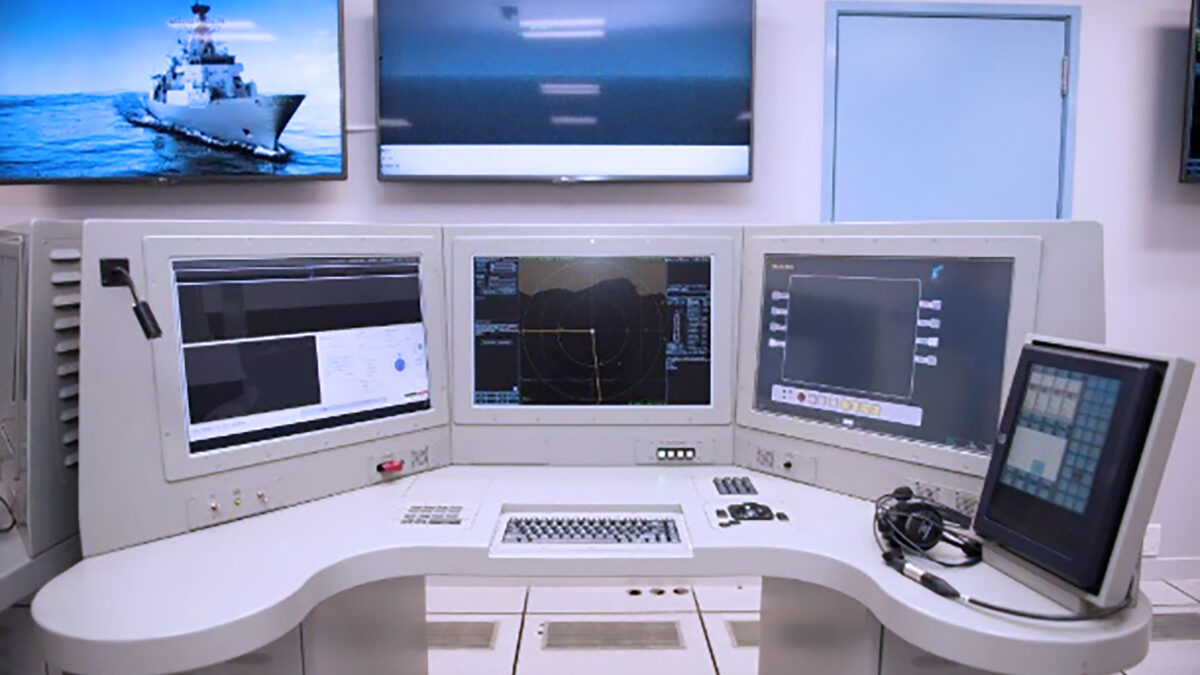 Training is an operational capability, and a well-trained military force is key to continued Canadian security and sovereignty.
Dynamically responding and adapting to an evolving threat environment is critical to soldiers retaining a competitive edge across all domains. Achieving this high level of readiness requires innovative, affordable training solutions that can be both adapted at the point of need and offer rapid performance assessment to accelerate decision making and deliver a resilient sustainment program.
Training Solutions at Point of Need
To prepare for Joint All Domain Operations (JADO) soldiers use virtual reality technologies for an efficient mix of synthetic and live training. Reconfigurable virtual trainers, provide individual to collective skills training both at home base and while deployed. Lightweight, deployable hardware packages in a smaller simulator footprint, adaptable to various vehicle types, deliver training at the point of need, allowing personnel to continue training while on missions.

Trainers At Home
Lockheed Martin Canada's operator trainers stem from a common baseline, SEASMRT, configured to run either on land or on ship. An on-board training solution, called SETT (Shipboard Embedded Team Trainer) is used by six classes of ships across three different navies.  This solution utilizes either a synthetically generated scenario, or live tracks displayed against a synthetic virtual world. Multiple ships can also share the same training environment, allowing force-level synthetic training exercises at sea. Shore-based operator trainers wrap the CMS330 operational software in a synthetic environment, closing the gap between training and operations. The SEASMRT trainer product provides reconfigurable, multi-purpose training for individuals, sub-teams, and full team mission rehearsal wherever the need.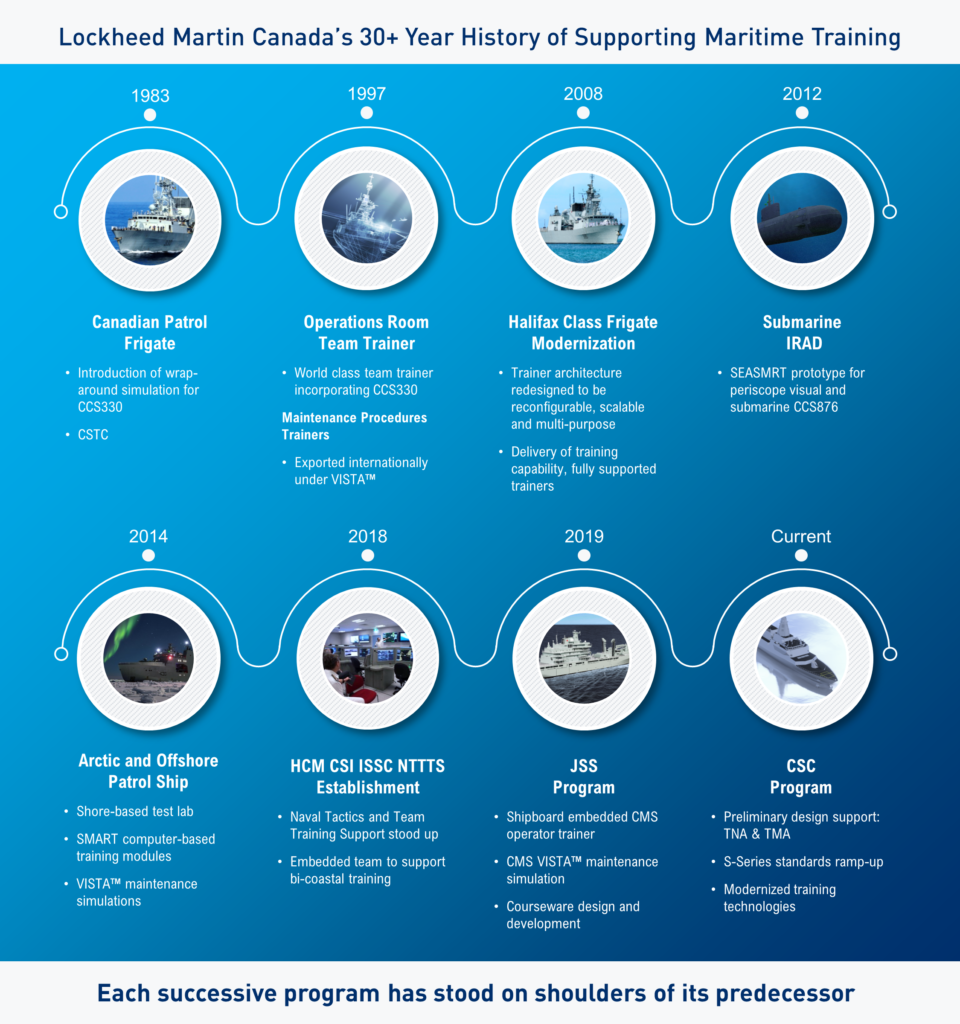 Performance Assessment to Accelerate Decision Making
Information must be provided at the speed of relevance in order to overcome adversaries. Increasingly, soldiers are facing skill decay and cognitive overload due to the speed and detail necessary for each decision. Joint task force commanders operating within the all-domain environment need real-time decision support to gain the advantage.
Lockheed Martin Canada's Maintenance training has modernized to include two variants: VISTA™ (Visual Interactive Simulation Training Application) simulations are digital twins – high fidelity, free-play graphical and behavioural models of devices, equipment, subsystems, and systems. SMART (Synthetic Multi-Role Accessible Relocatable TEL) applications are directed, non-linear learning opportunities that are designed to provide students with high graphical fidelity while providing learners with remediation and guidance as needed. Both VISTA™ and SMART are compatible with learner tracking standards like xAPI, which can be used to provide detailed performance analytics. This flexible, dual approach creates a cost-effective, immersive, and fully interactive training solution.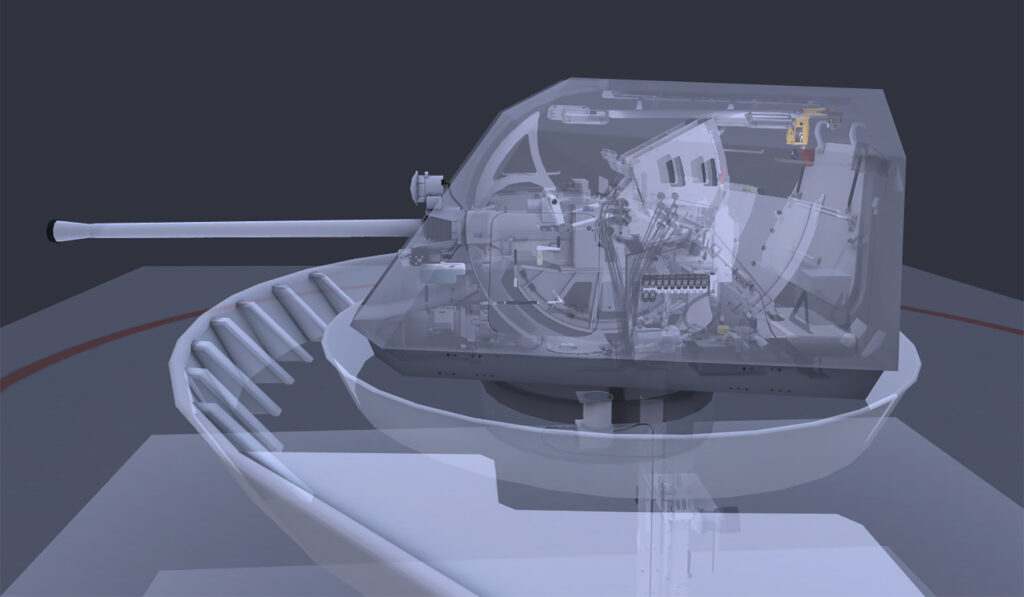 Resilient Sustainment for the 21st Century
Being prepared today through innovative training systems is only the first step. To guarantee success, the future force must be sustained. The Canadian Armed Forces needs to be able to rely on industry partners and their robust pipeline of talent and technology to provide speed, readiness and resilience. In-service support and sustainment is critical to the overall mission support package, but resilient sustainment provides assurance of an enduring capability. Continuous military operations will be achieved through better, more agile support to the dispersed land, sea and air environments and can be assured by implementing enhanced logistics Command and Control and AI-based platform prognostics.
Data has the power to reduce risk in operation and deployments by enabling predictive maintenance to reduce platform downtime. The aim should be to achieve a high velocity supply chain with parts provided when and where they are needed with no single point of failure across the logistics chain. This requires a paradigm shift in platform and equipment availability and the development of superior, assured, environmentally sustainable and cost-effective logistic services. To guarantee future success, the future well-trained military force must be sustained.
Related posts