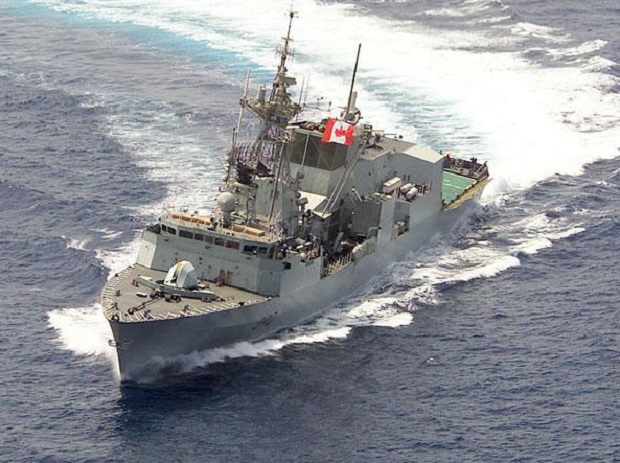 HMCS St. John's to support Standing NATO Maritime Group 2
Stewart Downing, December 19, 2016
0
3 min

read
359
Her Majesty's Canadian Ship (HMCS) St. John's has been selected as the next Royal Canadian Navy (RCN) ship to deploy on Operation Reassurance early next year, to support Standing NATO Maritime Group 2 (SNMG 2) in the Mediterranean contributing to regional security and stability.
HMCS St. John's will depart Halifax in mid-January, replacing HMCS Charlottetown which has been serving with SNMG 2 since July 2016.
HMCS St. John's last international deployment was in March 2012 when the ship deployed on Operation CARIBBE, Canada's contribution to Operation Martillo, a multinational campaign to counter transnational criminal organizations in the Pacific Ocean and the Caribbean Sea.
Maritime Tactical Operations Group (MTOG) from Royal Canadian Navy on Vimeo.
Maritime Tactical Operations Group (MTOG) from Royal Canadian Navy on Vimeo.
HMCS St. John's upcoming deployment is a continuation of a range of military activities undertaken by the Canadian Armed Forces (CAF) to support NATO assurance and deterrence measures through the provision of military capabilities for training, exercises, demonstrations and assigned NATO tasks
"I am extremely proud of the hard work and dedication displayed by of the Captain and crew of HMCS St. John's in preparation for their upcoming mission," Rear-Admiral John Newton, Commander Maritime Forces Atlantic. "They will play a key role in strengthening international and regional stability and as part of a modern, globally deployable fleet, St. John's presence ensures the Navy continues to influence global events while representing and defending Canadian interests abroad."
RELATED CONTENT
"Over the last number of months we have honed our skills and with the fantastic support of the civilian and military staffs that make up Maritime Forces Atlantic I know that St. John's is in all respects ready for the challenges of Operation Reassurance," said — Commander Sheldon Gillis, Commanding Officer, HMCS St. John's
HMCS St. John's is the sixth Royal Canadian Navy ship and the fourth modernized Halifax-class frigate to deploy in support of NATO assurance measures in Europe since April 2014.
The ship will provide Canada the flexibility to execute a range of missions across a broad spectrum of operations in support of allied efforts in the region, including surveillance and monitoring, regional defence, diplomatic engagement and capacity building.
Standing NATO Maritime Groups are multinational, integrated maritime task groups made up of vessels from various Allied countries. These vessels are permanently available to NATO to perform different tasks ranging from exercises to operational missions.
They also help to establish Alliance presence, demonstrate solidarity, conduct routine diplomatic visits to different countries, support partner engagement, and provide a variety of maritime military capabilities to ongoing missions.
HMCS St. John's completed the Halifax-class Modernization/ Frigate Life Extension (HCM/FELEX) program in October 2015 and is ready to deploy in support of Government of Canada objectives.
The program provided the ship with a new Combat Management System, new radar capability, a new electronic warfare system upgrade, upgraded communications and missiles, as well as a new Integrated Platform Management System.
HMCS St. John's is a Halifax-class frigate with a crew of approximately 240 personnel of all ranks, including an Enhanced Naval Boarding Party and a CH-124 Sea King helicopter air detachment.
The ship's Enhanced Naval Boarding Party is a specialized team that is capable of executing a full range of maritime interdiction operations.
Related posts