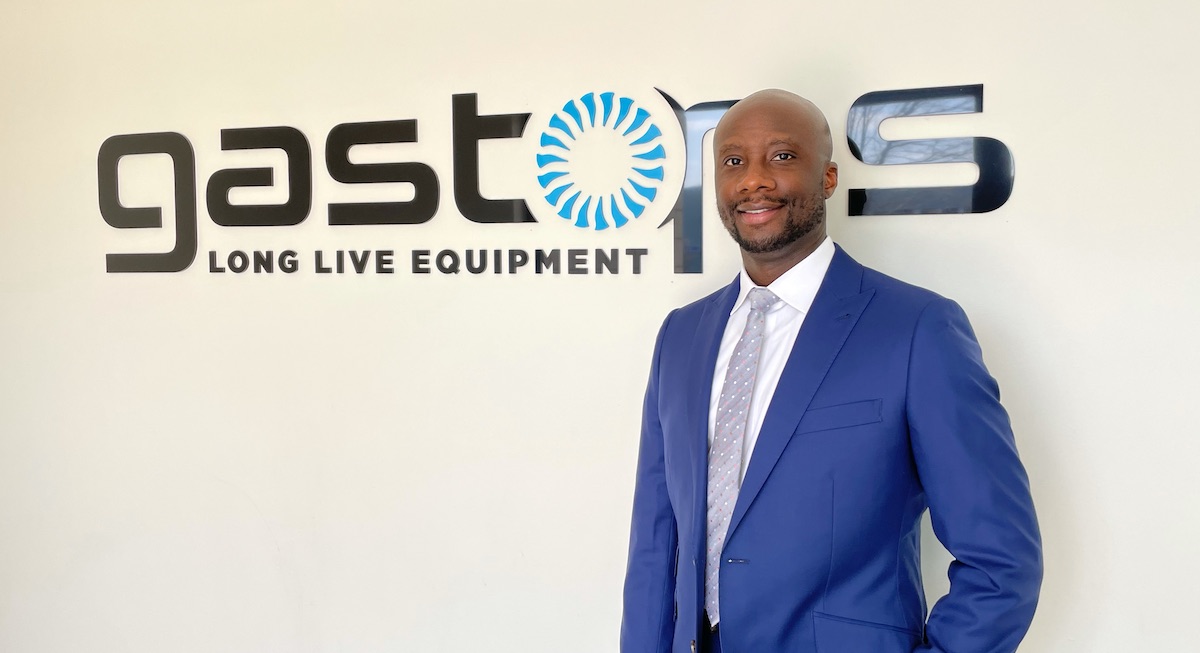 With over 13 years with Gastops, for which the last seven being directly involved in the defence segment, Kiduika Daniel Obedi said he is "fortunate to be given the opportunity to work with a company that is recognized worldwide for its innovative contributions to the maintenance, productivity, and safety of critical equipment used in aviation, energy, marine, rail, and mining industries.
"Gastops has given me the opportunity to gain valuable work experience in a variety of different industries and in various parts of our organization," he said. "About six years into my tenure, there was an opportunity to transition from engineering into a customer-facing role. With the encouragement of some of my colleagues, I took a chance and have not looked back since."
Even though he has a deep love for engineering, Obedi said that this was the best decision he had made in my career to date.
Kiduika Daniel Obedi was selected as a Vanguard Game Changer for the April/May issue.
What is your role at your organization today?
As Vice President of the Aerospace Platforms Business Unit, my role is to provide strategic vision, enable the team to achieve that vision, and provide day-to-day operational leadership, ensuring that the organization continues to provide innovative, robust solutions to the maintenance, productivity, and safety challenges of critical equipment used in the industry. None of this would be possible without prioritizing an achievement-oriented culture that emphasizes collaboration, diversity, and customer service.
What was your most challenging moment?
Without a doubt, my most challenging 'moment' continues to be the COVID-19 pandemic. Aside from the significant impact on various industries and organizations, the biggest impact by far has been felt by individuals, and our employees are our greatest asset. Gastops has been through many difficult times over the years and has not only persevered but has emerged from the challenges in a stronger position. Ensuring the safety and well-being of our team differentiates this one, but due to the passion, dedication, and character of the people within our organization, I have no doubt that this will also be the case when the world emerges from this pandemic.
What was your "aha" moment or epiphany that you think will resonate most with our reader, tell us that story.
Recently I have learned that to build a strong and enduring business, you need to build a strong, resilient, accountable team. A team that is motivated and encouraged to trust and rely on each other, as well as call each other out, to ensure that the desired goals are attained. It will get messy at times, but messy can be a good thing. Messy will force the team to learn, adapt, grow, and ultimately succeed. In the end, that is what we are all striving for; to be successful, whether it be in the workplace and/or life. Success comes in many forms and is not "one size fits all".
What is the one thing that has you most fired up today?
When I look around at the staff within our organization, across all four of our locations, I am excited about what the future holds for Gastops. The talent that we have is second to none. But, more importantly, we have a group of individuals, working collaboratively to form a cohesive team. When I look at the programs that we are currently a part of, and programs that we are developing solutions for, the sky is the limit.
What is the best advice you received?
One of the best pieces of advice I have been given to date is: "God gave you two ears and one mouth." Taking the time to listen, truly listen, is a skill that takes practice and discipline. It is a skill that does not come naturally to most of us. Once you embrace this and accept the fact that it is something that needs to be cultivated, it will open a whole new dimension. All your interactions will be orders of magnitude more meaningful and fruitful; communication will be seamless.
What is a habit that contributes to your success?
Often, I find myself in situations that did not go the way I had envision. Self-reflection is a habit/practice that has done me well over the years. Taking the time to reflect on various situations and the outcome achieved; followed by an assessment of what I could have done differently to achieve an ideal outcome. This ultimately leads to a conscious decision to change how I approach situations moving forward, implementing the learnings from past experiences. This comes from a place of continuously wanting to evolve; to do and be a better person, son, father, husband, employee, and leader.
What people or organizations do you believe best embody the innovation mindset?
When I think of organizations that truly embody the innovation mindset, organizations like Apple, Tesla, and Google quickly come to mind. These organizations are constantly evolving and pushing the boundaries/capabilities of existing technology. They do not accept the status quo.
How is your organization changing the game within your industry sector?
Gastops has been changing the game in Aerospace since 1992 when our oil debris monitoring technology was selected by Pratt & Whitney for the F119 engine for the USAF F22 program. Our relentless commitment to customer-focused innovation has continued to provide a unique value proposition that has seen the technology evolve for implementation on the F35 and Eurofighter as well as several other major military and commercial aerospace platforms including the A320neo and A220. Mission readiness and efficient fleet management are increasingly dependent on the real-time equipment intelligence that Gastops provides through its suite of solutions.
What are some of the biggest impediments to innovation in your industry sector?
Innovation is rampant in the sector, driven by the value of a digital future and the prognostic advantages of big data. The impediment is the adoption rate for two reasons. As the technology is designed at the engine or gearbox level, real-world implementation follows the long cycle of new platform design and introduction. The other challenge is proving that new approaches continue to meet or surpass the safety and reliability standards of legacy technologies and methodologies.
How has innovation become engrained in your organization's culture and how is it being optimized?
There is a history of innovation at Gastops that is recognized and reflected in our culture. In addition to our Engineering team, we have a dedicated Research and Innovation department constantly working on potential next-generation technologies. That said, our leadership team regularly looks for ways to better inspire and operationalize innovation. We believe that innovation should be core to every aspect of the business as we strive for the revolutionary improvement in process effectiveness, efficiency, and technology with the goal of continually increasing the value we provide to our current and future customers.
What technologies, business models, and trends will drive the biggest changes in your industry over the next two years?
The biggest trend to monitor is the return of commercial air travel and when that triggers a return to pre-COVID aircraft engine manufacturing levels. Gastops will continue to explore emerging sensing technologies, but over the next years, the evolving landscape of digitization, IIOT, big data, cybersecurity, and the emergence of digital twins is expected to drive the biggest changes in the industry. In terms of business models, where SaaS has become commonplace for companies all over the world, the concept is now evolving to include exploring opportunities for capital equipment as a service.
What is your parting piece of advice?
Believe in yourself and stay true to your core values. Someone once told me that as you grow and evolve (as an individual, as a team, as an organization, etc.), the behaviours that got you to where you are today, regardless of how successful you have become, are not the same behaviours that will get you to where you want to get to tomorrow. We should always be looking to improve and move forward. However, this does not mean that you abandon your core values. These values should act as your guide; they are the essence of who you are at the core. Be cognizant of your strengths and weaknesses and do not let your weakness limit you.
Related posts