Game Changer: Geneviève Allard, Project Manager, OpDAQ Systems
Marcello Sukhdeo, April 27, 2018
0
5 min

read
482
Geneviève Allard started working in the marine sector as a commercial diver and later pursued geographic studies that led to her work in academia. "As I worked on the development of research collaborations between academics and the industry, I found a need for a better understanding of how businesses use research to grow," she said. Due to this desire, she joined OpDAQ Systems, a small high-tech company, and decided to continue her career along this path.
Today she is the project manager of OpDAQ Systems and has been selected as Vanguard's Game Changer.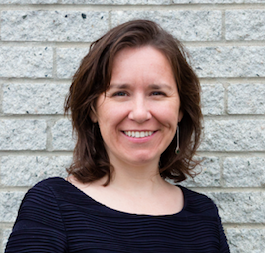 What is your role in your organization today?
As a project manager, my role is to ensure that all projects are delivered on time, within scope and within budget, in the most professional and efficient way. With experience in ship surveys and sea trials, I also provide on-site support and training for a wide range of services related to the evaluation of the performance of a vessel's machinery and its habitability.
What is your most challenging moment?
Multitasking is prevalent in my work environment, and I find that it influences my performance and induces unnecessary stress on a daily basis. Being already on a very tight schedule and bombarded with several streams of information, I find this to be the biggest challenge I have had to face.
What is your "aha" moment that you think will resonate most with our readers?
Contributing to the provision of fuel management systems for 38 vessels of the Canadian Coast Guard fleet is a "aha" moment for me because it offers us a unique opportunity to explore the full potential of acquiring high-quality performance data, at a high-sampling rate over long periods of time. This data will provide crucial information to understand how a fleet ages, how sister ships differ on a performance basis, and which energy-saving technology provides the best results. This will lead to new efficient or advanced technologies that hold a high potential, to reach the market, reducing the current level of energy use or moderating its growth.
What is the one thing that has you most fired up today?
I am motivated by the desire to take part in the global movement to create a low-carbon economy. The 5th IPCC report indicates that continued GHG emission will cause further warming and long-lasting changes, increasing the likelihood of severe, pervasive and irreversible impacts for people and ecosystems on all continents. The reduction of GHG emissions and fuel consumption begins with the understanding of how energy is being used. This understanding leads to the identification of avoidable waste or opportunities to reduce consumption. By monitoring the energy consumption data of diesel engines, I believe I am contributing directly to the fight against climate change through the use of measurable, appropriate and realistic methods.
What is the best advice you received?
One piece of advice that sort of stuck with me these past years follows a very difficult day at sea when trialing a vessel. I was seasick, felt miserable and wondered how I'd make it through the day. The sea trial captain on board reminded me that "we are all in this together," working towards a common goal. That day the goal was to deliver a new-built vessel, but overall, our collective goal is to build the fleet of tomorrow and make sure it is as efficient as can be.
What is a habit that contributes to your success?
Pouring my heart into my work and being willing to go the extra mile when needed, with a smile.
What people or organization do you believe best embody the innovation mindset?
Technological progress requires the feedback and constant input of people that are creative, curious and willing to do things differently. Many fleet managers and ship operators have helped us develop innovative solutions that better meet the needs of the shipping industry. Each and every one of these people influences our own creativity and ability to be innovative. This culture of continuous improvement through a collaborative process is what cultivates the innovation mindset.
How is your organization changing the game within your sector?
The products and services offered by OpDAQ Systems aim to measure the energy performance of ships using highly accurate tools to enable the shipping industry to continually optimize their operations. We provide key operational data, allowing ship operators and managers to manage vessels in a more efficient way, resulting in a smaller environmental footprint for the marine industry.
What are some of the biggest impediments to innovation in your sector?
Resistance to change can be a major issue when implementing ship energy efficiency improvement measures. Consistent data collection is essential to achieve self-evaluation and improvement. A critical element of implementing a successful energy management plan is to raise the awareness at every organizational level so that everyone gets an understanding of the goals, means of achievement and timeframe horizon. Without proper comprehension, decision-making and actions do not align with the organizational objectives, resulting in project failure.
How has innovation become engrained in your organization's culture, and how is it being optimized?
OpDAQ Systems is a spin-off of the research centre Maritime Innovation. Innovation is a true pillar of the company's business strategy, and it guides our actions on a daily basis. We continually invest in R&D to maintain our position at the forefront of the development of high-quality instrumentation systems dedicated to performance evaluation.
What technologies, business model and trends will drive the biggest changes in your industry over the next two years?
I strongly believe that teamwork, partnership and collaboration is an ideal business model when the goal is to initiate change. Projects can only benefit from the diversity of expertise and experiences provided by employees, but also by customers and collaborators.
What is your parting advice?
Have the courage to follow your own heart and intuition and to say "yes" to ideas and opportunities that you believe in.
Related posts