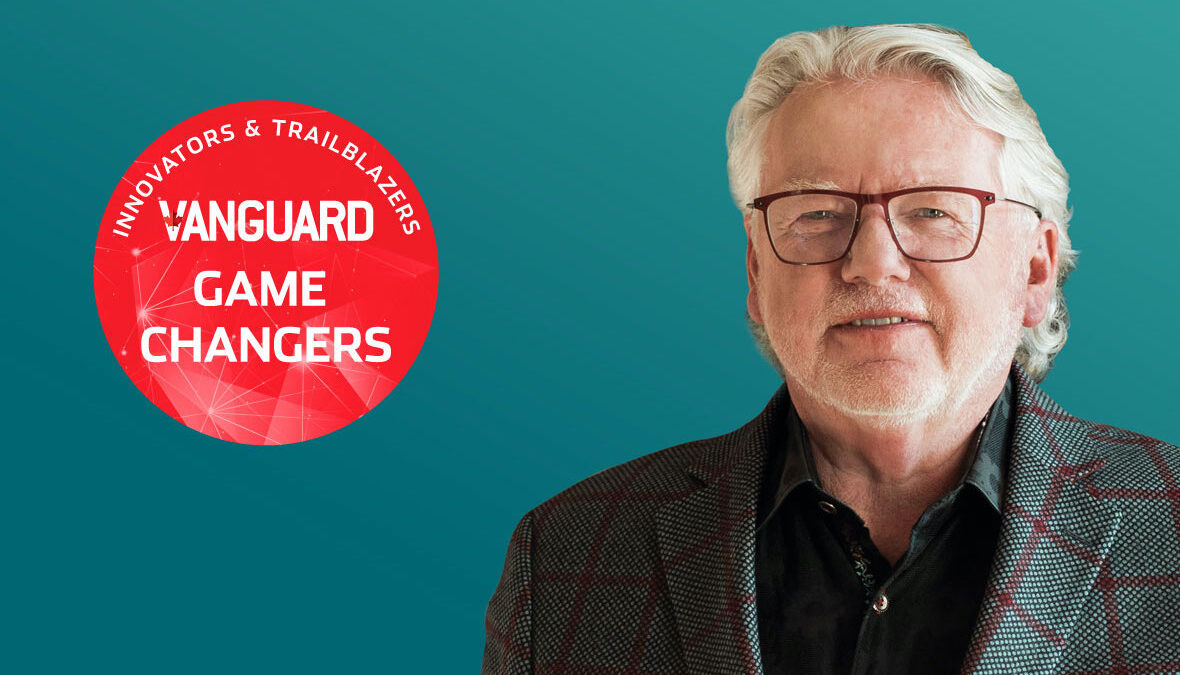 David Luxton has a lot of experience working in the defence and security industry. For over 30 years, he has been involved in startups and investing in different companies. He started out by creating Simunition, a company that went on to become the world leader in realistic training for close quarters combat. David later sold that company and began investing in emerging defence companies through his investment firm, DEFSEC Corporation.
His latest investment is KWESST Micro Systems Inc., which began trading last fall on the TSXV exchange under the symbol KWE. "I've been active as the Executive Chairman of KWESST since October 2019," said Luxton. "KWESST has a portfolio of transformative technologies for modernization and digitization of land forces, and is an exciting high-growth player."
David Luxton was selected as a Vanguard Game Changer for the June/July issue. Here is the full interview with him.
David, you have a ton of experience and have worked in many different roles. What was your most challenging moment?
There are almost too many to remember, which is the nature of investing and building emerging companies and weathering the unexpected.  Certainly, the unforeseen financial meltdown of 2008-2009 stands out as a challenging time.  I had to steer another investee company of mine, Allen-Vanguard, through that tumultuous period.  It was very tough but very gratifying to get through it, particularly because Allen-Vanguard plays such an important role in providing life-saving equipment against IEDs to our Canadian forces as well as to many others around the world.  The company has literally saved thousands of lives and continues to do so around the world today.  Of course, Covid also stands out as a serious challenge today for Canadian defence SME's who struggle mightily to adapt to a pandemic world of international travel restrictions.  For some, this will prove an existential threat but there are opportunities for creative solutions, something I actually find exciting and deeply engaging.
What was your "aha" moment or epiphany that you think will resonate most with our reader, tell us that story?
In retrospect, the standout realization has been just how much it takes to be successful in the defence industry as an emerging Canadian technology company.  Technology alone is never enough.  You need to know how to operationalize it for end-user CONOPS.  You need to develop partnerships with major industry players.  And you need to think globally and learn about the export market because the domestic Canadian market is just too small to support most SME defence companies.
What is the one thing that has you most fired up today?
The constant evolution and pace of new threats is driving exciting new markets and opportunities for technology-based solutions.  Often the companies with the insight and agility at the forefront of this are SMEs, not big defence integrators.  But the integrators make great partners.  They are usually receptive to technologies that fill a capability gap for them, and they can pull SME solutions into their defence programs everywhere.  Part of the excitement is the sheer pace and urgency as adversaries ingeniously exploit technologies like cyber and drones.  We've entered an age of the weaponization of everything.  It's like Spy vs. Spy vs. Spy from the days of Mad Magazine –only this is for real, and the stakes are high.
What is the best advice you received?
Honestly, my best advice came from watching the mistakes of others.  Like them, I always got the test before the lesson.  But one thing that stands out is something an old pro said to me which I thought at the time was counter intuitive.  He remarked that "It actually isn't what you don't know that gets you –it's what you think is so that isn't".  Over the years I observed this to be remarkably true as I watched even very senior executives bet big on untested assumptions.  I remember, too, the wise old saying of a crusty Sergeant Major during my officer training, who said "Treat your people like pieces of wet spaghetti.  You can't push them very far, but you can pull them a long way".  To that I would add never injure their dignity; people will forgive almost anything except that.
What is a habit that contributes to your success?
I like to think it's flexibility and quick adaptation to new realities as they change.  I think Rumsfeld got a bad rap with his categories of "knowns" and "unknowns".   Today more than ever I constantly scan for changes in the operating environment and how they might impact business strategy.  We're in an age of what's called "wicked problems" or "the radical unknown", which requires a different kind of thinking and planning, one where it's imperative to remain poised and be approximately right rather than precisely wrong.  At the same time, I try to surround myself with veterans of the defence industry who can execute brilliantly.  Together it improves the odds of success.
What people or organizations do you believe best embody the innovation mindset?
The guiding models for me are the disruptors, in any industry.  In particular, the companies I watch are those that have successfully transitioned from selling equipment to selling a service with strong visibility on recurring revenue.  I remember Rolls Royce doing a brilliant job of this in the 1990s when it transitioned from selling aircraft engines to selling "power by the hour".  This can also align better with customers' goals who, after all, are seeking trusted suppliers to support their mission capability, and not just supply a widget.
How is your organization changing the game within your industry sector?
It's interesting to hear KWESST's customers themselves talk about the company's technology as "game-changing". The core innovation is ultra-miniaturization and integration of sensors, software and ballistic algorithms that enable soldiers and their weapon systems to receive networked situational awareness and targeting information direct to their smart devices and weapons, all in real-time from any source, including drones.  For soldiers on the ground that changes everything: it's no longer a fair fight – and they don't want a fair fight because that means casualties.  They want an "overmatch" capability against adversaries, and that's what KWESST delivers.
What are some of the biggest impediments to innovation in your industry sector?
From my perspective, innovation at the speed of adversaries is a central challenge in the defence sector.  Small drones are a good example: adversaries are exploiting them to great effect and transforming the very nature of modern warfare.  Loitering munitions are a rapidly evolving variant.  KWESST has a micro drone missile that will autonomously find, track and "kill" hostile drones with high kinetic impact.  Understandably, the evaluation and procurement process entails a long cycle.  Meanwhile, adversaries move at the speed of technology to evolve even more capability.  NATO forces are getting better at fielding solutions more quickly, but it's still a game of catch-up.
How has innovation become engrained in your organization's culture and how is it being optimized?
Innovation is deep in the DNA of KWESST, but innovation is broadly conceived.  It's about uncovering then exploiting an "opportunity space" using technology and the right business model since a disruptive business model itself can be a breakthrough innovation.  It always starts with developing a deep understanding of the customer's problem.  Nothing new about that, but it's a relentless discipline of deep listening, learning and discovery.
What technologies, business models, and trends will drive the biggest changes in your industry over the next two years?
A university engaged me to advise on what I thought the "next big thing" or trend would be and I said, "There isn't one; it's the convergence of everything".  Part of that is what I already termed "the weaponization of everything."  Looking out two years it is certainly the case that the defence industry will be driven by all-domain warfare capability in an age of rising powers and near-peer adversaries, as well as state and non-state actors who can access cheap, destructive technologies like drones.   That means a more dangerous environment for ground forces, which is KWESST's focus.   I believe we will see Western nations more reluctant to deploy troops into harm's way, but when they do they will have much greater protection of various kinds, including precision intelligence, networked situational awareness in real-time, electronic protection and a range of tactical counter-measures enabled by new innovations being trialed today.  KWESST's goal – and passion – is to contribute significantly to that modernization and "digitization" mission so that our soldiers are safer and more operationally effective.
What is your parting piece of advice?
"SKAN-AN!" (emphasis on the second syllable).  I love this Canadian maritime greeting, which means "What's goin' on?".  Translated into business wisdom it means, for me, constant scrutiny of what's going on both inside the business and with customers, and what's changing in the operating environment.  It's a combination of "nose down and heads up".  Easy to say, hard to keep it up relentlessly.
Related posts