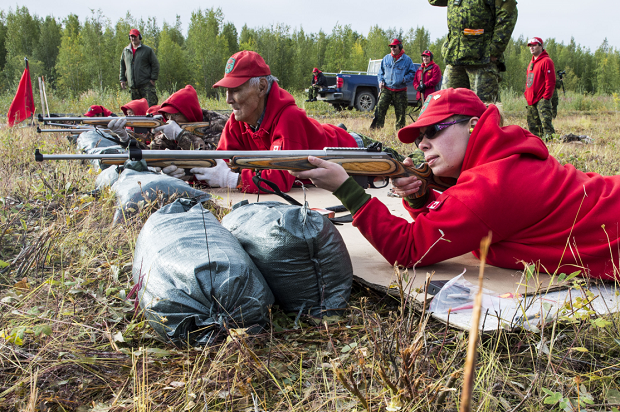 Funding for Rangers reviewed
Stewart Downing, October 20, 2016
0
2 min

read
310
The 2 Canadian Ranger Patrol Group is hosting a two-day National Working Group Conference at the Royal Military College in St-Jean-sur-Richelieu, Quebec, to discuss a number of important initiatives related to the future of the Canadian Ranger Program.
The meeting brings together key staff from the Canadian Ranger Patrol Groups, Canadian Army Divisions, Joint Task Force North, the Canadian Ranger National Authority, and the National Cadets and Junior Canadian Ranger Support.
Areas of discussion during this meeting will include the current Canadian Ranger funding model, the current headquarters structure and the upcoming integration of the new C-19 service rifle.
"It is a priority for the Canadian Army to provide our Canadian Rangers with the equipment, training, and support they need to do their jobs safely and effectively," said Brig. Gen. Rob Roy MacKenzie, chief of staff, Canadian Army Reserve. ?We are committed to continual review and improvement of our organization in order to ensure that our Reservists remain well-led, well-trained, and well-equipped to serve Canadians in whatever capacity they are needed."
The mission of the Canadian Rangers is to provide lightly-equipped and self-sufficient mobile forces in support of Canadian Armed Forces sovereignty and domestic operations in Canada. There are 179 Ranger Patrols in the Canadian Army serving 414 communities across the country.
In response to recommendations presented in the spring 2016 Auditor General's Report on the Canadian Army Reserve, of which the Canadian Rangers are part, the Canadian Army is examining ways to strengthen the Reserve Force through improved recruiting and retention processes. The Army is also looking at ways to enhance infrastructure, along with equipment, and expand training and professional development for reservists.
The new C-19 Canadian Ranger rifle, which is based on the Finnish-designed SAKO Tikka T3 compact tactical rifle and supplied through Stoeger Canada in Whitby, Ontario, will be fully deployed organization-wide in mid-2017. The current Lee Enfield No. 4 rifle will be phased out by 2019 and gifted to the Rangers who qualify.
Related posts