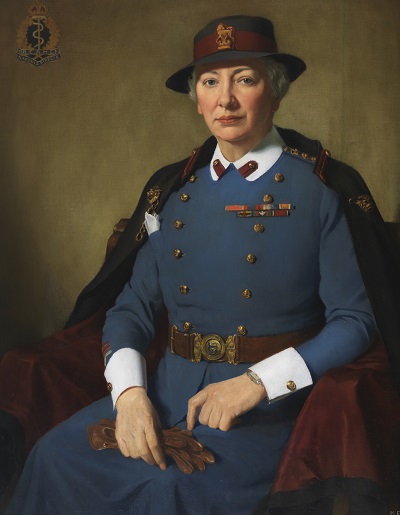 First female Army colonel oversaw creation of CWAC
Stewart Downing, November 2, 2016
0
6 min

read
396
"I had the privilege of being an older woman in the Army at this time and sometimes they listened to what I said," wrote Col. Elizabeth Lawrie (Beth) Smellie regarding her role in the Second World War (according to the Canadian Encyclopedia).
In 1944, Smellie became the first woman to reach the rank of colonel in the Canadian Army (CA), a high point in a truly remarkable career with many accomplishments in the field of both military and public health care.
Smellie entered the First World War as a nursing sister, worked tirelessly between the wars on public health matters, and by the close of the Second World War, she was Matron-in-Chief of Nursing for the entire Canadian Army. She was described as a genius of organization, efficient, disciplined and always a "lady" by those with whom she served.
Born in 1884 in Port Arthur, Ontario (now part of Thunder Bay, Ontario), Smellie was the daughter of a frontier physician who was a chief surgeon for the Canadian Pacific Railway as it was being built, and who was also a businessman and politician.
Smellie's desire to become a nurse was strongly influenced by her father's vocation and the illnesses and deaths of two of her siblings. Despite her father's discouragement, she left home to study nursing at Johns Hopkins Hospital School of Nursing in Baltimore, Maryland. At the age of 25 in 1909, diploma in hand, she returned to Canada to as the night supervisor at McKellar General Hospital in her hometown, followed by a stint as a private nurse.
First World War service
When the First World War broke out in 1914, Col Smellie was one of the first to be accepted into the Royal Canadian Army Medical Corps as a nursing sister.
A headline in the local newspaper of the day announced: "Miss Beth Smellie to go as a nurse: Application of Port Arthur woman is accepted by Militia Department – she leaves Saturday."
Nursing sisters were enlisted as officers at the rank of lieutenant, numbering about 3,100 during the First World War. She served in military hospitals in the regions of Taplow, England and Le Treport, France prior to becoming Matron of Moor Barracks Hospital in Shorncliffe, England where thousands of Canadian soldiers were treated. She returned to Canada in 1918 and became the CA's Assistant Matron-in-Chief.
Leading roles in public health care between the World Wars
With the Great War ended, she left the Army in 1920 and at the youthful age of 36, took courses in the new field of public health and went on to become Director of the School of Nursing at McGill University. In1924, she left teaching to become National Chief Superintendent of the Victorian Order of Nurses (VON). With doctors few and far between, she directed the expansion of the VON, which provided home-based health care, initially to poor and isolated Canadians.
Between the wars, Col Smellie was chosen by the Rockefeller Foundation in 1930 to conduct a major study on infant and maternal welfare in 12 countries and contributed to international nursing and public health organizations. These led to her appointment as Commander of the Most Excellent Order of the British Empire in 1934.
Col Smellie, at this point 56 years of age, returned to military service at the request of the Army in 1940. She was named Matron-in-Chief of the Royal Canadian Army Medical Corps Nursing Service and led more than 3,600 nursing sisters spread across Canada, England, France, Italy and Hong Kong.
Creation of the Canadian Women's Army Corps
In1941, she was asked to organize a new army division: the Canadian Women's Army Corps (CWAC), essentially becoming its first member. The women of the CWAC were badly needed to take over traditionally male support roles such as office clerks, cooks, transport drivers, radio operators, bookkeepers and lab assistants so that the shrinking pool of men could be deployed to combat. "Serving so that men may fight," as the phrase went, resulted in more than 21,000 women being recruited, enough to release the equivalent of a full division of male soldiers for combat duty.
Smellie traveled across Canada to recruit women officers from each of Canada's 11 military districts at the time, no small task as there were not many professional women from which to choose.
Return to civilian life in public health care
Following the Second World War, she returned to the VON and spent three more years in public health. She retired in 1947 at age 63, having never married.
Through her hard work and leadership, Smellie enabled Canadian women to play vital roles in military service to our nation, a step forward in the eventual full participation by today's women in the Canadian Armed Forces.
Historical marker looks down on today's soldiers at local armoury
Smellie passed away in Toronto in 1968 at the age of 83. A historical marker was installed in 1975 at the site of the McKellar General Hospital by the Ontario Heritage Foundation in Thunder Bay, Ontario. When the hospital building was closed, the plaque was moved to Waverly Park, overlooking the Major Christopher Patrick John O'Kelly, VC, MC Armoury (the O'Kelly VC Armoury) on Park Avenue in Thunder Bay.
"It is quite fitting that the historical marker was moved from the McKellar General Hospital site to Waverly Park, which is just up from the O'Kelly VC Armoury, as the Armoury site was possibly where Col. Smellie enlisted for the First World War," said Captain George Romick, Director of the Thunder Bay Military Museum, which has a display commemorating Col Smellie's achievements.
"You could say, with her historical marker looking down on the armoury, that she is still looking after the medical needs of the soldiers that are stationed out of the O'Kelly VC Armoury today."
Awards, medals, and recognition
She is the recipient of a number of awards, medals, and recognition, including:
Mentioned in dispatches (an award for meritorious service from a senior officer) 1915.
First Class Royal Red Cross awarded by King George V at Buckingham Palace in 1917.
Commander of the Most Excellent Order of the British Empire from King George V in 1934.
King George V Jubilee Medal 1935.
Canadian Volunteer Medal with Overseas Clasp (1939-45)
The Red Chevron Award for her contributions to the military nursing services,1960.
An Ontario Historical Plaque was installed by the Ontario Heritage Trust in her honour in Thunder Bay, Ontario in 1975.
In 2000, Canada Post issued a stamp commemorating Col Smellie for her work organizing the CWAC in 1941 as part of the 2000 Stamp Series Millennium Collection: Humanitarians and Peacekeepers.
Named a Person of National Historic Significance in 2011
In 2011, Smellie was named a Person of National Historic Significance by the federal government after a recommendation from the national Historic Sites and Monuments Board. Although a federal plaque is usually erected to such Persons, Smellie's plaque has not yet been created.
Related posts