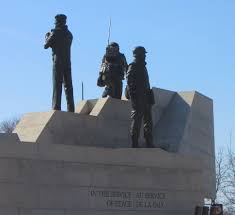 In this episode, hear about Canada and U.S latest border emergency exercise, CAF to deliver explosive threat training to Iraqi security forces, and Canada's smart pledge approach to UN peacekeeping operations.
Show Notes
As home of the longest international border in the world, Canada and the United States have been working to be prepared to coordinate effective emergency responses in the event of disasters or other threats to safety and security.
In support of this, the Department of National Defence's Centre for Security Science and the Department of Homeland Security Science and Technology Directorate teamed up for the fifth time to conduct an experiment supporting emergency management officials and first responders. The Canada-U.S. Enhanced Resiliency Experiment series, known as CAUSE, took place on November 15th and 16th near the border between Lower Mainland, British Columbia, and Whatcom County, in the state of Washington.
This exercise provides participants with the opportunity to use a range of tools in a simulated environment, and determine how the technology and applications perform in different scenarios.
Minister of Public Safety and Emergency Preparedness, Ralph Goodale said, "CAUSE is a valuable experiment that will help improve emergency responders' safety and operational effectiveness on both sides of the border."
CAF
As part of Canada's ongoing commitment to enable the lasting defeat of Daesh, Canadian Armed Forces (CAF) engineers are delivering explosive threat training to Iraqi security forces (ISF). As well, to better meet the needs of the Global Coalition, the CAF is adjusting its aircraft contributions.
Approximately 20 Canadian Army engineers have deployed to deliver explosive threat training to the ISF in Besmaya, Iraq. Responding to the Coalition's needs and an evolving military campaign, the CAF has also deployed a second CC-130J Hercules aircraft to join Joint Task Force Iraq (JTF-I), while the CP-140 Aurora detachment will return to Canada in mid-December.
International Peacekeeping Conference
At the International Peacekeeping Conference held recently in Vancouver, Prime Minister Justin Trudeau announced that he will not deploy 600 military or 150 Canadian police officers to any single United Nations peacekeeping operation.
Instead, the Trudeau government will take a "smart pledge" approach that will offer training and air support to other nations, boost female troop deployments, and target the demobilization of child soldiers.
Related posts