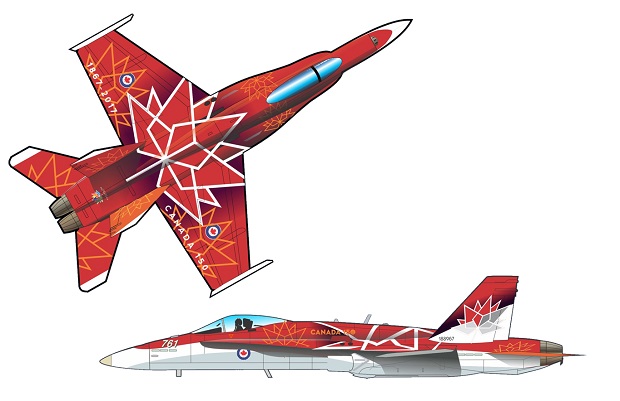 CF-18 Hornet to rock radical, red maple leaf design for Canada's sesquicentennial
Stewart Downing, December 15, 2016
0
2 min

read
578
Attendees to this year's International Council of Air Shows conference in Las Vegas last week got to preview the planned design for the 2017 CF-18 Demonstration Hornet which will be decked out to celebrate the 150th anniversary of the confederation of Canada.
Of course, the aircraft's main colours are red and white – Canada's traditional colours.
The official logo for Canada 150 is placed throughout the design.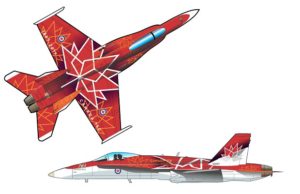 The logo is composed of a series of diamonds, or "celebratory gems", arranged in the shape of the iconic maple leaf.
The four diamonds at the base represent the four original provinces that formed Confederation in 1867: Ontario, Quebec, New Brunswick and Nova Scotia. Additional diamonds extend out from the base to create nine more points. In total, they symbolize Canada's 13 provinces and territories.
On the left wing, the timespan of confederation is shown with the year of confederation, 1867, and the 150th anniversary year – 2017. The right wing bears the official name of the celebration – "Canada 150".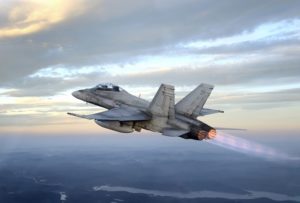 The RCAF is proud of the part it has played in Canadian history and the members the CF-18 Demo Team are honoured to represent the RCAF and our nation during Canada's 150th anniversary year.
The show tour schedule for the RCAF's two aerobatic teams, the Canadian Forces Snowbirds, and the CF-18 Demo Team, are now online. Check out the schedules to find out where you can see the teams during the upcoming season.
Related posts