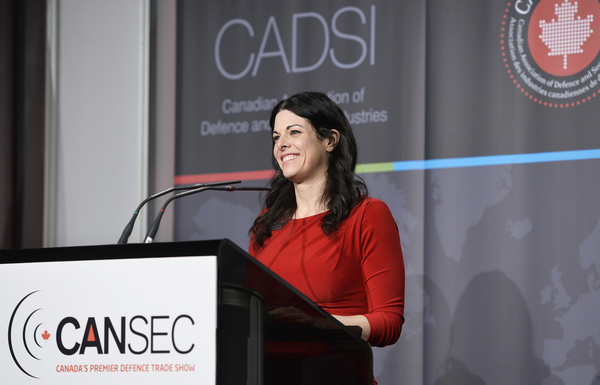 CADSI Pres Cianfarani opens up in The Globe
Federman Rodriguez, October 5, 2015
0
2 min

read
315
If you don't know CADSI President Christyn Cianfarani, perhaps you should poke your nose into The Globe and Mail's sit-down interview with the public face of the Canadian defence industry.
As a black-haired, vibrant, youthful, tattooed female executive, Cianfarani is the antithesis to the industry she represents; one that is characterized by older, white-haired men in no-frills suits.
Quite frankly, that's what makes her so interesting. If she didn't get the top job at CADSI, Cianfarani would have had plenty of legitimate excuses as to why not. But… she did. How's that for defying the odds?
Cianfarani grew up as a self-described "tomboy" in Leamington, Ontario, and picked vegetables to earn extra money as a teen. After high-school, because finances were tight, she chose to attend the Royal Military College of Canada, graduated with an English degree and went on to become a MARS (maritime surface and sub-surface) officer.
It wasn't for her, however, and when the Liberal government reduced the size of the armed forces, Cianfarani was offered the chance to leave the military with no penalty. From there, it was off to the University of Toronto, where she took a master's degree in English before abandoning plans to become a professor and entering the business world instead.
After a year at a brokerage firm, Cianfarani started her career in the defence industry with CAE in 1997, where she remained until offered the chance to join an industry expert panel to develop a new defence procurement process under Open Text Corp. chairman Tom Jenkins.
The culmination of this work and her previous expertise as CAE's director of research and development provided a natural progression into the top job at CADSI, replacing outgoing president Tim Paige. Cianfarani said she wanted the job because, as MacFarland puts it: "the defence sector is awaiting a tsunami of new government purchasing projects, which have the potential to transform the industry if the procurement is handled well."
"You're sitting on this gold mine of potential," Cianfarani begins, "with a crown jewel in your hands that you can choose to use however you want. And even if the amount [of spending] is half or a quarter, it is still a sizable amount of money to do something significant for this country. That can't be understated."
Click here to read the Janet MacFarlane's full article in The Globe and Mail.
Related posts