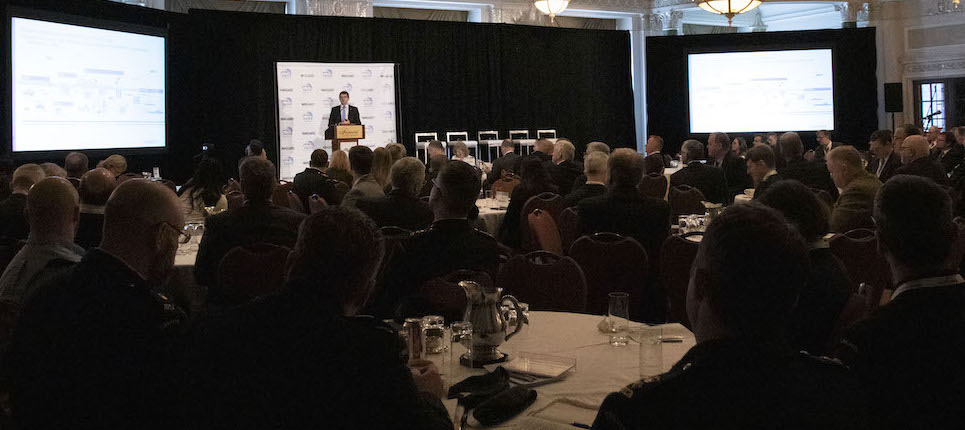 C4ISR and Beyond 2019 in pics and tweets
Marcello Sukhdeo, February 1, 2019
0
2 min

read
391
The Command, Communications, Control, Computers, Intelligence, Surveillance, and Reconnaissance (C4ISR) market is expected to reach a value of US$132 billion by the end of 2026, according to a recent report from Transparency Market Research, a next-generation market intelligence provider. Given the technological advancement we see with each passing day, and the predicted growth of C4ISR, Vanguard hosted its fifth annual C4ISR and Beyond event in Ottawa on January 30, 2019.
The event, built on the theme of Enhancing Critical Decision Making, provided about 150 attendees with crucial information and insight on the decision-making process to acquire capabilities, improving defence strategies, and what it takes to be operationally ready to safeguard our nation.
Also, a special announcement was made during the conference by the Honourable Carla Qualtrough, Minister of Public Services and Procurement and Accessibility of the award of three contracts to General Dynamics Mission Systems–Canada with a value of $621.5 million by the Government of Canada. These contracts include Engineering and Integration, Software Support and Cyber Security Engineering Support to support the Land Command, Control, Communications, Computers, Intelligence, Surveillance and Reconnaissance (C4ISR) system for the Canadian Army.
Check out the slideshow and tweets below to get a glimpse of what took place at C4ISR and Beyond 2019.
[smartslider3 slider=6]
Thank you for joining us this morning! Exciting news! https://t.co/P2f6k02DBs

— Vanguard (@VanguardMag) January 30, 2019
UPDATE: 'Panel 1 – Future Land #C4ISR: Challenge or Opportunity' now centre stage. pic.twitter.com/JGgJGbVLWL

— Vanguard (@VanguardMag) January 30, 2019
Happening now: Stefan Galler, Director Air Traffic Management Networks, @Frequentis, is delivering his presentation at #C4ISR and Beyond. pic.twitter.com/sRMwcoe7Pj

— Vanguard (@VanguardMag) January 30, 2019
UPDATE: 'Panel 2 – Identity and Information Assurance' has now taken the stage here at #C4ISR and Beyond. pic.twitter.com/Teld7R5npj

— Vanguard (@VanguardMag) January 30, 2019
Lunch time at #C4ISR and Beyond. pic.twitter.com/onTHjlDPHD

— Vanguard (@VanguardMag) January 30, 2019
Just heard from our second keynote speaker of the day: RAdm Jeffery B. Zwick. Terrific address. Looking forward to hearing from our 3rd panel next! #C4ISR pic.twitter.com/dqPPcnQxAy

— Vanguard (@VanguardMag) January 30, 2019
More great discussion from 'Panel 3 – Embracing the Future: Integrating AI in Defence and Security'. We've got one more panel to go after the break! Stay tuned for another thought-provoking session here at #C4ISR and Beyond 2019. pic.twitter.com/OGLkdNc1Hi

— Vanguard (@VanguardMag) January 30, 2019
UPDATE: The fourth and final panel of the day, 'Cyber Mission Assurance', has just taken centre stage! Excited to close out this terrific conference with such an insightful and robust panel. #C4ISR #C4ISRandBeyond pic.twitter.com/p0iaiuCTlk

— Vanguard (@VanguardMag) January 30, 2019
Thank you for coming! See you next year! https://t.co/2fHW9FL1dv

— Vanguard (@VanguardMag) January 30, 2019
Related posts