Boeing could save $3-m per plane by using 3D-printed parts
Stewart Downing, April 11, 2017
0
2 min

read
324
The multi-billion dollar 3D printing industry soars even higher following an announcement that Boeing is having parts of its 787 Dreamliner jet built a Norwegian 3D printing company.
The aerospace company has contracted Norsk Titanium AS to print the world's very first titanium parts for the Boeing 787 Dreamliner. According to Norsk, such a move could cut the cost of building each unit of the plane by as much as US$3 million.
To certify these initial structural components on the Dreamliner, Boeing and Norsk Titanium undertook a rigorous testing program with United States Federal Aviation Administration (FAA )certification deliverables completed in February 2017.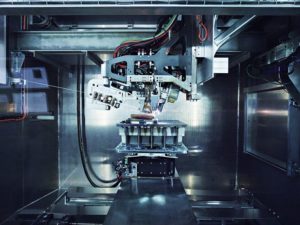 "It is an honor to earn FAA approval for these structural parts," said Warren M. Boley, Jr., president and chief executive officer of Norsk. "The Norsk Titanium team will continue to expand the portfolio of components supplied to Boeing meeting stringent certification requirements."
Related Content
Game Changer: Jim Barnes, Boeing Canada
Boeing snaps up US$90-M deal for laser weapons on planes
The long-haul, wide-body, airliner is estimated to be worth $265 million per unit. Titanium is seven times more costly than aluminum and accounts for and estimated $17 million of the cost of a Dreamliner.
Norsk said it has received a production purchase order for 3D-printed structural titanium components from Boeing that are being produced by Norsk's proprietary Rapid Plasma Deposition (RPD) process.
Boeing builds 144 Dreamliners in a typical year, according to a report from the news service Reuters. The company has long wanted to reduce the production cost of the Dreamliner which uses more metals than its other planes.
Boeing designed the components and collaborated closely with Norsk Titanium throughout the development process, according to the company's officials.
"From the outset, the 787 has been the hallmark of innovation and efficiency," said John Byrne, vice president, airplane materials and structures, supplier management, for Boeing Commercial Airplanes. "We are always looking at the latest technologies to drive cost reduction, performance and value to our customers and Norsk Titanium's RPD capability fits the bill in a new and creative way."
Related posts