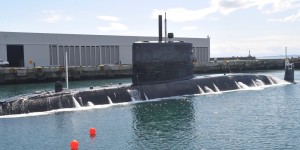 Submarines chart a new course for in-service support
Marcello Sukhdeo, July 16, 2014
0
10 min

read
282
In-service support: It wasn't the most eye-catching of the breakout sessions at Navy Outlook in April, but the topic drew a full room nonetheless – twice.
As part of a new sustainment initiative, the Royal Canadian Navy is seeking to develop strategic partnerships with the companies that provide ISS, creating a systems view that will significantly change the way it approaches the maintenance, repair and upgrades of its future fleets.
To do that successfully the navy, other government agencies and their industry partners will require a noticeable culture change, senior RCN officials acknowledged during that session.
As a result, one in-service support contract in particular is garnering much attention. It might not provide the exact road map to the future, but at conferences and public events across the country over the past 12 months, Vice-Admiral Mark Norman, commander of the RCN, has raised the Victoria-class submarine contract as a successful illustration of how the navy intends to approach ISS for complex vessels.
"We have basically built, from nothing, a world-class support capability for a class of vessel that didn't have a support capability with it," he said in a recent interview. "And that is an enormous success. To be able to support something that didn't come with a supply chain is a real challenge. When you look at Chicoutimi as one of the most important symbols of that success, we have in essence taken that submarine apart from stem to stern and completely rebuilt it in Canada."
The four much-maligned Victoria-class submarines have faced an endless barrage of media criticism ever since they were acquired in 1998 to replace the three Oberon-class subs: about their condition, their cost and their strategic utility to Canada's navy. But as they enter a steady state of operations – HMCS Victoria began her operational period in 2011, followed by Windsor in 2012 and Chicoutimi later this year – the submarines are being talked about in a new light. And so is the Victoria-class in-service support contract, known as VISSC.
"It really is in the vanguard of large in-service support contracting for complex vessels in the navy," said Blaine Duffley, the director of Maritime Equipment Program Management (Submarines). "For major combatants it is our first foray into something this large and complex. It's a model in the regard that it is allowing us to execute significant scope of work and creating in Canada an industrial critical mass of expertise to look after our submarines. This is really a gem to build upon."
In 2008, the government awarded a $1.5 billion, 15-year contract to the Canadian Submarine Management Group, a joint venture between Babcock Marine and Weir Canada that has since been rebranded as Babcock Canada, to provide the in-service support for the four diesel-electric submarines.
The deal signified a philosophical change in the way the RCN traditionally contracts for the support of major warship classes, by providing a longer term commitment and embedding it with multi-vessel refits, called Extended Docking Work Periods (EDWPs). VISSC is the primary interface between the design authority and Canadian industry, linking original equipment manufacturers (OEM) and field service representative support for technical investigations, engineering services, and the management of repair and overhaul of the submarines.
With each EDWP, the RCN and Babcock Canada overhaul over 200 submarine systems, Duffley explained. And the length of the VISSC contract means deep maintenance work can be performed multiple times in the same facility.
"Just that simple perspective will allow us to build the competencies and learn the lessons to do that significant work more effectively," he said. "That was a change for us. Historically, we did all of the deep maintenance in our own DND maintenance facilities – we would have had a multitude of contracts with suppliers. But under VISSC, though we still have some separate contracts with OEMs, they have been reduced. We have fewer contracts to manage, which makes our business simpler to execute."
Chicoutimi, the first submarine to undergo an EDWP managed by Babcock, originally entered her EDWP period in 2010 and was undocked in November 2013 at Victoria Shipyards in Esquimalt. The EDWP consists of a collection of planned maintenance repair specifications and engineering capability updates that required the submarine to be out of the water, allowing the vessel to be checked, revalidated and updated. The maintenance is treated as a project and draws on every discipline of project management, supply chain and engineering to deliver an integrated plan.
The submarine is currently in the final stages of system commissioning before her planned handover to the RCN. "The lessons that we learned from Chicoutimi are already being applied to Corner Brook, the next in line for its EDWP. We are much better positioned for success than we were for Chicoutimi," Duffley said.
Babcock Canada, too, says it has captured the experience gained throughout the first EDWP, which includes several key lessons:
• The implementation of a progressive approval process of Material Certification Objective Quality Evidence (OQE) facilitates the progression of work in the early stages of the EDWP.
• Early involvement of the Material Certification team in the EDWP aids in resource loading for the team, thus reducing process challenges when they arise.
• The development of an improved commissioning scheduling process will lead to a more progressive, structured and de-risked approach when returning vessel systems to operation.
• Implementing a more holistic or "system of systems" approach helps to eliminate inefficiencies and non-value added process steps.
The uniqueness of the material certification requirements is also acknowledged by the navy. Duffley says it is somewhat akin to air worthiness requirements for maintenance, a novel and demanding step that has necessitated significantly more paperwork than was the case in the past.
"Along with that quality assurance documentation is an auditing process that has to be welded into their production and commissioning regime as they take the submarines through their deep maintenance periods," he said. "That is certainly an area where we need to be more aggressive at improving. We have tended to backend load some of that activity. As we go forward we will be doing our best to spread that quality assurance load out throughout the work period (for future vessels)."
In reducing the number of contracts the navy must manage, greater responsibility has been shifted onto Babcock Canada to develop relationships with the multitude of suppliers. "[Babcock] is establishing these really strategic partnerships and increasingly building Canadian sources of supply for some of these subcomponents," Duffley said. "We were challenged with dormant supply chains when we first got the submarines. Babcock is much better positioned to rejuvenate these supply chains and, to the greatest extent possible, with Canadian sources of supply."
The nature of the relationship has also allowed the navy to do its work with a much smaller footprint. "Whether it is procurement per person or other metrics, VISSC does enable us to deliver the product with a small group of specialists," Duffley said. "We could not do it the old way with the structure we have."
While submarines are unlike any other vessel in the navy, processes and principles for material assurance and risk management are being leveraged – "as much on the philosophical level as the engineering level" – as the navy advances with the Joint Support Ship (JSS), Arctic and Offshore Patrol Ship (AOPS) and the Surface Combatant.
"This relational contracting is a new attitude that needs to be built into people's DNA as we move forward. Because we have a mutual long-term view, we are better placed to make more strategic decisions to improve efficiencies than our traditional approach of independent contracts or competing things on a five-year basis. That long view needs to be brought up more."
Babcock Canada is also looking to expand the relationship with the RCN as it recapitalizes the surface fleet. The company says the VISSC program has established strong domestic ISS capability and capacity on both coasts, which will be further augmented by best practices gained from Babcock International's support to the Royal Navy's submarine and surface fleets.
"These domestic skills and capabilities have already been applied to supporting other clients' surface fleets, as evidenced by the work being done with Chantier Davie to refit the Canadian Coast Guard's flagship heavy Arctic icebreaker, the Louis St. Laurent," said Brett Johnson, vice president of Business Development – Marine & Technology.
The company believes new approaches to the provision of in-service support can play a key part in making the Canadian Armed Force's Defence Renewal initiative possible. Adopting an integrated approach to fleet management in which RCN personnel work cooperatively with an industry-led ISS team could enable a larger portion of navy personnel to focus directly on operations, while ensuring the ongoing availability of fleet assets to support them. Innovative approaches to integrating RCN personnel directly into the industry team could support skill retention, and adopting performance-based ISS metrics could incentivize industry to increase platform availability and optimize fleet support costs over time.
"Babcock's extensive experience in providing this type of ISS to the Royal Navy surface fleet over many years has shown it to be both operationally effective and cost-effective," said Gordon Fleming, Babcock Canada's chief operating officer. "We believe this approach could offer significant benefits to the RCN on future programs."
For the navy, Chicoutimi marks a significant turning point. Once she begins operations, the RCN will embark on a steady state tempo of having just one submarine in deep maintenance at a time, a newfound level of predictability to a program that has been anything but predictable.
"Up until recently we have been very challenged with managing several of these deep maintenance activities simultaneously," Duffley acknowledged. But he said the experience gained over that period has given the navy the capacity and expertise to respond should the unpredictable strike again. "It's hard to measure that quality, but we have come a long way in the last few years."
That capacity is also a national strategic asset, says Norman. "Canada has maintained a viable submarine capability when it came very close to losing it. And as a maritime nation with the largest ocean estate of any country in the world, I submit that having that submarine capability will be essential to Canada's sovereignty.
"It's not just about developing submariners; it's not just about the torpedoes and other stuff. The real test is the ability to have that deep strategic capacity, to train your people, to maintain your own boats, to take them apart and rebuild them – that's a true measure of whether you are really in the business or dabbling. That is why the National Shipbuilding Procurement Strategy is so important. NSPS isn't just about delivering the ships, it's about building the capacity across a whole set of fleets. That is the mark of a strategic approach to maritime power."
The VISSC might not be that exact path to the future, but its lessons are a template the RCN will rely on as it draws up sustainment contracts for AOPS, JSS and the surface combatant.
SIDEBAR
Under VISSC, Babcock Canada provides support in five key areas: project management, records support, systems engineering, material and logistics support, and maintenance support.
For project management, Babcock utilizes a service delivery framework based on sound project management practices and processes covering the traditional knowledge areas of project integration, scope, time cost, quality, human resources, communications, safety and risk, and procurement.
Records support includes configuration management services, configuration audits, maintenance of the technical data packages, including updates resulting from engineering changes, and QA live file management.
Engineering support includes systems integration, systems engineering, logistical support analysis and technical assistance support, technical investigation engineering support and developing engineering change installation packages.
Material and logistics support includes procurement of all third line submarine parts, management of repair and overhaul submarine items, integrated logistics support, Bill of Materials definition, and warehousing.
Maintenance support includes the scope definition for level 1 and 2 maintenance, work package definition for level 3 maintenance (EDWPs), planning, scheduling, estimating, and execution of the EDWPs, and deployed maintenance services.
Related posts