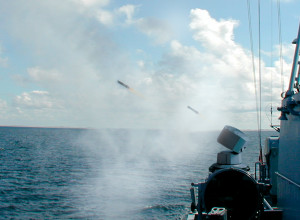 Rheinmetall to supply MASS ship protection system for NZ
vanAdmin1, January 5, 2015
0
1 min

read
367
When Lockheed Martin Canada and Seapan's Victoria Shipyards install and integrate a new combat system into New Zealand's two MEKO-class frigates beginning in 2016, the new system will include Rheinmetall's Multi Ammunition Softkill System (MASS).
The New Zealand Ministry of Defence issued a €4.2 million contract to equip the frigates with MASS as part of its ANZAC modernization program. Rheinmetall will act as subcontractor to LMC and will supply two MASS systems in twin-launcher configuration, including a long-range capability, plus two naval laser warning systems from SAAB Grintek Defence.
The countermeasures system is being integrated into Canada's Halifax-class frigates. According to Rheinmetall, the Royal Canadian opted for the MASS DUERAS version which "features additional launching tubes for distraction rockets mounted on top of the MASS launcher."
"The fact that MASS is being integrated together with NLWS technology is a reminder of the ever-growing asymmetric threats which navies around the world have to contend with today in modern combat operations," the company said in a statement.
During Euronaval this past fall, Rheinmetall was highlighting the integration of an anti-torpedo capability into MASS. "The…concept offers the possibility of launching up to four anti-torpedo decoys from a single MASS launcher," the company said, adding that existing launchers can be equipped with the new anti-torpedo upgrade kit without modification.
Related posts