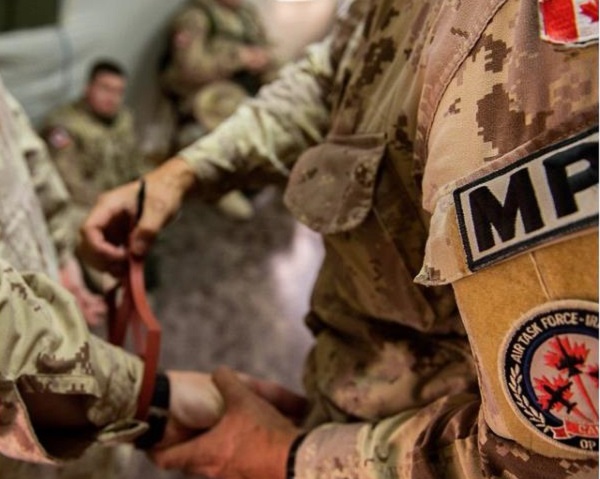 Operation Honour a 'good start' but 'no quick fixes': CDS
Stewart Downing, August 31, 2016
0
4 min

read
412
The Canadian Armed Forces campaign to clean its ranks amid widespread concerns over what has been described as "endemic" sexual misconduct within the military appears to be making some headway, bu Canada's top soldier cautioned against being too optimistic about the early results.
General Jonathan Vance, chief of defence staff, reported yesterday that 30 CAF members have been punished and 97 investigations into other cases of inappropriate behaviour are still underway as part of the military's Operation Honour which the CDS launched in 2015 following the report of Supreme Court justice Marie Deschamps.
Retired Justice Deschamp was asked by military commanders in 2014 to conduct lead an investigation into sexual misconduct in the military. In her report, Deschamp said she found a "sexualized culture" where female members of the Armed Forces were subjected to abuse ranging from harassment and sexual jokes to outright rape. She said the "endemic" sexual misconduct was condoned by the military leadership.
Click here to read the Armed Forces 51-paged Progress Report Addressing Inappropriate Sexual Behaviour
In the period of April to July 2016, a total of 148 incidents of harmful sexual behaviour were reported to the chain of command.
From January 1 to June 30, 204 CAF members reached out to the Sexual Misconduct Response Centre for help #OpHONOUR pic.twitter.com/SWF0sNoWZS

— Canadian Forces (@CanadianForces) August 31, 2016
RELATED CONTEND
Part 1: Interview with Gen. Jonathan Vance, chief of defence staff – Operation Honour and the importance of adjusting personnel policies
Vance said the military has so completed between April and July this year, 51 investigations into inappropriate sexual behaviour in the forces have been completed and 97 more investigations are still being conducted.
Of the concluded cases, 30 resulted in the handing down of "career impacting" punishment that ranges from fines to dismissal from the service.
Administrative consequences ranged from warnings and probation to removal from command positions and dismissal from the Canadian Armed Forces.
Three cases were referred to civilian courts. Four perpetrators could not be identified and 10 cases were considered unfounded.
Vance characterized the initial accomplishment as a "good start" but cautioned against being too optimistic about the results because there are "no quick fixes."
He said there is still much work to be done because since the investigation has turned up 148 reports of inappropriate and harmful sexual behaviour.
The first priority of Operation Honour for this year, he said, was improving victim support.
According to the military victim support has been enhanced through several key areas which include:
Expanded hours of operation of the Sexual Misconduct Response Centre
Sexual Offence Response Teams have been established with the addition of 18 new investigator positions distributed nationally
Increased military training for health care professionals, military police, and prosecutors
Action to ensure victims are kept better informed throughout the investigative and judicial process
Improved victim support services from military police
The military is also focusing on obtaining "a more complete understanding of the precise nature of the problem," according to DND press release.
The Armed Forces contracted Statistics Canada to conduct a survey between April and June this year to collect information regarding the prevalence of sexual misconduct within the military, the reporting of harmful and inappropriate sexual behaviour, and awareness of both Operation Honour and associated support mechanism.
The survey was the first of its kind to be conducted by the CAF. More than 40,000 regular force and primary reserve CAF members participated by sharing their experiences and perspectives.
The results of that survey will be released in the late fall.
#OpHONOUR: "We must continue to lead this change"
Read the remarks by the #RCAF Commander: https://t.co/Ll23w9EqgK pic.twitter.com/GZQvX0XajT

— RCAF (@RCAF_ARC) August 30, 2016
The Armed Forces hopes the survey will help it obtain a comprehensive baseline that will shape ongoing and future action for policy development, program review, training modernization and others.
The focus of the second year of Operation Honour will be on moving beyond process and analysis into the development and implementation of policies, programs, and performance measurement necessary to catalyse the required culture change.. Most of the initiatives generating this change are in their early stages. So too is the organization's ability to measure the outcomes that are beginning to emerge.
"The training and education of our members is at the heart of the culture change" – LGen Whitecross #OpHONOUR pic.twitter.com/7ZcP8HAATo

— Canadian Forces (@CanadianForces) August 30, 2016
A large part of the success of Operation Honour will also depend on military commanders onboard and engaged.
"While the progress report mapped out the Canadian Armed Forces' headway in implementing both Operation Honour objectives and the External Review Authority's recommendations, this second progress report reflects Operation Honour's requirement to get all subordinate commanders at their level at their levels fully engaged across the organization," said Lt. Gen. Christine Whitecross, commander of the Military Police. ""It is through them that we can hope to achieve mission success."
Related posts