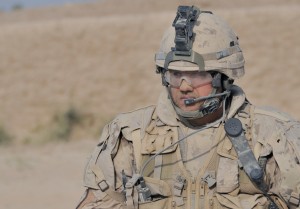 Maximizing capability: The Army's C4ISR challenge
Marcello Sukhdeo, May 27, 2014
0
8 min

read
323
Ask Colonel Stephen Hall what he most needs from the defence industry and the answer might surprise you. Hall leads the Canadian Army's C4ISR development program and, while solutions to fuse data from myriad sources into a comprehensive picture that can be securely shared across the Canadian Armed Forces and with allies are always welcome, what he most needs is help with education and training.
"It's a little odd," he acknowledges. "Eyebrows go up: 'Training? How do I build training? That's not a box I can run on an assembly line and make money on.'"
Take a second look, though, and it's not hard to understand why. Over the past two decades, the army has invested heavily – as much as $3 billion – in systems and processes to improve its command, control, computers, communications and intelligence, surveillance and reconnaissance capabilities. Hall worries that many of those gains have not been institutionalized, and as a result what should be a high-performance system is not performing to expectations.
"The biggest challenge is the institutional part. It's not the engineering and it's not the technology. We have done a good job," he explains. "During the Afghan war there was certainly a lot of procurement, and some of it was quick to make sure equipment was getting overseas. But one could make the point that some of these are not complete capabilities yet in terms of all the training and education."
Without soldiers trained on the full capability of a system, or even a system of systems, the army is not capitalizing on its considerable investment, making future introductions problematic. Unlike a new vehicle fleet that rolls out every decade, C4ISR is constantly evolving and requires highly trained users.
During a brief presentation to industry at the recent Army Outlook in April, Hall appealed for help in crafting the specifications for training, an aspect that is not as well honed as the army's ability to write specs for vehicles or other capability.
"In a resource constrained environment, it's caused us to look at our HR model, how we develop people, the education and training," he said in an interview. "I would argue that the model we have used – train the trainer, here are some materials, set up a classroom – that isn't serving us. That doesn't institutionalize the capability."
Rather than schoolhouses for C4ISR, he wondered if industry might have online solutions, perhaps resources that could be delivered to a soldier in a vehicle. "[The army and industry] can both be creative about how we do this. I think there is an opportunity for industry to take some of the fantastic technology they are building and be creative in how we could institutionalize the education and training for these systems."
Maximum effect
With the pace of operations over the past decade, there was a constrained opportunity to focus on the institution. Hall says it's a crucial step now in preparing for the next evolution of C4ISR technology. "We have put some really slick capabilities out there. But we need to finish the full loop to make sure they are institutionalized. We have to determine simple things like the IP addressing structures that are going to be done inside a formation. Who does it? Is that a sergeant, a corporal, a captain? Is it done in Ottawa? In the formation? These are governance and technical issues that overlap and we are trying to work out the best way to do this.
"I'm making sure that what we have procured is institutionalized and we are experts at using it. That will do several things. It will inform how we do our individual training, which we need to tweak; it will inform collective training, our road to high readiness and what we do for command and control systems. We spent a lot of money developing these tools: Did they work as intended? If not, why not? You can't just blame the computer. Is it training? The feedback we get will inform the next evolution of the system. It will tell us where to put energy."
That next evolution won't happen without some tradeoffs. C4ISR might be the backbone of adaptive dispersed operations (ADO), the army's force employment concept of the future that is a central priority for commander LGen Marquise Hainse. But meeting one of its core tenets – enhanced network capability – will require a realistic assessment of what is feasible in the current economic climate.
Consequently, Hall views C4ISR as more of an idea that binds C2, communications, computers and ISR rather than a product you can touch. Since all are inextricably interconnected, the challenge lies in understanding the relationships between them, and what impact a decision about computers, for example, will have on future command and control capability.
"If you are building a new recce vehicle for the army, would you put a sophisticated sensor suite on it and then have no capability to communicate that data?" he asks. "We're not going to be able to build or field a bomb-proof, totally secure iPad to every soldier, we're going to field something less than that. What does that mean to the rest? C4ISR is a way of framing that whole problem set. If we state a contract [for one component] in such a way that doesn't take into account these other areas, you risk another stovepipe. C4ISR is that idea of having equipment, people and process all linked together. That is net-centric warfare.
"We will find as we go forward that we are not going to replicate the IT infrastructure of a modern city, so C4ISR, that idea, will cause us to accept whatever the limits are in terms of what we can purchase and deploy as a capability: here is what is essential for operations that we can build, maintain and sustain, but not further. The 'not further' part will cause us to adjust how we do command and control and how we ensure our ISR aspirations are achieved."
As examples of current limitations, Hall cites data fusion and blue force tracking.
While there may be an aspiration to have a single computer interface connected to the Internet, yet still on both Canadian and coalition classified networks, the reality will be quite different. For the foreseeable future, operators will have to toggle between more than one screen to assure the security and validity of information.
"One could argue that the engineers could build that single interface, but the security assessment would say, you can hack into that, the security could be compromised. So for now, we see different systems going out there. That is a limitation," he said, acknowledging the frustration that generates. "But at the same time, it is a strength; this is a protected and closed system where the information is Canadian and only trusted partners get to see it. That is powerful."
Likewise with blue force positional awareness, while the aspiration might be to have an icon for every Canadian soldier and platform in the battle space, Hall said cost and concerns about latency issues will determine how extensive an investment the army makes. "The fact that I see you in a 10-foot square, I know that is not precise to the second. This causes us to ask, what are we using it for and to what level should it go?"
Hall adds that projects like the Land Command Support System (LCSS) Life Extension, which will deliver a new tactical network for the army's vehicles, will challenge engineers and designers to think about how army C2 systems work with the vehicles' onboard vtronics to share bandwidth and access to things like GPS.
"If you put in another radio [for blue positional awareness], where are you going to put it in a tank or a LAV III? There is not a lot of space in there to put another radio, drill another hole and put another antenna and power it. So we have got to be smart about how we do this. We want to make sure we are focusing on that bandwidth-constrained RF environment, the front end, so that people can have situational awareness."
Industry input
As with military vehicles that must make tradeoffs among survivability, mobility and firepower, C4ISR is a balance of usability, reliability and sustainability, all of which will have to be weighed as the army proceeds with its long-term C4ISR programs, many anchored around the Land Command Support System, which will provide the architecture for the network. These include modernization of tactical communications, ISR, and tactical C2 and information systems.
And much like training and education, the army is looking to industry for help defining some of these tradeoffs. Areas such as sensor integration for command decision-making; end-to-end quality of service for the movement of data; and tactical information visualization and decision support analytics are all priorities as the land force moves out on a range of C4ISR-related projects, from portable satellite terminals to ISTAR (Intelligence, Surveillance, Target Acquisition and Reconnaissance) C2, ISTAR electronic warfare, ISTAR data link communications, combined Joint intelligence modernization and land electronic warfare modernization.
As the director of Signals and DLCI as well as the Army G6, Hall has a rare view across all the army's C4ISR development horizons. He will be taking his ideas to the Army Capability Development Board (ACDB) in May, a "tough process" designed to challenge all aspects about future capability.
"We are in the business of fielding a complete capability, which includes the soldier and the training – whatever skills and knowledge are needed to make that capability work. The ACDB forces a complete analysis of what it means to field a capability. One must be prepared for feedback from one's army colleagues in whatever form it takes!"
Hall won't have industry's input when he presents to the Board, but he will be turning to them shortly after to better understand how to ensure the army delivers a complete and institutionalized C4ISR capability.
Related posts